Lawrence superintendent to chat Thursday about budget, issues
February 11, 2010
This chat has already taken place. Read the transcript below.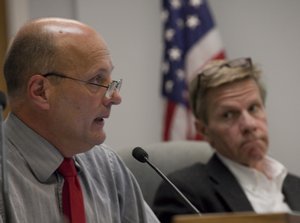 Lawrence Superintendent Rick Doll will chat with LJWorld.com readers at 1 p.m. Thursday. Doll, in his first year in Lawrence, will answer questions about choices board members have to make as they grapple with at least $4 million in budget cuts due to the state's fiscal crisis.
Moderator:
OK. Rick and Julie Boyle, the district's communications director, are here. So we will get started now. Welcome back, Rick and Julie. We have lots of questions, but first, Rick can you please recap what has happened this week after the board meeting Monday and the forum Tuesday evening?
Rick Doll:
The staff continues to gather information in response to board member and patron questions. We continue to search the budget for cuts.
Moderator:
We have lots of questions, mostly about the budget. So we will jump right in.
Superintendent Doll,
If all of the current proposed budget cuts are made, and we don't close down any of the current facilities, what will be the ramifications be to our current students? Will this increase class size accross the board on already overcrowded schools? What will happen to our current faculties?
Thanks for your time.
If the smaller schools are not closed, will the budget cut to decrease staff and increase teacher/child ratio only be at certain schools? Some schools' classrooms are 1) already full and 2) have higher ratios that other schools.
Rick Doll:
If the board chooses to continue to operate all schools, then cuts will go deeper in other areas. This will mean that class sizes will increase more and cuts to other programs must go deeper. Raising the student-teacher ratio (increasing class size) is one way to save money. Raising the ratio by one saves $1 million at the expense of about 20 teachers. This does not mean that every class simply has one more student. Since class sizes vary greatly across the district some very small classes may not be impacted because there are not enough students at that grade level. Other classes could see significant increases particularly if the ratio is raised by four.
Other programs would be reduced like, music, library services, guidance counselors, nursing services, administrative serves, athletics/activities. These cuts are outlined on the district website under budget planning.
If a school is closed, will the board consider selling the underlying land to help contribute to the shortfall? If so, will the board consider the "market value" of the land in making a decision or can you confirm that the land value is not a factor? If not--and 85% of the budget is salaries--can the cuts be accomplished with staff reductions at all schools rather than closing a few?
Rick Doll:
First of all, if buildings are sold those funds must be placed in the capital outlay fund and cannot be used for general fund expenditures. The real savings in closing a school are in personnel because several positions would no longer be needed, like principal, counselor, librarian, etc. Some teachers could also be cut because we have room in other neighborhood schools for the students.
Budget reductions could be accomplished by making cuts to all schools, but these cuts would simply have to be deeper if the district does not save money by closing schools.
Yes or No. Using the information that you currently have, do you believe that closing schools is the best way to make up some of the budget shortfall.
Rick Doll:
This is a board of education decision. Staff will provide information for the board to make their decision.
Specifically which central office Administrative positions do you propose the Administration eliminate or combine in response to the fiscal dilemma?
Rick Doll:
We have recommended $250,000 in cuts to central office in addition to the $400,000 that was cut in June. This is a 12% total cut. We are still identifying specific positions that will be cut or combined.
Why isn't the board entertaining the idea of mostly administration cuts during this budgetary crises?
Rick Doll:
The board can consider more cuts to central office administration. School administration is also targeted for cuts.
I'll put together a question others have posed to me: Has there been, or is there any chance of, current district employees and teachers having their pay cut -- an alternative to cutting programs or closing schools? To cover $5 million, cuts for 1,400 employees would need to average nearly $3,600 a year, by my calculations. That's a lot. But is such a possibility (including smaller pay cuts) even out there, or are pay cuts a nonstarter?
Rick Doll:
Pay cuts have been discussed at the administrative level. All teacher salaries are negotiated so reductions cannot be made unilaterally. The board could choose to make cuts to administrative and classified salaries. It would take a 6.15% cut to all salaries to achieve a savings of $4 million. Our expected deficit has just grown to $5 million because of an increase in health insurance premiums for next year.
How do our salaries for administrators and teachers compare to similarly sized districts? What percentage of the annual budget is spent on "in-the-classroom" expenses, and how does that compare to similarly sized districts?
Rick Doll:
Teacher salaries are average at best and are not as competitive as Johnson County. Administrative salaries would also fall in the average range but vary by position.
Please go to the district website under "budget at a glance" for information about specific instructional expenses.
By the way, all information that has been presented to the board is also posted on the website under budget planning.
One cost cutting measure published has been to cut the health services staff by 5 registered nurses or almost half. This was also done in early 2000. Registered nurses provided health care as well as classroom health education, counseling,and assist families in finding and accessing community services. Would it not be money better spent to retain our nurses and expand their role rather than retaining unlicensed health office assistants?
Rick Doll:
Yes, if we were not facing a $5 million budget deficit. This is good example of the difficult task confronting the board. Nurses are very important as are all the support services we provide our students. We must balance what we want for our students and what we can afford.
Dr. Doll,
Mine is a procedural question: During the Monday Feb 8th Board meeting, you explained to the Board that they will be briefed in more detail on budgetary issues in small group sessions. Please explain what will be discussed in the small sessions and why they are being conducting out of public view. What is the procedure for determining which Board members will attend the sessions together? If it is the case that sensitive information is going to be shared, why not request an executive session where all members attend together? Do you think that you may inadvertently be creating more public distrust by utilizing the small session strategy?
Thank you.
Rick Doll:
The open meetings law requires that all governmental business be conducted in open session. We follow the law.
Moderator:
We have time for two more questions. I want to thank our readers for their interest, and I apologize we couldn't get to all of them. Several of the questions overlapped on certain topics, so I tried to cover as much ground as possible.
Will there be someone who compiles the suggestions that parents are giving to you and the board at board meeting? Can the public see the final list and will you give reasons why you may not be utilizing the suggestions?
Rick Doll:
Staff takes notes at the meetings, and the board discusses viable suggestions. All emails and letters are forwarded to individual board members. If your suggestions do not make the final list I encourage you to contact my office.
Moderator:
Our final question, Rick, goes back to the overall budget picture.
At this point, has your administration identified 4 million dollars worth of potential reductions that do not require closing schools?
Rick Doll:
Yes, those cuts would be very deep into programs and raise class sizes significantly.
I would like to remind the public that the board has scheduled three more forums. Feb. 15, 7:00 pm at Southwest, March 1, 7:00 pm at Central and March 2, 7:30 at West.
Rick Doll:
On behalf of the board I would like to thank the community for engaging in this budget planning process.
Moderator:
Thanks again to everyone who submitted questions.