Meyer to discuss Lawrence Memorial Hospital, area practices
December 13, 2010
This chat has already taken place. Read the transcript below.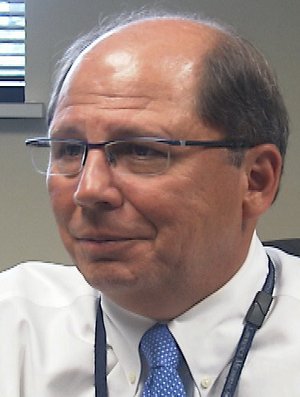 Lawrence Memorial Hospital CEO and President Gene Meyer will be available Monday to answer questions about the hospital, its area practices, health reform and more.
Meyer was named president of LMH in May 1997. During his leadership, LMH has expanded services to an outpatient facility — LMH South — and added interventional cardiology, acute rehabilitation, a wound healing center, and oncology services.
Meyer has overseen a $45 million expansion of the LMH campus that includes new emergency and surgical facilities and expansion of the critical care and maternity units. In addition, LMH has expanded its presence regionally with family care clinics in Eudora, Baldwin City, Tonganoxie and McLouth and a specialty clinic in Ottawa.
He is active in many organizations, including the American College of Healthcare Executives and the American Hospital Association.
Meyer teaches in the health services administration program at Webster University in Kansas City.
Moderator:
I would like to thank CEO Gene Meyer and Janice Early-Weas, communications director, to The News Center. I am health reporter Karrey Britt and will be moderating this chat. Let's start by telling a little about the hospital.
Gene Meyer:
Lawrence Memorial Hospital is like many health care organizations preparing for health care reform. There is a significant level of uncertainty with reform and we are researching all possible resources in order to be adequately prepared. LMH has worked hard to prepare the foundation from which to move forward. This includes not just our physical footprint but programs that meet the needs of our community. Undoubtedly these will be challenging times.
What is LMH doing to try to address the issue of un- or under-insured patients from using the ER as their primary health care resource?
Gene Meyer:
We are working closely with local physician practices and community health organizations to provide access points that will support the uninsured. Additionally we are attempting to educate our community on the appropriateness of care delivery in the emergency room. This is a national opportunity and clearly points out the need for more primary care providers.
What do you see as the most critical issue facing LMH in the next five years?
Gene Meyer:
There are several. As mentioned recruitment of primary care providers is one. Another has to do with declining reimbursement rates from federal programs both Medicare and Medicaid. With growing numbers anticipated in both these categories this impact will be felt financially. An issue that we are always concerned about is how to best serve the commuter population that leaves Lawrence every day. And finally supporting our employees in what they do is critical.
Why did LMH let go a portion of their part-time staff in the medical offices 2 weeks before Christmas without any warning?
Gene Meyer:
To my knowledge we have not relieved any part-time staff in our offices recently. There was some temporary staff in place that assisted us with the implementation of electronic medical records in the practices that completed their assignments. Other changes in the practices may be related to performance issues but again I don't believe that has happened recently.
In a recent article regarding ER cost versus take care clinics costs, it was evident that take care clinic was much more affordable. Are they any plans to add Nurse Practitioners to your practices to compete with walk in clinics and to be able to provide primary care to more individuals in the office setting?
Gene Meyer:
Yes, but not to compete but to better serve the community.
I recently had an appendicitis which resulted in an abscess.The surgeon would not listen to me and sent me back to my general practitioner, who did not have cat-scan equipment . This process cost me another month off work and much extra pain and suffering. Who oversees your surgeons?
Gene Meyer:
Like most hospitals LMH has a peer review process in place that reviews unanticipated complications. While I'm not certain that this particular case fell into the review process, most do. To clarify I am not a clinician, however the surgeon may have felt that the abscess was best managed by your general practitioner.
LMH is a non-profit organization. How do you think that affects health care in Lawrence and Douglas County? How does it differ from for-profit hospitals?
Gene Meyer:
In for-profit organizations excess of revenues over expenses are distributed to shareholders that have invested in the for-profit. This in effect means dollars leaving the community. LMH as a not-for-profit reinvests excess back into our hospital that serves our local community. This allows us to provide services to better serve local patients. There are other differences between the structures of these organizations but these are the main differences.
I've heard health care reform will put greater emphasis on keeping people well. How do you think that will play out at LMH?
Gene Meyer:
Great question, Marilyn. LMH as part of our strategic plan has had for some time emphasis on wellness. Reform will only strengthen our commitment to those we serve. You've heard me say that our industry must get away from that of a sick care industry and transform ourselves into one supporting good health. This will not be easy and LMH must work collaboratively with our local partners to support this initiative and minimize unnecessary duplication of effort.
Moderator:
Speaking of wellness, can you tell me about the workplace wellness efforts that are taking place at LMH, if any? Also, we ask local and state leaders from time to time about what they do to stay well. You are a very busy person with lots of meetings, what do you do to stay well?
Gene Meyer:
At LMH we provide an annual health risk assessment that people participate in voluntarily. Our benefit plans emphasize preventative care. We offer discounts to local businesses that provide wellness services. Our challenge as an industry is that ironically health care folks don't always practice good health habits. This must change. Personally I am on the treadmill and elliptical five mornings a week and pump iron two days. As far as meetings I try to avoid my weakness, donuts.
Hi:
Can you provide us an update on your medical building project in Eudora?
Thanks,
Chad Lawhorn
Journal-World
Gene Meyer:
It is going well. We are anticipating a late March 2011 opening. The construction process is proceeding nicely and hopefully the roof will be on shortly in order to allow work to be done in our inclement weather. Our newest physician in Eudora, Dr. Stamper, begins this week in the current office and we are excited about her joining Dr. Dickerson. When the new building opens the local pharmacy and an extension of our therapy program will also provide services for Eudora and surrounding communities,
Moderator:
Besides the Eudora project, can you give an update on the construction project in the heart of the hospital? Also, can you talk about what that project involves and how it might benefit patients?
Gene Meyer:
We are in the process of converting our former operating room space to provision of endoscopy and pain management services. This will allow the providers that are now located at LMH South to be more efficient in their practices being physically located at the main campus. We should be ready to move into these areas in January of 2011. The Laboratory also has expanded into a portion of this area which will provide excellent facilities for our Laboratory staff and most importantly a location for an outpatient drawing station. We are on schedule and under budget.
Will LMH continue expanding east along the K-10 corridor, and if so, is there a general timeline to do so?
Gene Meyer:
We want to wait and see the impact that our Eudora project has on serving the communities along K-10. It is our hope that this can be an excellent access point for DeSoto and other communities near Eudora. As far as a specific timeline, we have not set one.
Moderator:
I had to end with a question about you wearing red high-heeled shoes for the new Willow Domestic Violence Center. What was that like? Have you been in a calendar before? What has been the feedback?
Gene Meyer:
I have gained greater appreciation for hopefully women that normally wear high heels on a regular basis. The feedback has been mostly comments not worthy of repeating but all believe it was for a great cause. Never been in a calendar before but know that this will be in my future. Thanks for asking and I will be glad to sign our page for a fee with all proceeds going to the Center.
Moderator:
Thanks for coming in today. We appreciate it. See you at Wednesday's board meeting.
Gene Meyer:
Thanks for the opportunity to chat and if readers have future questions call me direct at 505-6130.