Bowersock Mills & Power Company operator to chat about new hydroelectric power plant
July 24, 2009
This chat has already taken place. Read the transcript below.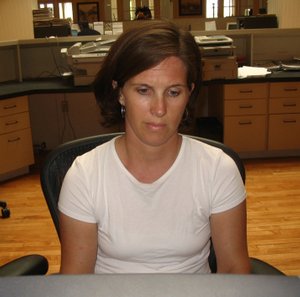 Sarah Hill-Nelson of the Bowersock Mills & Power Company will be at the Journal-World at 1:30 p.m. on Friday to chat about her company's plans to build a new hydroelectric power plant on the north bank of the Kansas River.
Moderator:
Hi: I'm Chad Lawhorn, your moderator today. With us today is Sarah Hill-Nelson of the Bowersock Mills & Power Company to discuss her company's plans to build a new hydro-electric power plant on the north bank of the Kansas River.
Sarah Hill-Nelson:
Hi All, I am glad to be here and have the opportunity to answer questions about our proposed project on the river.
Moderator:
For those of you who missed last week's story about Bowersock's expansion plans (shame on you), I'll ask Sarah to give us a brief rundown of what the company has in the works.
Sarah Hill-Nelson:
The Bowersock Mills and Power Company has proposed to increase our generation by building a new power house on the north side of the Kansas River at the north end of the Bowersock Dam. Our current plant can only make use of @ 2000 cfs (cubic feet per second) of water at any given time. Mean flows in the river are actually around 3700 cfs, so by putting in additional generation we can take advantage of those additional flows to create more energy. Basically we would be replacing the existing spillway (which just lets water flow past the dam) with a building that would house 4 generators.
Moderator:
We'll start with the first of the reader questions now. We have a few, but feel free to submit more.
Will the new plant affect the power production of the current plant?
Sarah Hill-Nelson:
Yes, there will be times when water levels are lower that we will need to curtail production at the current plant in order to have enough water for the new plant. The rule of thumb for hydro plants is that in order to be efficient, the last turbine to come online has to be operating @35% of the time. Based on historic flow levels, if the new plant were installed, the last turbine at the south plant would meet that percentage. So, the old plant will produce a bit less than its historical record, but overall production will increase by @ 3x.

Will the new plant require a new spillway to be built?
Sarah Hill-Nelson:
The new plant will basically sit at the bottom of the old spillway. We will take out the old spillway and the river will flow freely through that opening and then feed through the new plant right at the base of the spillway. So, no new spillway, but a new plant instead.
Could the Bowersock operation be viable without municipal, government and taxpayer support?
Sarah Hill-Nelson:
The Bowersock operation would not be viable if the City of Lawrence did not maintain the dam, although Bowersock takes a significant role (financially and via labor) in keeping water levels up for the Kaw Water Treatment Plant. Since the agreement for the City to maintain the dam was made in 1977, Bowersock has paid for approximately 46% of the expenditures on the dam to keep water levels at the appropriate height for City water intakes. If Bowersock were to go out of business for some reason, the City would still need to keep the water levels up, but they would no longer have a partner to share those costs. Regarding the new plant, we are still crunching the numbers to see if we can make this work. There are stimulus dollars available that could make this plant a reality. The only support that Bowersock currently receives from municipal, government, and taxpayer support is the maintenance of the dam which they would need to spend in any case to preserve the City water supply.

Is there any upgrades coming to the dam itself on the table? Is the dam itself in good condition?
Sarah Hill-Nelson:
There are currently plans to undertake a maintenance project on the dam. It is scheduled for this August, but there are a few things that remain to be done in terms of finalization of the method of repair, etc. The northern portion of the dam is in need of maintenance as there has been some flow-through documented. The downstream face of the dam also needs some work to apply new concrete to maintain the integrity of the structure.

What sort of environmental impact will the new plant have? Or has that been studied yet?
Sarah Hill-Nelson:
Basically, the new plant will just replace the spillway that already is a part of the dam, so the new building will be primarily in an area that has already been covered in concrete. As a part of the licensure request, BMPC will request an increase in flashboard height of 1.5 feet. This additional height will keep the river well within its regular channel, as @ 30% of the time the river is well above this level. Both plants will continue to operate as "run-of-river" plants, which means that they basically take only the water as it comes down the river, so we are responding to what nature (and the Corps of Engineers) provides rather than impacting it. It is also important to note that Bowersock has received certification as a "low-impact" hydroelectric plant from the Low Impact Hydropower Institute. This designation is really tough to achieve. It took us three years to get it and there are only 31 plants in the nation that have earned this designation. There is no hydro plant that is "no" impact, but we feel really good that BMPC has been designated as "low" impact. The LIHI certification is endorsed by key environmental groups.
Also, what will be the maximum flow that the new power house will be able to take before you'd have to shut it down (during flooding)?
Sarah Hill-Nelson:
With both plants operating, we'll be able to take @ 5300 cfs. With just the old plant, we had to shut down 2 35,000 - 40,000 cfs depending on debris levels, etc. I would need to check with our engineers about what they think as far as shut down point once (IF!) the new plant is in, but we can be assured it would be higher than it was with just the south plant. This spring the river was above 93,000 cfs, so you can see the extremes that the Kansas River experiences.
How many more employees will the new plant require, or will the same staff service both plants?
Sarah Hill-Nelson:
We will add some staff, but it will probably be 1 or 2 employees. One good aspect as far as employment is concerned is that if BMPC is able to build this North Plant, we will be better-able to support our existing employees and their jobs will be more secure. The biggest economic impact as far as employment is concerned is from now through the completion of construction, as we are working with engineers and this would be a signficant construction project with many laborers.

Besides hydroelectric power, is Bowersock Mills & Power Company looking at other renewable energy sources such as solar and wind to invest in?
Sarah Hill-Nelson:
For now we are focused on getting this plant built. We fantasize about putting solar panels or a wind turbine on our roof, but that may be just fantasy. This is a big project, and at times daunting, but we are hopeful that we'll be able to add some solid renewable generation to the grid. If you look at our production curves, we are practically baseload.
Have you had any luck finding existing hydro turbines that can be purchased from sites no longer using them, or are you going to have to get brand new turbines?
Sarah Hill-Nelson:
We are looking for existing hydro turbines. We have found some and are in the process of trying to acquire them. The equipment is part of the big question for us. Acquiring new turbines is monumentally expensive and could possibly make this project unfeasible. Using old equipment is right up our alley though. We are used to old equipment and making it work. If you think about it it, if we can make it happen it would be the most sustainable option.
When the plant is operating now and in the future can Bowersock add it's extra output into the grid? Power demand varies greatly throughout the year and throughout the day-night cycle and water does not necessarily coincide with demand! Probably not much chance of pump-storage; utilizing the water more than once!
Sarah Hill-Nelson:
As a run-of-river plant without a reservoir above us we really can't operate as a pumped-storage plant. You are correct that power demand varies greatly, but Bowersock's production is so consistent and predictable that the people that buy our energy can really count on what we are going to provide. They can say no to more expensive energy since they can count on BMPC production pretty much 24x7. In an ideal world that would mean they would crank down the coal-fired generation, but at a minimum the gas-fired which is more responsive.
Moderator:
Thanks for everybody's questions today. I will ask one more before we leave. I know that 'green tags" are an important part of Bowersock's fiances. I'm not sure everyone understands how those work. Can you explain what a green tag is?
Sarah Hill-Nelson:
Bowersock really does count on the money we earn from the sale of our green tags. When we crunch the numbers on this new plant, the revenue we earn from the sale of green tags (or RECs) is a critical piece of that. Today, energy across the nation is really sold in two forms. Generators sell the energy itself separately from its environmental attributes, which are called Green Tags or RECs. For every 1,000 kWh that Bowersock produces, we earn 1 REC. We can then sell this in the marketplace. RECs are really important for energy markets and state and federal policy moving forward. As an example, many states (and including Kansas now!!!) have a renewable energy standard (RES). States are required to have a specific percentage of the energy that they generate come from renewable energy. Some states simply don't have the capacity to generate this much renewable energy. New Jersey, for example, has a strong RES, and they have to buy RECs from out of state to meet that standard. This is really great news for Kansas, especially if the federal government establishes an RES, because states from all over the nation will need RECs. There are very few states that are better-positioned than Kansas as far as REC generation. This will serve as a very good stimulus for the Kansas economy through the establishment of new renewable energy generation. Bowersock is a great example of this. If we did not earn money from our RECs, we would be unlikely to build the new plant. The fact that we earn money for our RECs is going to make it possible (possibly!) to build a new plant. We have felt for a long time that renewable energy is worth more than fossil fuel energy, because it does not damage our health or the environment. Historically the utilities (which essentially operate as monopolies), have not felt that way, and have not paid more for renewable energy. RECs allow states and consumers to have a choice in the kind of energy production they would like to support.
Moderator:
Well, thanks to everyone who participated, and thank you, Sarah, for your time.
Sarah Hill-Nelson:
We'd like to say thanks to the Journal World for the opportunity, as well as to the community of Lawrence for the continued support of Bowersock. We want to make sure that people feel informed about our plans for the proposed plant. We are hopeful that we can make it happen, but we welcome community input. We will have a public meeting at the North Lawrence Train Depot at 5:30 on August 13th. At that time we'll present the plans for the plant and answer additional questions. We still have many hurdles to overcome here, but we are hopeful we'll be able to add additional renewable energy to the grid. Our thought is that the dam is here, the impact is here, it is needed for City water supply - we should use the opportunity to create more clean kWh. Also, soon (if I can get this done!) we'll activate the link on our website for the "North Plant," where we will include our Preliminary Permit application and other details about the plant. We welcome visits at any time, which can be arranged through our website as well - www.bowersockpower.com. With thanks, Sarah