Ask 6News Chief Meteorologist Matt Elwell about the first big winter storm possible this season.
December 7, 2009
This chat has already taken place. Read the transcript below.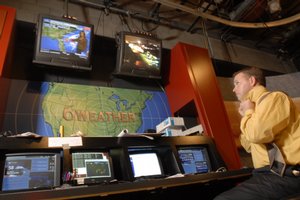 6News Chief Meteorologist Matt Elwell will take your questions and help you know what to expect from next week's winter weather and help you do the things you need to do to be prepared. If the storm dissipates or moves off before Monday, we'll reschedule.
Moderator:
Hello and welcome to this LJWorld.com winter weather chat. I'm online editor Jonathan Kealing and I'll be your moderator today. With us is 6News Chief Meteorologist Matt Elwell. Matt, welcome, and thanks for joining us.
Matt Elwell:
Thanks Jonathan... it is certainly a busy start to the week... especially with the first REAL winter storm possibility moving in!

Moderator:
Let's dive into questions. We've got about a half dozen in the bag but, a reminder, you can still submit more until we end the chat. Here comes the first question.
Our organization has a big event scheduled for Tuesday night. About 1/3 of the people attending are ages 60 and older. Don't want to put them in peril if it's the slightest bit slick/icy. Should we cancel?
Matt Elwell:
Bassetlover: WOW! Put us on the spot right off the top! Let me explain the set-up first. We are probably talking an inch or two of snow overnight tonight (Monday into Tuesday). Tuesday will be periods of snow that will likely mix with rain during the day. There may be snow moving in for the evening hours that could bring an addional 2-3" to the region. Cancel? Probably not, but there is the potential for icy conditions for some by the evening.
Moderator:
And Matt, I see that a winter storm warning has been issued for Douglas County for midnight tonight until 6 a.m. Wednesday. What does that mean for those of us in Lawrence?
Matt Elwell:
Winter Storm Warning was issued for us for snow and sleet. Areas to the north & west are projected to get 6-9" of snow mixed with sleet. For us, we will probably see heavy bands of snow at times (along with rain/sleet mix) through the day on Tuesday. I think it is a safe bet for Douglas and Southern LV county to have 2-5 inches depending on how much liquid rain we pick up during the day tomorrow.
Matt, all I really want to know is do I need to freak out and go get milk now? Or is this gonna be one of those "couple of inches but the roads are fine" kind of deals?
Matt Elwell:
Parrothead8: - How long can you do without milk? But seriously, you will be able to get out of your house in all likelihood on Tuesday, but Tuesday night could be a bit dicey. That is the best chance in my opinion of seeing ice on the roadways.
Why is it, that in the spring/summer when bad storms/tornados are predicted, they rarely hit the lawrence area, usually moving around us or just disappating, but the winter storms seem to hit us exactly as predicted most of the time and we ge the snow, is it a different weather pattern or is it the same pattern just with colder air??
Matt Elwell:
ksdivakat- Interesting question - Tornadoes and T-storms are very small and more immediate storms, meaning smaller area with heavy damage paths possible. They are also hard to predict (ie there will be a tornado at 6th & Iowa at 4:59 tomorrow isn't really possible.) Winter storms are broader and can dump copious amounts of snow over several miles (or 10's of miles) and effect everybody in the path.
Mr. Elwell
When forecasting snowfall and rainfall, is there any correlation to the measurement being in inches received. Is an inch of rain equal to an inch of rain?

Matt Elwell:
No. That, in fact is what makes winter storms and snow amounts so difficult. 1 inch of rain can be as much as 30" of snow or as little as 5". This storm (according to the latest model info) is mainly on the order of 10" of snow for 1" of rain. I think .33" of rain is possible.
Hi there, Matt. How many inches of snow will I and my three strapping roommates be shoveling tomorrow in Lawrence?
Matt Elwell:
2-4 total. Best stuff comes Tuesday night. Heavy snow band rolls through with lots of wind.
What are the chances that this storm shifts from where it is predicted to hit? A small East/West or North/South could be drastically different amounts and types of precipitation, especially for those who are on the line right now.
Matt Elwell:
booze_buds_03: That is the biggest question with this storm. With a slightly northern track we would probably pick up more rain/sleet bringing us less snow. If this storm moves 30-40 miles south we pick up (under current guidence) 6-9 inches of snow. I think that with the current set-up we are 6" on the high side and 2" on the low side. I still like my 2-4" with the possiblity of 5" if it shifts southward.
What does the most up-to-date weather model predict our Tuesday morning commute will be like?
Matt Elwell:
thetagger: - The Tuesday morning commute will be 1 or 2 inches of snow. The heaviest snow will stay west and north. Your biggest concern on Tuesday morning will be neighborhood streets and then bridges and overpasses. Tuesday evening may be more difficult as snow picks up for the evening (along with wind). That is also when we see some of the rain/snow/sleet mix moving in, which will eventually turn to all snow for the evening.
rick:
Can you explain the difference between your snowfall projections and weather.com. Their maps are indicating that we are within the area that will be receiving 6-12 inches of snow.
Matt Elwell:
rick- weather.com is just once source that you can get your weather information from. The nice part of having a metorologist or group of mets that focus on one area, we learn the biases and strengths that different model trend toward and can equate past storms to the current situation. The meteorologists at weather.com are in Atlanta looking at many different parts of the country as opposed to just DG, LV and WY counties.
I am sure you don't have time to explain everything right now, but what are your best tools for making these types of predictions?
Matt Elwell:
The best tools for predicting these winter storms? WOW! We access several different weather models, which are a big help. Experience with these storms are a big help.
Moderator:
That is all the time we have for our chat today. A couple of unanswered questions I can answer: city crews are preparing to salt, sand and plow the streets as needed. Generally, they tell us, plowing doesn't begin until there's at least three inches of accumulation. Also, as for school closings, stay with 6News and LJWorld.com all of tomorrow morning. We'll have the latest school closings up so you can check on schools that are important to you. Matt, thanks for joining us today. Any closing thoughts?
Matt Elwell:
Thanks Jonathan... Keep in mind that these winter storms can be changed by a matter of a couple of degrees. A few degrees warmer and we are talking all rain, no snow.. A few degrees degree cooler we could be talking all snow, no rain. The biggest thing from my standpoint is to leave plenty of time to get to where you are going, leave plenty of brake room between you and the next car, and please be careful around bridges and overpasses because the are the quickest cool and have ice form! Be SAFE!