Libertarian candidate Patrick Wilbur to chat about State Senate race
October 24, 2008
This chat has already taken place. Read the transcript below.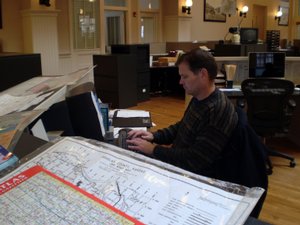 Patrick Wilbur, who is running as a Libertarian for the Kansas Senate's Third District seat, will chat with readers about the November election.
Moderator:
Hello and welcome to this LJWorld.com Election 2008 chat with Patrick Wilbur, who is running for the third district Kansas Senate seat, currently held by Roger Pine. Patrick, welcome and thanks for joining us today.
Patrick Wilbur:
Thanks for having me Jonathan. I look forward to chatting with voters.
Moderator:
Before we get started Patrick, will you talk about what you see as the biggest differences between you and your opponents.
Patrick Wilbur:
First of all I ma not an incumbent. I can bring fresh ideas to the legislature and - hopefully - teach some current legislators about government restraint. I also feel that I am the only candidate in the race that wants to reduce the influence of government in people's lives. That's why I signed the Kansas Taxpayer Protection Pledge.
What has been the most difficult part of being a 3rd party candidate in this race? What has been the most rewarding?
Patrick Wilbur:
Obviously the fundraising is a challenge. I have tried to overcome that disadvantage by knocking on doors and talking with voters directly. I don't think we need to match our opponents dollar-dollar, but we do need dedicated volunteers that can support the campaign. I have been very fortunate in that regard.
It is very rewarding to hear voters say they are glad to see a choice other than the Republicans and Democrats. As our party grows you will see us gain access to more voter forums, media events, etc. I think voters in this area now know they have a viable third option.
Which is the greater shame... that not even American can afford (or doesn't have)health insurance... OR... that American need insurance in order to afford the high cost of health care?
Patrick Wilbur:
The current health care system is a shame - period. We have the worst of both worlds right now. The federal government is neck deep in unfunded obligations (Medicare/Medicaid), and future generations are on the hook for this. I think this is at the root of the high cost problem. I would like to see more consumer autonomy in the heath care industry. Consumers should be able to negotiate their own coverage and the plan should be portable. I also feel that many small businesses cannot afford to offer coverage to their employees (a big part of the uninsured problem) due to cumbersome regulations. Regulations that actually help the larger corporations and put smaller businesses at a disadvantage.
Moderator:
Just a reminder to our audience, we're still taking reader's questions. If you have one, please feel free to submit it.
Moderator:
Patrick, one of your opponents has been at the center of a controversy over where his residence is and whether he could serve on a public board. What concerns does that raise for you?
Patrick Wilbur:
I actually would prefer to focus on the issues that impact the voters. I think this is where my (and my party's) strength is. The residence issue doesn't concern me much since Roger was living the current 3rd district. In the interest of full disclosure I do believe the Kaw Valley Water Board needs to explain all taxpayer-funded transactions. This would hopefully allow Roger, Tom, and I to move past this distraction and focus completely on the legislative issues.
Moderator:
I received this question via e-mail: What would be your energy policy if elected?
Patrick Wilbur:
I know this sounds like a generic answer, but we need a broad-based energy policy. We cannot afford to rely on a couple sources of energy nor eliminate any sources. I would like to see an expansion of solar, wind, and nuclear options in Kansas. I am nervous with a policy being guided by state boards and offices. This tends to get political (as we saw in the last session), and decisions are guided by partisan conflicts.
In response to the million dollar question - I would have voted no on Holcomb. Not in opposition to coal itself, but because there is not enough water to make it viable. The Ogallah aquifer will be dry in a couple decades and the backups aquifers do not have the capacity or quality of water to continue a project such as this.
Don't you think that the greed of insurance companies is as much a part of the problem as over regulation? I don't think my health care costs should be tied to anyones profits.
Patrick Wilbur:
There are certainly companies that are profiting from the current system. That's why we need more competition, so consumers can decide which insurance companies survive or fail. It would be nice if we knew how much health care actually costs, but we don't because of the massive interference. The system needs to be driven by the user instead of artificial controls and campaign donations.
Can the Libertarians leave the "hemp thing" alone? Just give it a rest?
Your candidates come out talking about preserving / restoring individual liberties, putting government back in its proper role and proportions, etc., etc. I get to the point I'm just about to think I should jump on board, then it always turns into a rant about hemp.
If we restore freedom, don't you think that would encompass hemp?

Patrick Wilbur:
I don't recall ever ranting about hemp. This really hasn't been a major issue for our candidates in Kansas this year. I do favor ending the drug war for many, many reasons. If that entails legalization then so be it. If we restore freedom then - yes - it would definitely encompass hemp and many other things.
PS - I would love for you to jump on board. We can put you to work right away.
What have you told voters during the campaign would be your greatest strength in the Legislature?
Patrick Wilbur:
I honestly believe my greatest strength would be my independence. Obviously I would bring a different perspective to Topeka politically, but I also am not tied to special interests or lobbyist money. My decisions will be based on what I feel is best for the people of the 3rd district and for all Kansans. I will also tell you upfront what I believe - specifically - we need to do in the next session. Initiatives such as ending the sales tax on food, a constitutional vote on ending eminent domain for private development, and ending taxpayer-funded lobbying.
Moderator:
Lawrence is town that is heavily focused on education. What changes would you like to see made to the state's education policies, both in relation to K-12 and post-secondary education.
Patrick Wilbur:
In regard to K-12 we definitely need to return more control to the local school boards. The state is charged with providing a suitable education - and it should. However a one size fits all policy never works. We see this at the federal level with No Child Left Behind. I would like to see Kansas submit its own alternate plan to Washington (as other states already have), so we can move past this flawed policy.
Regarding post-secondary education I would like to see the regents institutions gain more autonomy. The legislature provides approximately 25% of the budget for the institutions, but exercises much more control in terms of policy than it should. The regents institutions should also be allowed to determine their own admissions policies.
Moderator:
That's all the questions we have today. Is there anything else you think the voters should know about you before they go to the polls on Nov. 4 (or before if they're voting in advance)?
Patrick Wilbur:
I would just like the voters to know that I will work hard for them, and put aside partisan politics in all my decisions. If voters would like more info they can visit www.patrickwilbur.com or www.lpks.org. I would encourage everyone to vote early this year as the lines will be long on 11/4.
I think we all agree the current system is broken. If you want actual change you have to vote for actual change. The two major parties are not clearly not offering this in 2008.
Thanks to everyone who participated today.
Moderator:
Thanks Patrick for joining us and thanks to everyone who submitted questions. We have another chat going on right now - with State Board of Education candidate Bob Meissner - and more in the next few days. If you'd like to submit a question in any upcoming chat - or read a transcript of a past chat including with Patrick's opponent, Roger Pine - you can do so at LJWorld.com/chats. Thanks again.