Douglas County Commission candidate Nancy Thellman to chat
October 23, 2008
This chat has already taken place. Read the transcript below.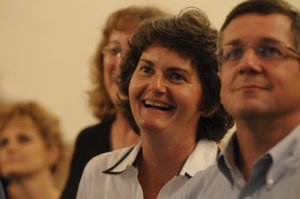 Douglas County Commission candidate Nancy Thellman, a 2nd district Democrat, will take questions from readers.
Moderator:
Hello and welcome to this LJWorld.com Election 2008 chat with Nancy Thellman. I'm online editor Jonathan Kealing and I'll be your moderator today. Nancy is running for the 2nd district Douglas County Commission seat, which includes the eastern one-third of the county. Welcome Nancy and thanks for joining us.
Nancy Thellman:
Thanks, Jonathan. I'm glad to be here!
Moderator:
A quick reminder that we're still taking questions. If you have one get it in. Before we get started with our submitted questions, Nancy can you explain what you see as some of the differences between you and your opponent.
Nancy Thellman:
First of all, about my opponent, I have to say that he's a very, very nice fellow. I think I can speak for both of us when I say that this has been a good, positive race. We've tried to stick to the issues which isn't always easy in this political atmosphere.
In terms of differences, I believe David and I have some differences of opinion about the SLT and about industrial development--particularly around the issue of preserving certain types of farm soils. But we agree on a lot--like the need for economic development to diversify our tax base, and the need to spend what little money the County has very carefully.
Moderator:
We've had several versions of this question come up in our chats...
why would you say in a open forum that you would give money to the seniors before 4h kids.there both important and why would you shove the kids to the side
Nancy Thellman:
I believe what I've said in forums is that we have to prioritize how we spend limited public funds. Senior services and 4H programs are vastly different programs, but both are important. Far from shoving kids aside, I actually am a strong supporter of 4H--and for all the services that come out of the Douglas County Fairgrounds, which also include the folks at the K-State Agricultural Extension Office. Besides serving the kids of our community, these folks help with conservation of our natural resources, best practices in agriculture, promote new ways of sustainable agriculture and encourage youth, ethnic minorities and women to enter into the profession of farming. So, in fact, I'm a pretty vocal advocate for our 4H programs and the extensive offerings out at the 4H Fairgrounds. Thanks for the question!
What do you see as the county commission's role in public health? Also, what would you advocate for in the health care arena if you are elected?
Nancy Thellman:
The County Commission plays a surprisingly large role in public health by way of helping to fund the Public Health Department, Bert Nash Mental Health, Visiting Nurses including their Hospice program. Youth Services and Senior services also receive funding--so health education and programs for our kids, as well as feeding programs and transportation for our seniors come into play. In these particularly lean, stressful times, these health and mental health related programs will be needed now more than ever. So I'd say I'd be a strong advocate for funding essential health related county programs--such as meal service and transportation for seniors--even in tight budget times. Also, I'd be very supportive of the work of Health Care Access--a very good health care system alternative for folks who don't have insurance in Douglas County.
When you talk about the potential of the Farmland industrial site, what do you think would be a realistic timeline on progress there?
Nancy Thellman:
I'd like to see the Farmland Industries site made ready for new industry as soon as possible. However, I can't make a guess on the time line since the property is tied up by a holding company and the City is unable to make a purchase until some liability questions are settled. The good news is, those discussions are under way. Once the liability obstacle is overcome, I'd like to see an aggressive clean up and site preparation--which I'd like to see underway in 2009! This site represents several hundred acres of new industrial acreage from which our community would benefit greatly. As a gateway to the eastern edge of our community, clean up and redevelopment of Farmland Industries MUST be a high priority--both for reasons of environmental concern and for economic development.
What do you think are the biggest issues facing the county and why are you the right candidate to tackle them?
Nancy Thellman:
Going door to door, I used to hear a lot of concerns about the environment. But in the last month, it seems that all the conversations reflect real worries about the economy--from the national, to the state, and all the way down to local, pocketbook concerns. So, while my heart is with promoting environmental issues, the number one concern, now, is money. As a County Commissioner I offer some new thoughts on how we can broaden our tax base--using resources we already have which require little infrastructure or public cost. My advocacy for creating a well integrated local and regional food system (because Douglas County has some of the VERY BEST soil in the nation!) has the potential for substantial revenue for our community as well as the added benefits of meeting the local demand for healthy food produced in an environmentally sustainable way. This represents feasible economic development that may be a little "outside the box"--but that's what we need right now: leaders who can bring new ideas to the table that encourage new business, fiscally responsible entrepreneurship, while making decisions that reflect our concern for the next generation. I tend to think about issues for their long term consequences, rather than short term benefits--a trait that will serve the County well.
I am a senior on a fixed income. I am attempting to live within my means. I can't sell my home for the appraised value, and I can't afford the taxes. What should I do??
Nancy Thellman:
I wish you were an isolated case, but I'm afraid there are a lot of folks out there who share the same concern--fixed income, increasing cost of living, stalled housing market and no end in sight to financial troubles. That's why funding compassionate human services such as the Senior Center and senior services is so important now and in the future. While it sounds like you would benefit from the advice of a professional financial planner (and maybe you've already done that), you'll also find supportive services through a coalition of senior-related agencies--all of which you can plug into via the Senior Center. Clearly County Commissioners need to do what they can to keep our community's economy healthy--and, hopefully, more diversified, keep the property tax rate stable so, in time, the housing market will bounce back to normal and your home will, once again, be an advantage to you rather than a burden.
Moderator:
That looks like the last question we have for Nancy. Thanks very much to everyone who submitted questions and to Nancy for joining us today. If you'd like to post a question in any of our upcoming chats please log onto LJWorld.com/chats. To see a transcript of previous chats - including the chat with Nancy's opponent, David Brown - visit LJWorld.com/chats.
Nancy Thellman:
Thanks so much, Jonathan--and thanks to the folks who submitted questions. Thankfully, the election is almost here!!! If you're still undecided about this County Commission race in the 2nd District, if you'd like to know more about me or where I stand on important County issues, please go to my website at www.NancyThellman.com You can submit question/concerns there which I'll be glad to respond to. Otherwise, I'd appreciate your vote, November 4th!
Nancy Thellman, Democrat, Candidate for County Commission, 2nd District