U.S. House candidate Nick Jordan to chat
October 17, 2008
This chat has already taken place. Read the transcript below.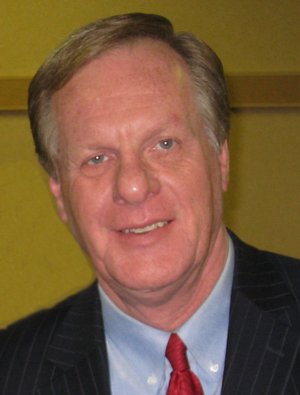 U.S. House candidate Nick Jordan chats about his race for the Kansas' Third District. He is a Republican.
Moderator:
Hello and welcome to this LJWorld.com Election 2008 chat with Nick Jordan. I'm Online editor Jonathan Kealing and I'll be your moderator. We'll be getting started soon, but please go ahead and submit any questions you have.
Moderator:
Nick thanks for joining us.
Nick Jordan:
Thank you, it's good to be here. This is a great forum and I'm grateful for the opportunity to visit with you today.

Moderator:
We have a couple of questions submitted here today and a number that were submitted earlier this month in a chat that had to be rescheduled. We'll be posting questions from both so some questions will look different than others. Let's jump right into questions.
Nick: What's you view of government's role in people's lives? Also, what is your plan to fix the energy crisis?
Nick Jordan:
Thank you for the question. I believe the role of government should be to make sure that everyone in America has the same opportunity to live their lives and pursue happiness. Unfortunately the government has taken unprecedented measures recently to step into the lives of Americans. This $700 billion bailout package, on top of the $600 billion bailouts the government has already done, has increased our national debt by a whopping 26%. Amazing, simply amazing.
When it comes to energy... It is time to wake up Washington on energy and gas prices: 30 years ago, Americans were waiting in line for gasoline. Since then, Congress has failed to develop a national energy policy, which has left our country dependent on foreign oil & our economy strained by high energy costs. I believe we need to take action NOW and solve this problem through a balanced, common sense approach of investing in clean and renewable alternatives and greater domestic production of energy, which includes responsible off-shore drilling. That is a significant difference between me and my opponent. I support a full solution to our nation's energy crisis as opposed to an approach that says 'No' to everything. I strongly disagree with the recent vote by Dennis Moore and Congress to increase taxes on American made energy. It's the wrong direction for our country and is only going to make America more dependent on foreign oil. I'll work to support clean alternative energy sources like bio-fuels, wind, solar, and nuclear; encourage conservation and energy efficiency through tax incentives; increase the number of refineries to get cheaper gasoline to market; increase domestic oil production, including lifting the ban on offshore drilling; and go after abuses in Oil speculation
Furthermore, there is no excuse for America to not lead the way on conservation efforts and environmentally friendly technology. We are the wealthiest and most technologically developed nation in the world. New clean technologies are key to America becoming energy independent. I believe in a comprehensive energy policy that includes traditional energy sources such as oil, clean coal, and nuclear. The technology we have allows us to use these resources in an environmentally conscious way and we must do so. At the same time we must continue to develop renewable energy such as wind, solar, and bio-fuels.
You have consistently voted against education funding in your years in the Senate. Why do you continue to claim that the KS Senate has provided for KS kids when you have voted against those funding proposals?
Nick Jordan:
I have supported education throughout my time in the Kansas Senate, but I am for fair educational funding. The bills I voted against did not provide fair funding for schools in certain parts of the state including our schools here. I simply won't compromise on making sure that all children in the state of Kansas receive the best education we can afford to give them. While in the Kansas Senate I worked on education by sponsoring legislation which led to the creation of the Kansas Academy of Mathematics & Science and I served as Chairman of the Math, Science, and Innovation Committee and the K through 12 Education Task Force. I'm a strong supporter of education. In fact I recently received a 100% ranking by the group Kansas Citizens for Higher Education for my support of education. Unfortunately less than half of all Kansas Legislators made the honor roll on this list. I'm proud to be one of the ones who did.

Moderator:
Just a note, we've been having technical problems on both ends that are think are resolved now. The questions and answers should flow more quickly now. Our next question is from the user Fort_Aubrey:

Moderator:
How did the Kansas Biosciences initiatives actually get started? How can these affect the Johnson-Douglas County area
How are efforts going to attract the federal National Bio and Agro Defense Facility to Kansas?
Nick Jordan:
The Kansas Bioscience Authority is a result of the innovative 2004 Kansas Economic Growth Act which I co-authored with Representative Kenny Wilk. The idea was to focus our state's economic development dollars in an area where Kansas has existing strengths and which will create jobs in the 21st Century. The impact on Johnson County and Douglas County is huge, because this is a corridor that already has great leadership in the biosciences. We're using the research assets at the University of Kansas and the University of Kansas Medical Center to advance biosciences research and development, and helping researchers spin technologies out of those institutions and into the marketplace to create businesses and jobs. We're also supporting existing businesses such as those in the Kansas City Animal Health Corridor to expand and develop new technologies.
Do you support a constitution ban on gay marriage? Why or why not?
Nick Jordan:
I agree with the will of the people of Kansas and an overwhelming 70% voted to define marriage as between one man and one woman.
We've been hearing a lot of talk about tax breaks for Big Oil and whether or not we should repeal those tax breaks in order to pay for research and development for renewable energy. If elected, would you continue to give Bil Oil these tax breaks? If so, how would you pay for tax incentives for businesses developing renewable energy in Kansas?
Nick Jordan:
JMKelly that's a great question. The answer is simple, I believe we must cut spending. We're facing an economic crisis and the federal government needs to reduce the size of the budget. Any struggling family will tell you that when they are in a financial crisis one of the first things they do is cut down on their spending and reduce the size of their personal budget. Government needs to step up to the plate and show some responsibility and act in a similar fashion.
What do you think are the most important issues facing voters today and how do you plan to tackle them in Washington?
Nick Jordan:
First and foremost is our economy. The economic crisis we now face was created by Dennis Moore and a broken Congress. For 10 long years, Dennis Moore has sat on the House Financial Services Committee, the committee in charge of holding Wall Street accountable. They failed to do so and did nothing to fix this problem when the warning signs about this crisis were showing up all over the place. Instead, Dennis Moore and many others in Congress helped create the mess by pushing to increase Fannie Mae's & Freddie Mac's ability to do high-risk toxic loans that are a central cause to the financial crisis.
Dennis also voted to send $700 billion in taxpayer money in a flawed bailout to Wall Street high rollers, without enough accountability or really fixing the fundamental problems with the economy. Interestingly enough on the day he first voted for the bailout he took in nearly $34,000 in campaign contributions from the same financial institutions he voted to bailout using taxpayer money. I guess those donors felt they were making a good investment and they certainly got a great return on their money.
Our economy was already facing a number of struggles including: soaring gas and food prices and the threat of higher taxes. In the State Senate, I successfully led the charge for the Kansas Economic Growth Act, the Kansas Bioscience Initiative, and the Kansas Entrepreneurship Initiative, which are generating thousands of new jobs for Kansas families. There are several critical areas currently affecting American pocketbooks and straining the economy: gas and energy prices, government spending and taxes - this includes the $700 billion bailout, and the increasing costs of health care.
Moderator:
This next questions will likely be the last question we'll have time for today.
How do you plan to 'Wake Up Washington' when for the last eight years your party has held the Presidency, and for most of the last eight years your party has controlled the majority in both the House and the Senate? And if elected how do you plan to do more for the people of the 3rd District as a member of the now minority GOP party than Congressman Moore currently does as a member of the majority Democratic party?
Nick Jordan:
I'm not letting anyone from either party off the hook. They all missed the boat, including my opponent Dennis Moore. What we need in Congress is new faces and fresh ideas. The American people are demanding this and there will be new people from both parties elected across the country who will have to work together. I have a history of working across the aisle in the Kansas Senate for the last 13 years. I'll bring that same ability and attitude to Washington. Dennis Moore likes to brag about his bi-partisanship, but it's just not true anymore. This last Congress he voted over 97% of the time with Nancy Pelosi and his party. Dennis Moore is the most partisan member of the Kansas Congressional Delegation. We need to stop playing the same tired old politics-as-usual and find solutions. People are ready for action and that's what I'm known for doing.
Moderator:
Thanks Nick. I appreciate you taking the time to chat with our audience. A quick programming note: we have about a dozen more Election 2008 chats setup over the rest of the month - including Nick's opponent Dennis Moore. To submit a question in any of those chats, or to read transcripts of past chats, log onto LJWorld.com/chats.
Nick Jordan:
Thank you everyone. It's been a pleasure to chat with you today. Remember, the choice is pretty simple this year: If you're happy with the state of the economy, the $700 billion bailout, the energy crisis, and all the other problems facing our nation, by all means vote for Dennis Moore. However, if you're ready to Wake up Washington and get some fresh faces and new ideas in Congress I would ask you to vote for me, Nick Jordan. I'm ready to find solutions and take action and I know that's what the American people want.