State Senate candidate Roger Pine to chat
October 14, 2008
This chat has already taken place. Read the transcript below.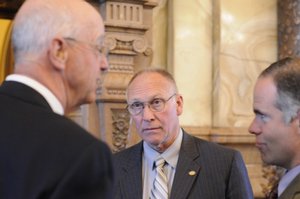 State Sen. Roger Pine, a Republican, will chat about his re-election effort in the Third District.
NOTE: The chat scheduled for today has been canceled and will be rescheduled. Any questions submitted will be carried over.

Moderator:
This chat has been rescheduled for Oct. 21. Come back to LJWorld.com on Oct. 21 to chat with Roger Pine.