Douglas County Sheriff's Office chats about upcoming Wakarusa Festival
June 4, 2008
This chat has already taken place. Read the transcript below.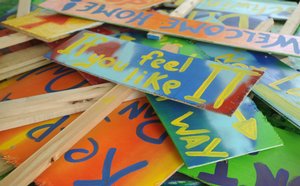 Representatives from the Douglas County Sheriff's Office will be in the NewsCenter to take questions about the upcoming Wakarusa Festival and this weekend's law enforcement.
Moderator:
Welcome to today's online chat. I'm reporter Lindsey Slater and I'll be moderating today's chat. We'll be talking about Wakarusa Fest with Lt. Kari Wempe and Lt. Doug Woods of the Douglas County Sheriff's Office. Thanks for joining us today.
Douglas County Sheriff's Office:
Thank you we appreciate the opportunity to answer some questions before the Wakarusa Music Fest begins.
Moderator:
We have some reader submitted questions.
Will there be any out of sight camera's?
Douglas County Sheriff's Office:
No, there will be no hidden camera on the festival grounds.
I have attented Wakarusa for the past three years, and I feel that it is a great thing for Douglas county. However, I understand that there are other things that maybe brought that are not. What is your plan to keep the festival Clean, without giving out uneeded MIP's ? I feel that the main concern should be hard illicit drugs. And in my passed years It has not been that way. Additionally, how many officers do you plan to have in the festival and outside the festival?
Douglas County Sheriff's Office:
Deputies from DGSO and Troopers from Kansas Highway Patrol as well as Wildlife and Parks Officers will be patrolling the grounds of the festival in an effort to curb illegal activity. Agents from Alcohol Beverage Control will focus their law enforcement efforts on alcohol related offenses. The total number of law enforcement officers varies from day to day and shift to shift. Friday and Saturday shifts require additional manpower to keep the festival goers safe, manage crowds and curtail illegal activity. Outside of the festival the Sheriff's Office will have normal staffing on patrol.
I am curious as to how much the additional security costs and if any of the extra costs come from tax payer money?
Douglas County Sheriff's Office:
Wakarusa Festival promoters contract with the Douglas County Sheriff's Office to provide a law enforcement presence at the festival. Little to no cost is incurred by tax payers.
Will you be using K-9s and searching cars for contraband?
Douglas County Sheriff's Office:
We will have police service dogs on the grounds during the festival; they are also trained in ground disturbance tracking. Cars being searched as they enter the festival grounds are conducted by Wakarusa Music Festival security, not law enforcement.
Moderator:
There is a possibility for severe weather during the festival. How will that affect the officers while they are on duty?
Douglas County Sheriff's Office:
The Sheriff's Office maintains constant communication with Douglas County Emergency Operations Center for weather watches, warnings and advisories. Should the weather become an issue, special notifications will be made by officers using their patrol vehicles' PA system to notify festival goers of possible weather conditions and appropriate action. We will also use the Festival's stages to make those announcements.
How will traffic be managed this year? I'm worried about getting stuck in a long line to get in.
Douglas County Sheriff's Office:
The Festival promoters added additional ticket lanes as festival goers enter the festival along with addional staff to accomodate festival goes in a more efficient manner. This method was employed last year successfully and reduced the traffic back up to a minimum. The plan calls to keep to that same traffic pattern this year. Good question.
It is nice that you can warn us of severe impending weather. But what should festival goers do in the event of a tornado or baseball size hail like manhattan received the other day. Cars are technically the last place you should be, but that will probably be the only option?
Douglas County Sheriff's Office:
In the event of severe weather festival goers are encouraged to return to their vehicles until the storm passes. There is not adequate shelters at the state park for the amount of festival goers.
Moderator:
Aside from the storms, what should festival attendees do to beat the heat?
Douglas County Sheriff's Office:
Festival goers should be aware of Kansas heat and humidity. Everyone at the festival should stay hydrated ( water!) wear loose fitting clothing, wear hats, use insect repellant, use a high SPF lotion ( especially for the youngest festival goers) and reduce alcohol consumption. Simply just don't overdo. There are medical staff at the festival should there be an emergency.
Can I bring my own 4 wheeler out to the park? Is there a helmet law in Douglas County for recreation vehicles?
Douglas County Sheriff's Office:
Recreational 4 wheelers are not allowed in the park at any time during the year.
Could you describe the officer presence in the campgrouds? Will they be doing 4-wheeler, bike, and walking, or will it be confined to mainly one type?
Douglas County Sheriff's Office:
Law enforcement officers will be using bicycles, foot patrol, as well as using golf carts and possibly all terrain vehicles in the campgrounds and concert venues to keep all attendees safe.
During the Wakarusa Festival, there always seems to be a greater pedestrian presence downtown. What steps are Law Enforcement agencies taking to police the downtown area during the festival? Will patrolling the festival and downtown simultaneously lessen or diminish police coverage for the rest of Lawrence?
Douglas County Sheriff's Office:
Downtown Lawrence is patrolled by officers of the Lawrence Police Department. Lawrence Police Department patrol officers are not assigned to the festival and therefore this will not diminish police coverage to the rest of Lawrence.
Moderator:
That's all the time we have for today. Thanks for coming in and we'll see you at Wakarusa.