KTA President to chat about turnpike upgrades
June 3, 2008
This chat has already taken place. Read the transcript below.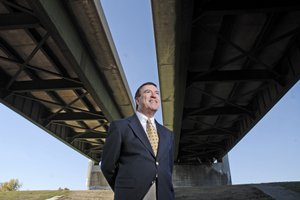 <a href="http://www.ksturnpike.org">Kansas Turnpike Authority</a> President <a href="http://ksturnpike.com/meetkta.shtml">Michael Johnston</a> will chat online about the Kansas Turnpike project that will see new bridges built over the Kansas River and upgrades made to the Lawrence toll booths.
Moderator:
Good morning. This is Jonathan Kealing, online editor here at LJWorld.com. I'll be your moderator for this online chat. We expect to have Michael here any minute. We have a lot of good questions but we're still taking more.
Michael Johnston:
Thank you. I'm glad to be here.
Moderator:
Here comes our first question.
During the planning phase for this project, there was some talk of adding a pedistrian/bike bridge underneath one of the new spans. Is that still in the works or was it left on the cutting room floor?
Michael Johnston:
There are no plans for a bicycle bridge on this project. It is unlawful to ride bikes on the Interstate system.
Michael Johnston:
There are no plans for a bicycle bridge on this project. It is unlawful to ride bikes on the Interstate system.
Moderator:
Michael, I want to step back and ask a broad question. This project has been touted as the biggest project in the history of the Turnpike. What makes it so large?
Michael Johnston:
Replacing two half-mile long bridges is a major and expensive undertaking. Add to that the other work at the West and East Lawrence Plazas and you have a very large project. Finally, after taking into account the two Kansas River Bridges, there are 15 other bridges/structures on this job.
Moderator:
And now, back to our audience:
When is the project to expand the lanes in the North Lawrence entrance and exit to/from I-70 slated to begin? How long will it take? Will both the entrance and the exit be closed down at the same time?
Michael Johnston:
On June 16 the westbound entry and exit at Plaza, 202 West Lawrence, will be closed. The contractor has 180 days to replace the bridge over the Turnpike at that location and to reopen westbound entry and exit traffic movements. The East Lawrence Plaza 204, will be closed later in the project to all traffic movements, but the exact date is uncertain at this time. That information will be shared with our Lawrence area customers and the community well in advance of the actual closing.
Moderator:
The next question comes in two parts because the poster wants to make a clarification.
Moderator:
The next question comes in two parts because the poster wants to make a clarification.
What is the timeline for expanding to three lanes through Douglas County?
Sorry, correction to my question: I meant six lanes, three each way. Thanks.
Michael Johnston:
This project will expand to 3 lanes in each direction between east and west Lawrence Plazas. There are no plans to expand the Turnpike to 6 lanes in any other part of Douglas County.
At the east Lawrence exit, the merge lanes in both directions onto the turnpike are very short. Sometimes it can be difficult to get up to speed and merge onto the turnpike safely. Will these merge lanes be lengthened?
Michael Johnston:
Yes.
Are there any financial incentives for the contractor to complete the job ahead of schedule?
Michael Johnston:
No; But there are substantial penalties for the contractor if certain timelines are not met with respect to several individual elements of the job in addition to the overall job itself. $10K a day penalty can be a powerful incentive for performance.
How much of a toll increase is expected at the end of the expansion project? How much extra patrol will be added to control the excessive speeds seen on the 3 lane sections of the toll road?
Michael Johnston:
There is no plan to increase tolls specifically attached to this project. We do have a proposed tolling increase of approximately 5% on a 3-year interval. We are looking at our patrol staffing for not only this area, but other areas of the Turnpike, but cannot be specific about when staffing levels will be added. The recent expansion to 6 lanes between Topeka and Lawrence may have contributed to higher speed and we are doing our best with current staffing levels to deal with this issue. Finally, it costs approximately $100K per year to add one additional Trooper and we are attempting to balance our needs with our revenue and our customer's willingness to pay higher tolls.
Moderator:
Our next question has to do in part with this project, and a little bit with another project that has been talked about in the past year.
When is the proposed new turnpike exit in the Linwood vicinity to be started/completed? How much is this projected to reduce traffic on K-10?
Michael Johnston:
It will start later this month, should be completed by very late 2009 and will have a negligible impact on K-10 traffic.
Moderator:
I have two more questions to post and then we'll wrap this up. Both questions are more about the way the turnpike is run.
How long before Kansas Lawmakers begin to seriously debate leasing the Kansas Turnpike to foreign interests in return for a quick infusion of funding, a la Pennsylvania?
Michael Johnston:
I can't speak for the Kansas Legislature and won't speculate on what they may do or not do with respect to the issue of asset leases.
The tolls charged by the Kansas Turnpike Authority are a burdensome extra tax for families and commuters. Can you explain what percentage of the millions of dollars collected annually go toward Turnpike upkeep and what percentage go to other state expenditures?
Moderator:
Michael has had a bit of a computer problem but should be back with us in just a moment.
Michael Johnston:
100% of the income received by the Turnpike is dedicated to it's operation and continued maintenance. None of the income received by the Turnpike goes to other State expenditures except the sales and motor fuel taxes collected at the 6 Turnpike Service Areas which is remitted to the State for its use.
Moderator:
Michael, thanks for taking time out of your day and joining us for this chat. We appreciate you taking the time to answer our audience's questions.
Michael Johnston:
Nice to be with you and have a great day. To stay updated, you can go to www.spanningthe future.com and sign up for email project notices and changes.
Michael Johnston:
That's www.spanningthefuture.com No Space in the URL.