Extension agent Jennifer Smith chats about lawn and garden care
July 22, 2008
This chat has already taken place. Read the transcript below.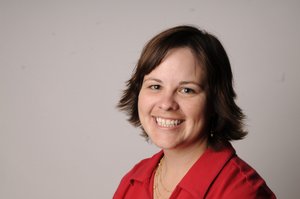 Jennifer Smith, horticulture agent for the Douglas County Extension Office and Garden Calendar columnist for the Journal-World, will answer questions about lawn and garden care.
Moderator:
Hi, everybody. Jennifer Smith, horticulture agent with the Douglas County Extension Office, is here to answer your lawn and garden questions. Feel free to submit questions throughout the chat. I'm Terry Rombeck, features/special sections editor, and I'll moderate today's chat. Welcome, Jennifer!
Jennifer Smith:
Thanks for having me here today - I'm looking forward to some good questions today!
Moderator:
Let's get started.
My lawn is Bermuda grass. How can I get rid of it without hurting my flowers, trees and shrubs?
Jennifer Smith:
There are two ways to get rid of Bermudagrass. The first way is to cover all of it with black or dark colored plastic for a few weeks. The sun will heat the plastic up and kill the grass underneath. Then you can re-seed in September with a more desirable turf species. The other way to kill the bermudagrass is to spray it with a non-selective herbicide such as Roundup. You may need to make 2 or 3 applications, and make sure to follow all label instructions. Then you can re-seed in September.
Both of these ways are non-selective. If the herbicide contacts your other plants, it will kill them. Also, if you put the plastic over the plants, it will kill them. Unfortunately, bermudagrass is hard to deal with.
Jennifer, when is the best time to water plants in this heat?
Jennifer Smith:
Early in the morning is the best time to water. This allows the plant's leaves to dry out during the day, making them less susceptible to disease. If you water in the evening, the plants and soil remain wet for several hours, which favors disease-causing fungal growth.
Moderator:
Here's one from me - in my new back yard, I have two big apple trees that are doing well. But I'm told the squirrels will turn the trees into a feast before I get a change to pick many ripe apples. Any suggestions?
Jennifer Smith:
You could try planting some nut trees nearby so they will have something else to eat...Just kidding. Squirrels are hard to deter. If there are other trees nearby (close enough for them to jump from) you could try pruning those back and placing something around the base of the apple trees so that the squirrels cannot crawl up the trunk. You could also use netting over the entire tree. I really don't recommend attempting to feed them something else - you may end up attracting more squirrels.
Jennifer, what are some ways for an apartment dweller to participate in gardening?
Jennifer Smith:
There are lots of ways! If you have a deck or patio space, fill containers with plants. I successfully grew tomatoes, peppers, and pumpkins in containers on my patio in an apartment I lived in several years ago. Indoor gardening - with houseplants and tropicals- provide the therapeutic benefits of working with plants and actually cleanse the air. You can also check out community garden opportunities, where several people share garden space, or look for volunteer activities like the Master Gardener program.
Moderator:
You mentioned you're getting a lot of questions about bagworms. What do you tell people?
Jennifer Smith:
At this point, its best to pick them off. Put on a pair of gloves, and you can squish them or put them in a container you can seal and dispose of, like a plastic bag. If you really want to use an insectide, Conserve (spinosad) is an organic insecticide that is very effective in trials. There are several conventional insecticides that can be used - just read the label to make sure it controls bagworm caterpillars. Coverage is really important if you are using an insecticide.
Moderator:
How about lawns? What should people be doing now, and what should they be doing as fall approaches?
Jennifer Smith:
Right now is a good time to think about renovation in September. Go ahead and take samples to have your soil tested to determine how much and what kind of fertilizer you need. Soil samples can be brought to the Douglas County Extension Office at 2110 Harper St.
If you have bermudagrass that you wish to eradicate, start that process soon, as mentioned above.
If you are watering your lawn, water early in the morning and infrequently. Turf needs about 1 inch of water per week, so you can set a can in the grass before you water to measure how much you are putting on. One or two applications that equal one inch per week is better than watering every day.
Moderator:
That'll do it for our chat today. If people have more questions, how can they get ahold of the Extension Office?
Jennifer Smith:
Call the Master Gardener Hotline at 843-7058 or e-mail dgemg@sunflower.com. Master Gardeners man the hotline from 1-4 p.m. Monday-Friday, but you can leave a message anytime.
Moderator:
Great -- thanks for coming in today, Jennifer.
Jennifer Smith:
Thanks, Terry!
Happy Gardening and I hope to see everyone at the Douglas County Fair!