Chat about Douglas County Senior Services with John Glassman
September 17, 2007
This chat has already taken place. Read the transcript below.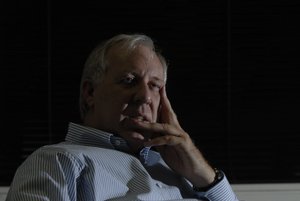 John Glassman, executive director, Douglas County Senior Services, will take your questions about how to live as a retired person in Lawrence.
Moderator:
I'm Christine Metz, today's moderator for our chat with John Glassman, executive director of the Douglas County Senior Services. Thanks for joining us today. And, a reminder to our readers to please post any questions.

John Glassman:
Thank you for inviting us to chat this afternoon. Let me first begin by drawing everyone's attention to the special section that was in yesterday's Lawrence Journal World. It was significant because it gave everyone a better understanding as far as the services, options and opportunities that this community offers our older citizens and their families. Lawrence has a good base in which to grow as a good place to retire and grow old. It is also an excellent indicator of additional services that we need to offer if we are going to be able to respond to the upcoming demand of those over 50 and an ever increasing population over 85.
Moderator:
So, John the first question - what should the community be doing to support seniors and the growing number of them?
John Glassman:
Often when we think about retirement and serving the older population we think about stages of mental debilitation. How can we be more supportive? It is a central core of what we do for this population and the caregivers who serve them.
We should not lose sight and be forthcoming as this boom is underway. Seniors are bringing a vibrancy and a source of intellectual vitality to continue to make contributions Lawrence and Douglas County.
It is an area we need to provide new and improved services and thinking of Lawrence will become.
Moderator:
What pressures will Lawrence face as more and more people retire here? And, what can the community do now to start addressing those issues?
John Glassman:
I think that one of the first things we will see is an increase of demand for affordable housing and and increased demand for recreational services.
We will also begin to see positive economic impact on various businesses that are providing direct services in a variety of capacities, whether it is in-home, dining out, transportation. I think it important for this community to first recognize that older citizens are a strong positive economic force in Lawrence and Douglas County and therefore it is important for us to find new ways for attracting, retaining and assisting older citizens to age in place. We need to bring together key components of economic development and social services and develop a blueprint to incorporate these ideas and to allocate these resources toward enhancing Lawrence and Douglas County as good place to retire.
Moderator:
From what you have seen and read, what are some of the communities that are doing it right when it comes to welcoming retirees?
John Glassman:
One of the more interesting studies about retirement is the indication that most people remain in their communities to retire. It is a myth that many of us carry that people pack up to go to warm weather states to live out the last portion of their lives when in fact we now see that most of us stay in the community where we spent a good portion of our adult life. Parenthetically, we do see a counter migration into areas like Lawrence, where many people spent their young adult lives, IE Kansas University, which is similar to many communities. For example, I have first hand knowledge of being in Fort Collins, Colorado, a community similar to Lawrence, that not decade ago committed to becoming a retirement town by focusing their resources and community leadership, they now are viewed in nearly every top ten retirement community list. We here in Lawrence have that same opportunity before us. It is up to us.
Moderator:
Well, John, thanks for coming in today for our chat. Any closing thoughts before you sign-off.
John Glassman:
For those of you who share our interests and concerns, we hope you will contact us and consider joining with us as we continue to grow and provide services for our older citizens of this community. We are working very hard to develop new and better approaches to support individuals and their families as they age here. Please call us or stop by and see us.
Thank you for this opportunity.