Chat about the Monarch Watch
September 11, 2007
This chat has already taken place. Read the transcript below.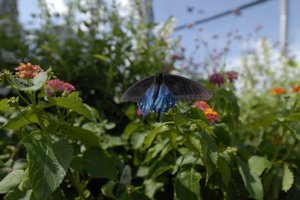 Chip Taylor, a world-renowned expert on butterflies and their migration patterns, will be available to answer any questions during this online chat about Monarch Watch.
Taylor said that as many as 100 to 150 butterfly species come through Kansas. Taylor expects the monarchs will arrive en masse within days. Traditionally, he said, they arrive between Sept. 8 and 11.
Monarch Watch volunteers will be tagging the butterflies this week. The annual tagging event is scheduled for Sept. 15 at Baker Wetlands and will run from about 7 a.m. to 5 p.m.
More information on both events is available at <a href="http://www.monarchwatch.org">www.monarchwatch.org</a>.
Moderator:
Good morning. This is Dennis Anderson, managing editor of of the Lawrence Journal-World. I'll be moderating today's chat with Chip Taylor, a world-renowned expert on butterflies and their migration patterns. We will be talking about Monarch Watch this week.
Chip Taylor:
Hi Dennis - It's good to be with you on this beautiful day.

Joel:
Hi Chip: How are monarch populations doing, quantity-wise? If their habitats are disappearing, are they also?
Chip Taylor:
Monarchs are doing well this year. The East has higher than normal populations. Most of the Midwest is normal or slightly above. Minnesota appears to be below normal. Overall, we are expecting a slightly better migration this year.
Habitat is declining by about 6K acres a day in the US - due to development. Lots of habitat are being lost but we are not seeing the effect of this loss in the numbers at this time perhaps due to the capacity for this butterfly to find milkweed in new places even though a good deal of habitat is being lost each year.
What is the monarchs' migration route?
Chip Taylor:
Monarchs sweep from the northern breeding area south and southwest through most of the eastern United States. There are some areas with higher concentrations than others but generally speaking there are no distinctive migration paths.
Is Monarch Watch an appropriate event for children, and if so, what age?
Moderator:
Where can people get more information about this week's events?
Chip Taylor:
Yes, we invite children to participate in the tagging event at the wetlands - coming up this Saturday at the 31st Street entrance to the wetlands starting at 7:30 a.m. and going until 11:30 a.m. There is no age limit but children of 6 or older can swing a net and can catch the monarchs for tagging. Younger children are frequently at the the event but need more guidance from parents.
Last week at our Open House we had about 600 visitors and there were many children under age 5.
Chip Taylor:
To learn more about Monarch Watch and the tagging event this Saturday, as well as our other programs, please visit our web site at www.MonarchWatch.org. Directions as to how to reach the wetlands are found on the web site.
Moderator:
That's all the questions we have today for Chip Taylor. I want to thank the readers for their questions and Chip for his time and answers.