Chat about the Lied Center's 2007-2008 season
September 6, 2007
This chat has already taken place. Read the transcript below.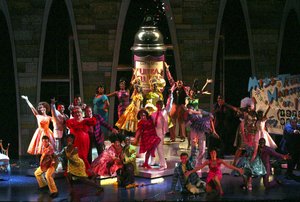 Chat about the Lied Center's 2007-2008 lineup and other performing arts issues with Anthea Scouffas, the venue's director of education.
Moderator:
Welcome to today's chat about the performing arts and one of the venues that showcases them in Lawrence - the Lied Center. We're joined by Anthea Scouffas, director of education at the center, who will take your questions. I'm Mindie Paget, and I'll be moderating the discussion. Thanks for being here, Anthea.
Lied Center:
Hi Mindie--glad to be here!
I love the Lied Center's shows, and I go to some, but I would love to see some jazz be added to the schedule. Why is jazz not part of the Lied Center's season?
Lied Center:
You are correct, we haven't had jazz in awhile. Last season we did have Avishai Cohen (Amazing Isreali bassist) and his group and it was really one of the most memorable performances of the season. So we do bring in some jazz, but obviously not enough for our true jazz lovers. I will pass your message on to our Ex. Dir., Tim VanLeer and perhaps he will consider programming more jazz at the Lied.
I'm really looking forward to bringing my fifth-grader to the Pink Floyd show at the Lied Center. A friend was also talking about going. Is it sold out? Also, my daughter's teacher mentioned something about a school show of something else. Could you tell me more about those?
Lied Center:
No, the show is not sold out but is selling well. You might want to contact the ticket office soon for additional tickets! should be quite an event.
Yes, we have three school only performances each season. This season we start off with a theatre production from Childsplay Theatre called, Tomas and the Library Lady. This is for 3-6 graders. Then we'll have a school perf. from Aquila Theatre for jr high and high school students, Shakespeare's Julius Caesar. We will end the season with a production of a favorite children's series, Miss Nelson Has A Field Day. We have info on our website that descibes each performance. www.lied.ku.edu. We have an educational partnership with USD497 and US Bank called Adventures in Imagination. Through this program, we are able to provide one free ticket to every school child in the district.
As the director of education, what are your top 3 choices for the season?
Lied Center:
Ah...I like this question! I would have to say Cloud Gate Theatre of Taiwan--an amazingly beautiful and powerful contemporary dance company. I have seen the limited but incredibly talented cont. dance companies from China and have been blown away by each performances beauty. Each performance i have seen has made me think of a moving work of visual art. Cloud Gate's performance is called Wild Cursive and explores through movement the beauty of the art of calligraphy. Their backdrop is large strips of rice paper. Slowly throughout the performance, ink is poured onto the paper and characters appear. It should be stunning!
Eileen Ivers is my second choice. She is just a fantastic artist. I am not necessarily a huge fan of celtic music, but Eileen is just one of those performers you must see live. Her talent and energy are powerful. You leave her concerts energized.
And finally I would have to say Urban Bush Women with Companie Jant-Bi (I do have a fondness for dance). I have worked with this company (all women of color) at other centers a number of times. They are the most human artists you will ever meet...wonderful and giving and, of course, very talented. they do extradinary residencies-they get to know the community they are in very well. This work with Jant-Bi (an all male cont. company from Senegal) will be very exciting.
Others i might put on this list....Philip glass....East Village Opera...and others of course!
I'm wondering how you select which acts will perform at the Lied Center each year. Is there a lot of competition for different acts? How hard is it to get big Broadway shows to come to Lawrence?
Lied Center:
Well actually selecting the art that will be presented is fairly difficult. Our exec. dir and assoc. director work with agents and agencies throughout the year (and years) discussing the new performers or new works by known performers. It is very much about relationships...the artists and their agencies share with the presenters the work the are developing. if it is of interest and works into what we want for the season, we begin to try and fit it into our calendar and also into our budget. This is all happening two to three years before you the patron actually see the work. Right now our exective director and associate directors are at a conference talking to artists about work for the 08-09 and 09-10 seasons. They also talk to other performing arts centers to hear what has worked well for them and not.
Sometimes, too, we bring in work that fits into a grant that we have written. For instance, we might want to explore contemporary dance from Africa. We would write the grant and if we received the money, we would book companies from Africa the season the grant was written for.
Seeing that the Shaolin Warriors are coming makes me wonder if the Lied Center ever runs into stage requirement issues with potential performers - either with the size of the stage, configuration, etc. Is that ever a challenge?
Lied Center:
Well yes, sometimes. Actually I would say our problem tends to be more of an issue of too big a stage than too small. We have a very large stage area and can bring in any Broadway show with no real problems. But, because it is so large (and the center as well) it is sometimes difficult to bring about the more intimate atmosphere you would want for performances like cont. dance or a jazz trio.
We are fortunate to have such a large and wonderful space but the large size is actually challenging as well. If you go to see a contemporary dance company in New York, the average size of the audience is 400 to 600 -- depending on the company (Merce, Bill T. and others would draw more). So when we have a company in our over 2,000 seat house, and we have an audience of 500, it looks like it isn't a good turnout when in fact it is great.
Moderator:
OK, folks. We're all out of time. Thanks for your questions, and thanks, Anthea, for taking the time to answer them.
Lied Center:
And thank you Mindie. Also, if folks have any other questions, they can email me at anthea@ku.edu and I would be happy to answer them.
thanks-see ya at the Lied Center!