Chat about Kansas University's efforts in Greenland to predict the effects of global warming
September 4, 2007
This chat has already taken place. Read the transcript below.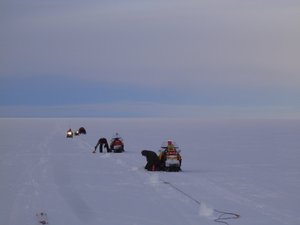 Data gathered at Kansas University's Center for Remote Sensing of Ice Sheets is helping answer one of the world's most pressing questions: How fast are the ice sheets melting and why?
Since the center was formed at KU two years ago, it has sent researchers to Antarctica and Greenland and collaborated with schools and organizations across the globe. The technology that is being developed at KU has uses that extend to other planets.
Chat with David Braaten, the deputy director of the Center on Remote Sensing of Ice Sheets, at 1 p.m. Tuesday.

Moderator:
Hi. Thanks for joining us for today's chat. I'm Christine Metz and today's moderator. We have David Braaten with us today to talk about the work that the Center for Remote Sensing on Ice Sheets is doing and to answer you questions. Thanks for chatting with us David.
Moderator:
So David, to get us started can you give us an update on some of the projects that you have been working on?
David Braaten:
My pleasure. This is my first time answering questions via an online chat, so I hope my typing isn't too slow.
David Braaten:
The Center still has a field experiment to complete this season, so the Center Director Prasad Gogineni, a research faculty member and student will be leaving tomorrow for this work in Greenland.
Moderator:
Thanks David. Let's get started with some of the questions our readers have posted. Some of our readers want to know your thoughts on global warming.
Will the melting icesheets in Greenland & the Antarctic only affect coastal areas, or will there be effects for people living in places like Kansas? Thanks!
David Braaten:
I feel this is a critically important issue that must be addressed. At this point small steps are fine, but we have to start now. The science is very clear in many aspects of climate change, so the real questions are what are the implication of these changes to our weather, the ice sheets, etc.
Numerous studies like yours have been done already, and they have shown that global warming is the cause. But even with overwhelming evidence, some skeptics still say that global warming doesn't exist or is not the cause of ice reduction near the poles. Why are there still doubter's for this very real and serious problem? Plus, with all of the research and publicity global warming has received, including movies, specials on the Discovery channel, and many books, people still don't understand how big of a problem this is. What will it take for the world, particularly America, to begin to reverse the effects of global warming, to become "green", so that our Earth, are only place of inhabitance, is not changed forever or destroyed for all time? Brad
Your Center seems to be doing very timely and important work. Can you tell me what you hope will come of it? Is there commensurate research happening to address causes of and solutions to global warming?
David Braaten:
This is a classic issue where we are all in this together and we all have to contribute to its solution, otherwise we won't be able to solve the problem. It also has a long time horizon, but our kids and grandkids will have (with virtual certainty) a rough future if we choose to do nothing. This might be a message that motivates people to be part of the solution.
David Braaten:
We hope to understand the implications of a warming world on the ice sheets. This involves computer modeling, but we don't have enough information about the ice sheets below the surface to make good predictions yet. This information is what the Center is providing. We hope this will lead to more accurate predictions ice sheet change and hence tell us what will happen to global sea level.
Todd:
How many years has KU been involved in this field of research?
David Braaten:
KU has been involved in the remote sensing of ice sheets since 1993.
Moderator:
To our readers, we have some more time for a question or two. So if you have them please send them in.
JMG:
What graduate degree programs are available in your program? Has funding been made available to support those students with research interests that match the goals of your program? Where can one learn more about them? Thank you for your time.
David Braaten:
The Center involves graduate students from engineering, geology, geography, and education to accomplish all of the goals of the Center. Graduate students are supported as research assistants and we pay tuition in addition to their salary. The graduate students are an essential asset to the Center. You can get more information about our programs by contacting me, and I can pass on this on to the appropriate person.
Moderator:
Well those are all the questions we have for the day. Thanks David for taking the time to talk about CReSIS and the work it is doing. Any closing thoughts?
David Braaten:
Thanks for this new experience of "chatting" online about CReSIS.