Talk about the Marching Jayhawks with drum major Sarah Zimmerman
October 15, 2007
This chat has already taken place. Read the transcript below.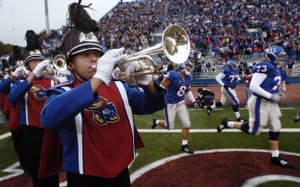 It's been a rough few years for the Marching Jayhawks. There have been four new directors in the past eight years. Total membership stands now at only 177, the smallest of any marching band in the Big 12 Conference. But there are signs of a resurgence. Drum major Sarah Zimmerman takes your questions.
Moderator:
Hi folks. I'm Joel Mathis, managing editor for convergence. You may have seen our weekend story about how the KU marching band is a wee smaller than others in the Big 12. Sarah Zimmerman is joining us to chat about that and other band-related issues. Welcome Sarah!
Sarah Zimmerman:
Hello! Thank you for chatting with me today, I'll do my best to answer your questions about the Marching Jayhawks, of which I am proud to be a member.
What, in your opinion, is the ideal size for a college marching band?
Sarah Zimmerman:
I would love to see our band fill up all of the uniforms that we have available! That being said, I'm far more concerned with the sound a band puts out than I am with their size. Just because a band is large, doesn't mean that they are producing the best sounds that they could be. Musicality should be more of a focus than numbers.
What is the one thing that Athletics could offer as a catalyst to bolster the size of the band; stipends, more trips, etc.?
Sarah Zimmerman:
Athletics does a great job of supporting the Marching Jayhawks. They support us financially, and send us on trips. They also include us in the Adidas contract, providing us with the same things (clothing, etc.) they provide the athletes with. They even provide the drum majors with the cleats we wear during our pre-game show. I don't know that there is any one specific thing they could do further than what they do for us already. We appreciate all that they do do for us.
Do the marching Jayhawks invite other Big XII bands as guests at KU football games? I know when the Big XII was formed, the old SWC schools retained a "standing invitation" without charging each other for tickets. Do the old Big 8 schools have something like that, and if so will it be extended to the south schools? If it won't be extended, why not?
Thanks!!
Sarah Zimmerman:
I'm not sure that we are responsible for inviting other Big XII bands, but we do work with the bands who want to travel to our stadium. As far as I know, the Big XII bands travel based on schedule and availability of time at half time, among other things, rather than by invitation. I do know that we've had visiting bands from the south perform at our stadium since I've been a member of the band. As far as having to pay for tickets, I have no idea.
Sarah, in your opinion what needs to change to make the band the best around?
Sarah Zimmerman:
I think we need to continue what we're doing. We put a strong focus on recruiting last spring, and we happily welcomed nearly 100 new members this fall. We strive to perform at the highest level, both musically and visually. We perform entertaining shows, and have fun supporting the football team. We will continue to recruit, and our numbers will grow. And as far as I am concerned, we are the best band around!
Can you explain the "hog calling" ritual that goes on before the game? I watch it with amusement and confusion.
Sarah Zimmerman:
It's a tradition. A crazy one. And we love it. "Hog Calling" is what the band does before every home game, after we've marched into Memorial Stadium. We all stand together and sing "When It's Hog Calling Time in Nebraska..." I don't remember off the top of my head how the tradition was started. The main point is that it pumps all of us up for an exciting football game, and gets us in the mood to perform pre-game and support the Hawks!
What kind of out-of-pocket expenses can a prospective Marching Jayhawk expect?
Sarah Zimmerman:
Not many. We pay a uniform fee at the beginning of the season, and part of it is refunded when we turn our clean uniforms in at the end of the season. Many members pay a fee for instrument insurance when they borrow their marching instrument from the university. New members have to buy marching shoes. There are other optional fees, including buying a band jacket, etc. As far as paying tuition, students can choose to enroll in the band for zero or one credits. (If they take it for no credit, there is no fee.)
Moderator:
I submitted this question this morning before I knew I'd be moderating...
Joel:
Sarah: In the 21st century, why still have marching bands? Aren't they somewhat antiquated by now?
Sarah Zimmerman:
I don't think they are at all. Can you imagine going to a college football game and not hearing your Alma Mater's fight song after a touchdown? Sure, they could play a recording of it, but where do you think those recordings come from? I think that I can speak for all of the Marching Jayhawks when I say that we love what we do. Marching band is an activity that continues to grow and change as the years go by. I think the difference between our pre-game and half time shows is a testament to that. Pre-game is very traditional, "old school" if you will. We move a "KU" and a sunflower around the field while we play all of our school songs. At half time, we play contemporary music (not marches) and focus on more visually interesting drill. Outside of the area of college marching bands, there are also drum corps that spend all summer competing with difficult shows, all for a chance to make it into the DCI finals. As far as I can tell, marching bands are thriving--not at all antiquated.
Moderator:
And finally...
Sarah,
What kind of day is it?
Sarah Zimmerman:
IT'S A GREAT DAY TO BE A (MARCHING) JAYHAWK!!!

Moderator:
Thanks to Sarah Zimmerman for joining us today.