LifeStar executive director to discuss air ambulance services
October 9, 2007
This chat has already taken place. Read the transcript below.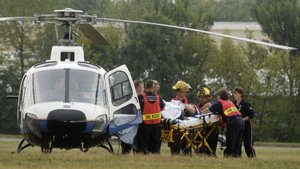 Greg Hildenbrand, executive director of LifeStar of Kansas, will chat at 2:30 p.m. Tuesday, Oct. 9. LifeStar provides almost all of the air ambulance services in Douglas County.

Moderator:
Good afternoon. This is Dennis Anderson, managing Editor of the Lawrence Journal-World. Our guest for our online chat today is Greg Hildenbrand, executive director of LifeStar of Kansas. LifeStar handles the majority of the flights of patients needing to be transferred to emergency care. Welcome Greg.
Greg Hildenbrand:
Thank you, Dennis.

Moderator:
Please give us some brief background about the LifeStar program.
Greg Hildenbrand:
Life Star of Kansas is a helicopter ambulance service with 3 bases in NE Kansas. We are a non-profit corporation owned by Stormont-Vail Regional Health Center and St. Francis Health Center, both of Topeka. We've been in business since 1988. We have helicopters in Lawrence, Junction City and Osage City and transport about 1100 patients per year.
Moderator:
Over the years, how has the service improved a patient's chances of survival following an accident?
Greg Hildenbrand:
Life Star improves a patient's chances in two ways. The first has to do with speed. Obviously, a helicopter can fly directly from where the patient is to where the patient needs to go, without worrying about traffic, traffic signals, etc. Also, our aircraft fly at 130 mph.
The second way has to do with the care we can provide and the experience of our providers. We fly with both a critical care nurse and a paramedic on board for the patient. All of our clinical providers have many years of experience caring for critical patients. We also have medications, supplies and equipment comparable to what you would find in a large hospital's emergency or critical care department, so we can actually take some of the care the patient needs to where the patient is at and begin their treatment at that time.
Moderator:
Who makes the determination to call for Life Star?
Greg Hildenbrand:
By state law only certain people can call for an air ambulance--doctors, nurses, EMS services, fire departments and law enforcement.
Moderator:
We have some questions from readers. Here we go.
What's the cost of the ride to a hospital from Lawrence to KC?
Does LifeStar take Medicaid as payment?
Greg Hildenbrand:
Life Star transports all patients in need of air transport, regardless of whether or not they are insured or by what insurance company. So, yes, we transport patients covered by Medicaid. Our average transport charge from Lawrence to KC would be about $7000.
Moderator:
Does insurance pick up most of the cost? And has anyone ever declined to be life-flighted?
Greg Hildenbrand:
Usually, insurance covers about 80% of the cost, depending on the type of coverage a person has, how much they've used that insurance during the year and other factors. And, yes, there are people who are very uncomfortable flying and they have the right to decline our service and we respect that. Of course the vast majority of our patients are sick enough that, if they're conscious, they desire to get to the care they need as quickly as possible.
What are the differences in qualifications or training for an air ambulance paramedic versus those of a paramedic who works for Douglas County Fire-Rescue?
Greg Hildenbrand:
Although I am not familiar with the specific qualifications for Lawrence/Douglas County Fire & Medical paramedics, ours must have a minimum of three years experience, preferably with a busy ground ambulance service. We also require a number of clinical certifications, some of which they can get after they've come to work for us.
Moderator:
How many people do you have on your staff (paramedics? pilots? support staff?)? And where do you find your pilots?
Greg Hildenbrand:
We have a total of about 50 people working at Life Star. We have about 12 nurses, 12 paramedics, 13 pilots, 4 mechanics, 5 communications specialists, 2 in our business office, me and a few others. We are fortunate to have all our pilots local, meaning they live in this area. We have many pilots who retired from the military at Ft. Riley, liked the area and decided to stay.
Moderator:
Of your bases, which is the busiest, and where does Lawrence rank?
Greg Hildenbrand:
Lawrence has historically been our busiest base, in terms of patient transport numbers. The transports from Junction City tend to be considerably longer, so that base's aircraft has the most flight hours put on it in any given month. With the expansion of Ft. Riley the Junction City base may become our busiest base in transport numbers one day, too.
Moderator:
What changes or innovations are on the horizon for Life Star?
Greg Hildenbrand:
Wow. There are always innovations in emergency care that we do our best to stay on top of. Our nurses and paramedics and medical director spend a considerable amount of time researching new medications and techniques. On the aviation side we are always looking for ways to enhance safe operations. We are looking at night vision technologies such as night vision goggles and FLIR, although we've not made any decisions there.
Moderator:
What emergencies keep you the busiest?
Greg Hildenbrand:
During the warm months most of our patients have trauma-related injuries, most of those being from motor vehicle accidents. During the winter months we transport about as many or more cardiac patients as trauma patients.
Moderator:
What agencies do you work with on a daily basis and how do you interact?
Greg Hildenbrand:
We are very dependent on local agencies wherever we fly in NE Kansas. If we're called to a scene flight, i.e., the scene of a traffic accident, we rely on the local fire department to set up a safe landing area for us. We rely on law enforcement to secure the area so cars and people don't enter the helicopter area. We rely on the first responders and ground ambulance folks to help prepare the patient to be loaded on the helicopter. When we transport from one hospital to another, we rely on the nurses and physicians and other care providers at the referring facility to prepare the patient and make the arrangements for the transfer to the other facility. We consider ourselves an extension of existing local services, even though we serve about 30 counties in NE Kansas. We cannot function without them.
Moderator:
We are out of time. I would like to that the readers for their questions and Greg Hildenbrand for joining us today.
Greg Hildenbrand:
Thank you, Dennis, and readers for the opportunity to visit about Life Star. We are proud of the service we provide and proud to be a part of the healthcare community in Lawrence and Douglas county.