Chat about wind power with Jim Ploger
June 25, 2007
This chat has already taken place. Read the transcript below.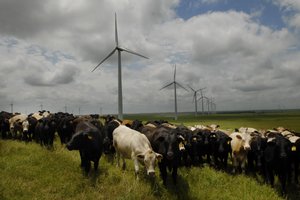 Jim Ploger, manager of the climate and energy programs for the Kansas Energy Office, will take your questions about wind energy.
Moderator:
Hi. This is Christine Metz and we have Jim Ploger ready to take your questions on wind power. Jim is the manager of the climate and energy programs for the Kansas Energy Office. Thanks for chatting with us today, Jim.
Jim Ploger:
Studies indicate Kansas ranks at the top of the list in potential wind resources -- worldwide. The Governor's voluntary goal announced in January has stimulated a great deal of interest in developing these resources -- a new wind farm in now under construction west of Salina, and we expect a new announcement yet today for a fifth wind farm in Kansas.
Moderator:
So, it sounds like right now is an exciting time in the state for wind energy.
Okay, so let's get started. We have a great question from TNPlates to kick off today's chat.
Gov. Sebelius has encouraged utilities to buy more renewable power, but besides the encouragement, is the State of Kansas taking any meaningful action to get more wind power built? Any new incentives or mandates in the works?
Jim Ploger:
Kansas believes in offering carrots, rather than sticks. So, besides the current exemption from property taxes, the 10% and 20% goals announced by the Governor are "voluntary".... but the utilities are fulfilling their committments. toward those goals.
Jim Ploger:
All wind developers thus far have offered local units of Goverment -- counties and school districts -- a voluntary PILT (payment in lieu of taxes) to assist in any needed infrastructure improvements. In Gray County, it is about a third of million dollars per year.
Mkh:
How can Lawrence and the rest of Kansas become a leader in wind power production in the next decade without having to bring in companies from other areas?
Jim Ploger:
Although commercial wind development is definately mainstream today, it is a sophisticated and highly technical industry -- and changing fast. Plus there is an economics of scale -- thats why most of the developments are 100 megawatts or larger. Costs, per kilowatt or megawatt, would be substantially higher for smaller installations. Kansas is seriously studying incentives for what is commonly called community wind -- smaller installations owned locally -- such has popped up in Iowa and Minnesota. Hopefully, we will see some strong leadership in this direction in the coming months.
Jim Ploger:
The Federal Tax Credit, known as the PTC, is about 1.9 cents per kilowatt. Not many of us citizens or even Kansas business has the federal tax appetite to take advantage of this PTC, so that is why we see larger internation coporations and financial institutions getting involved.

Jim Ploger:
Public entities, such as cities and counties, cannot take advantage of this PTC -- since they do not pay federal income taxes..... so the state needs to equalize this situation. Nebraska, just this year, passed a CBED (community based economic development) legislation, which can stimulate more local involvement.
Moderator:
So, some of our readers are interested in how wind farms work. BuddhaDude wants to know why the wind turbines have to be so big? Also, monkeywrench wants to know if there is "any truth to these low-frequency sounds that can cause health problems. And just how loud the wind farms are.

Jim Ploger:
Technology is making the turbines larger, therefore keeping per kilowatt cost of electricity lower for consumers. For example, the turbines at Kansas' first wind farm in Gray County were 660 kilowats each; the new Smoky Hill wind farm will be using 1.8 megawatt turbines, almost three times the capacity. A soon to be announce wind farm will be using the state of the art 3.0 megawatt turbines.
Jim Ploger:
There is no credible medical indications there are health related concerns from wind turbines.... technology has developed to allow the noise level of modern turbines be that comparable to the normal noise level from an average residential street traffic.
Jim Ploger:
A 1.0 megawatt turbine located a 1,000 feet from a home is about as loud as the refridgeraton in your kitchen.

Has a small wind power unit been developed for individual use, and are they allowed in town?
Jim Ploger:
Unfortunately, Kansas is one of 6 state in the country that does not have some form of net metering, therefore making small wind a challenge for our citizens. However, there are firms developing very efficienty small turbines for home and farm use, such as the new Southwest Wind Skystream, a 1.8 kilowatt machine. Most citizens would use almost all of the energy generated from a smaller unit, therefore not having net metering is not a major factor. Entegrity Wind is currently installing a 50 kw machine -- behind the meter -- in Quinter, KS, where the school district expects to use all of its energy -- and the savings will pay for the installation.

Jim Ploger:
It might cost a homeowner about $10,000 to install the Southwest 1.8 kw turbine, including tower and converters. Depending on the wind location and ability to use all of its energy, payback may be 10 or 20 years.
Jim Ploger:
Of course, as utility rates continue to rise, paybacks will shorten. Some rural areas in western Kansas are paying 12 cents per kilowat -- whereas we in Topeka and Lawrence pay about 7 cent per kilowatt.

Moderator:
We have a couple of readers who want to know where things stand with Westar's plans for wind-power energy. Dave Taylor of Oskaloosa want to know "what needs to be done to see that Westar plays fair in what they will pay for green power?" And, TNPlates wants to know if you think Westar will "actually move forward this time? Or could this just be another stall tactic for the utility?"
Jim Ploger:
Westar, the state's largest utility (over 600,000 customers) issued a request for proposal for 500 megawatts of new wind earlier this year. We expect some announcements from them later this summer for at least half of that wind production. They pledge to have on the ground about 250 megawatts by the end of 2008, with the other 250 megawatts by 2010. So we'll be seeing a lot of action later this summer and fall.

Moderator:
We've got a follow up to the question on wind power for individual use.
Please explain net metering and comment on why Kansas has not taken the action that 44 other states have taken to adopt this practice (which encourages the building of wind facilities, I assume).
Jim Ploger:
Net metering policy is typically iniated by the legislature, and while there has been some proposed legislation introduced, typically utility lobbyists are "concerned" about effects of net metering on their revneue, therefore the legislation has not fared well in Kansas. Of the few remaining state without any net metering, Missouri Gov Blunt signed net metering legislatioin a few weeks ago in Missouri. In reality, the experience of other states show there is very little impact on large utilties in state with net metering.
Jim Ploger:
I feel the lack of net metering is hurting Kansas economicly in many ways.... commerical turbine, blade manufacturers, tower manufactures decide to locate construction facilities in state that are "friendly" to renewable -- and unfortunately, Kansas is still percieved outstate the state as not being renewable friendly.
We are interested in wind power for our farm. We own land south of Lawrence, about 12 miles. Actually our land is on some of the highest elevations in Douglas County, so the wind is always blowing. Could you send us information on pursuing wind power? We do not object to also having more than one wind charger on our land to produce power for others.
Jim Ploger:
Unfortunately, Douglas and Shawnee Counties, as much of eastern Kansas, are not in the best wind areas -- so it would be difficult to attract the attention of develpers when they can move a hundred miles to the west and gain up to two class improvement in wind classes. This allows a better return on investment, and a shorter payback. Its like oil, you either have it or don't have it. In most cases, there are enought developers that know where the best wind resources are and they will seek you out.
Moderator:
Well, we've got another quesiton from Mkh that I think will be a good one to end on. Thanks Jim for taking the time to talk to us today and thanks everyone out there for sending in some really good questions.
Mkh:
Is it realistic that Kansas could exceed the 20% goal set by Gov Sebelius?
Jim Ploger:
This doesn't mean smaller wind, as mentioned above, won't work in the Eastern part of Kansas.
Jim Ploger:
Yes, it is very possible the 20% goal could be exceeded! One study said the states of North and South Dakota, Nebraska and Kansas could technically furnish all the electrical needs from wind to the whole United States -- however, that won't happen because of the infrastructure (i.e., power lines and transmission grids). However Kansas has the legislative established Kansas Electrical Transmission Authority that is actively working on this barrier. So expect to see some positive developments in transmission enhancements in the next few years..... this would allow Kansas to become a major exporter of wind energy to urban areas, to our east, northeast and souteast.
Jim Ploger:
I am very optimistic about Kasnas' future in renewables.... not only wind, but solar can become a viable alternative as costs per kilowatt comes down. And the focus on climate change issues makes renewables an important player in address the global warming concerns of today and tomorrow.
Jim Ploger:
I encourage citizen involvement, like this excercise..... let your local policy makers know of your concerns and support of renewables and climate issues.