Chat with Dr. Bill Weatherford about the Internet and medicine
June 4, 2007
This chat has already taken place. Read the transcript below.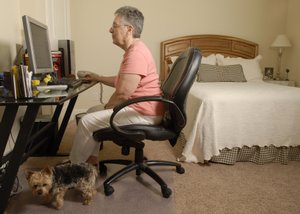 Dr. Bill Weatherford, a family practice doctor at Family Medicine of Tonganoxie will answer questions Monday at 10:30 a.m. on how patients and doctors use the Internet for medical information. See the Sunday story about the topic <a href="http://www2.ljworld.com/news/2007/jun/03/virtual_blessing/">here.</a>
Moderator:
Hi. I am Christine Metz, today's moderator for are online chat with Dr. Bill Weatherford, a family practice doctor at Family Medicine of Tonganoxie. Dr. Weatherford is going to answer questions about what patients should keep in mind when going online to gather medical information.
We're running a few minutes late, which means you have more time to submit your questions about using the Internet for health information.
Moderator:
Okay we are ready to go. Thanks Dr. Weatherford for talking to us today. We have yet to receive any questions from our readers, so I'll ask some of my own.
First one. Do recommend that patients use the Internet for health information?

Bill Weatherford:
I think that the internet is a very powerful tool for both doctors and patients to use. I recommend using it, but you do need to be careful about what sites you get your information from. There are some very reliable sites such as Web MD, and also the Lawrence memorial Hospital website (LMH.org). There are also many sites that give questionable or incomplete information. I recommend talking with your doctor about what sites they feel are good to use.
Moderator:
Is it okay for patients to bring the information they find online to the doctor's office?
Bill Weatherford:
I think it is good. As a doctor, I can see for myself what information they are reading and it gives me a chance to discuss it with patients.
Moderator:
Are there any things you would caution patients about when looking at the Internet? Are there any sites that patients should be wary about or information out there that patients should question?

Bill Weatherford:
I would say that it is important to look at the motivation behind the website. Some websites are biased toward certain diseases. The information may be accurate, but it may leave out information that applies to other causes of your symptoms. Other websites are trying to sell a product. I would always question a site that is trying to sell something.
Moderator:
If you find differing advice online than what the doctor gave you or the information you find online makes you question your doctor's advice what should the patient do?
Bill Weatherford:
Talk with your doctor. I would trust your doctors advice over what you find on the internet, generally speaking, after all, your doctor is dealing with you individually. A website is talking about issues in a more general nature. Your doctor may know something that the website cannot account for. If you have a question about why your doctor is doing anything, you have a right as a patient to ask.
Moderator:
Well, those are the main questions I have today. Thanks so much Dr. Weatherford for joining us today. Do you have any closing comments on what people should keep in mind when surfing the Web for medical info?
Bill Weatherford:
Ask your doctor if they have any favorite sites. When looking up information, go to trusted websites. Look at several sites and compare information that they give. Look to see if the information is biased. Above all, the internet is a good resource, but it cannot replace an exam by a doctor. Discuss anything you read on the internet with your doctor before trying it. If you have questions, then ask. Doctors are generally glad to explain what they are thinking and doing. Take an active part in your healthcare.
Moderator:
Thanks for your time. I hope today's information helps people out there navigating the Web.
Bill Weatherford:
Thanks for having me. I hope this helps people as well.
loading...
Blog: Former New York tech executive scouting Douglas County sites to host the 'Woodstock of our generation'

August 17, 2017 · 10 comments

Combative Trump insists anew: Blame both sides for violence

August 15, 2017 · 83 comments

Blog: Kansas officials react to Charlottesville violence and Trump's comments

August 16, 2017 · 12 comments

LMH to consider providing financial support to some area nonprofits

August 17, 2017 · 1 comment

Editorial: Standing up against racism

August 17, 2017 · 6 comments

Cleanup at former Farmland fertilizer plant may cost city millions more than expected

August 16, 2017 · 8 comments

White nationalist rally, violence rock Virginia city; 1 dead

August 12, 2017 · 55 comments

Self calls Dedric Lawson's handling of recent suspension 'very good'

August 16, 2017 · 1 comment

Lawrence City Commission accepts incentives application for downtown grocery and apartments

August 16, 2017 · 13 comments