Chat with J-W KU football beat writer Ryan Wood
July 26, 2007
This chat has already taken place. Read the transcript below.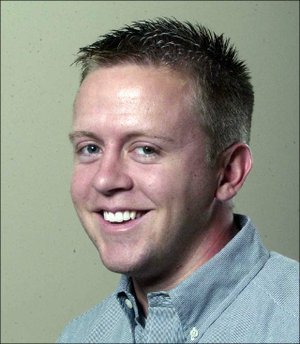 As the summer draws do its stretch run, KU football is right around the corner. Here's your chance to have your burning questions answered by Journal-World KU gridiron beatster Ryan Wood on Thursday, July 26, fresh upon his return from this week's Big 12 Media Day in San Antonio, Texas.
Moderator:
Hello everyone and welcome to today's live chat with Journal-World KU football beat writer Ryan Wood. I'm Ryan Greene, and I will be today's moderator. Wood arrived back in the Sunflower State last night from Big 12 Media Day festivities down in San Antonio last night, and is now ready to take some of your burning KU football queries. Wood, thanks for joining us. You are a great man.
Ryan Wood:
Thanks for having me. I read KUSports.com all the time, so it's great to take part in this great Web site for a chat.
Moderator:
How was San Antonio? Experience the River Walk at all? Fill the good folks in on what all you did there outside of work. And also, Chuck Woodling is wondering what's the best joke you've ever heard Mark Mangino tell.
Ryan Wood:
San Antonio is a nice city, it's just very hot and muggy in July. I have been there before so it was nothing new, but I definltely recommend a night on the River Walk for anyone taking the trip. A great place. You're putting me on the spot about a Mangino joke, but he can be a very funny man so I might think of one later.
Moderator:
All right, well lets get to our reader submitted questions...
In the first five years of the Mangino era, we have proved we can compete with just about anybody in the country. As you know, we havent been able to make the big play or two in the 4th Qtr to finish off so many opponents. Do you see any reason to be optimistic that can or will change this fall?
Ryan Wood:
Good question. It seems to me that losing fourth quarter leads is a lot about mental toughness. I think by being competitive every single week shows that Mangino teams always come ready to play, but I think you've got to dig deep when you're legs are tired and your opponent is driving to win it. Learning how to put the foot on the throat is an intangible that's hard to put a finger on, so it's got to come from within.
If we can't win at least 4 conference games given the relative ease of our schedule, is to time to seriously evaluate whether Mangino is the long-term solution?
What will we do the next 2 years when we play Texas, OU and TT?
Ryan Wood:
Well, Kansas went 0-3 against Texas A&M, Oklahoma St. and Baylor last year, so the Big 12 South schedule rotation meant nothing when it comes down to it. As for winning 4 conference games, if KU goes 7-5 overall, 3-5 in Big 12 play and plays in the Texas Bowl, you think Mangino should get fired? I don't. If they don't make a bowl there will be a more justified argument as far as looking ahead, but a bowl game could, should and probably will keep Mangino around.
Will KU be able to grab headline recruits in the near future? Top players in the region do not even seem to entertain the idea of becoming a Jayhawk.
Ryan Wood:
Just like everything else involving KU football, the signing of higher profile recruits is a real gradual thing. Kansas was close with good players like Blake Lawrence, who eventually picked Nebraska. But think of KU's best players since Mangino arrived -- Charles Gordon and Aqib Talib, specifically. Sometimes it's just as important to be good at devleoping potential rather than landing a whopper and not screwing him up. The former scenario is more feasible for a situation like KU's, with traditional powers like Oklahoma, Texas and Nebraska in the region.
Which true freshman do you expect to see action?
Ryan Wood:
Mangino didn't name names when I specifically asked him down in San Antonio this week, but a couple of the players that were there said Dezmon Briscoe is a good candidate at wide receiver. The question will be if he's needed, since Marcus Henry, Dexton Fields and Marcus Herford all have the chance at being good targets. Carmon Boyd-Anderson at running back is another name floating around, but it's not always about who's ready to go. It's about whether there's a need for him. That's one of the reasons Aqib Talib redshirted in 2004 though Mangino said he probably could've contributed as a true freshman.
Ryan Wood:
Mangino did say that "effort and attitude" will be the bottom line, not bench max and 40 times. So take that for what it's worth.
Moderator:
Who do you think is going to be this year's breakout player? I've got a good feeling about Maxwell Onyegbule. You?
Ryan Wood:
I don't know if these two count because they have already started in the past, but Marcus Henry and Darrell Stuckey are two guys I think will do much more than they've ever done before. Stuckey was hobbled last year by injury but is a very smart player and "the best athlete on the team" according to Aqib Talib. Henry had a fantastic spring game and will be KU's top big-play threat. With the real possibility that KU goes for more big plays, and Brian Murph no longer around, Henry has a chance to do big things if he takes advantage.
The last few years we heard Coach Mangino use the phrase, "keep sawing wood." I notice that he hasn't used that phrase and his quotes have been much more optimistic. Is the team this fall going to be as good as it seems he thinks it is?
Ryan Wood:
Well, the "sawing wood" reference slowly died because it was beaten to death by him his first two years in Lawrence. Besides, Rutgers took it over with their "chopping wood" battle cry. Anyway, Mangino certainly is optimistic but it's nothing new. July and August are great times of the year for college football fans because everyone is undefeated and full of expectations. Mangino is no different. Is he right? I guess we'll see. That's why they play the games.
Convince me why KU will be good this season. Thank you!
Ryan Wood:
Wow, you're punctual. Well for starters, they have a good schedule that will maximize victories as much as possible. Wins make a team good, right? Besides that, I think there's noticeable improvement in the secondary behind Talib, I think Meier or Reesing will be a serviceable option at QB and the new offense under coordinator Ed Warinner, while not all new stuff, could light a much-needed fire.
Moderator:
What do you know so far about this new offense?
Ryan Wood:
Not a ton. Mangino said that no more than 50 percent of it will be new stuff, and we saw a couple of quirks with formations and stuff that we didn't see in the pre-Warinner days. They also did a lot of no-huddle in the spring game with the QBs looking toward the sideline for a play, which eliminates the need for the young quarterbacks to make decisions at the line of scrimmage they may not be qualified to make. Cutting down on mistakes means cutting down on losses.
Moderator:
OK, Wood's got time for two more questions...

Can we expect complete Big XII coverage from the LJW staff this season, or just coverage of KU and KSU?
Also, how much do you agree / disagree with the Big XII pre-season media polls this year? What would change about the predicted order of finish?
Ryan Wood:
I write about 10 stories a week on KU during the season, so finding time to write on the other 11 schools is a challenge. However, the LJW always previews the rest of the conference games in our Saturday "Gameday" section and I always try to stay on top of news from KU's next opponent. As for the media preseason poll, it lined up exactly with my predictions column a couple weeks ago, so I can't say I disagree. However, I'd be stunned if it played out the way because "on paper" and "on the field" rarely match.
Moderator:
In the spirit of NFL training camps opening and Madden '08 three weeks away...
Will Charles Gordon lead the Vikings to the Super Bowl?
Ryan Wood:
If they have 11 Adrian Petersons on offense, and one Charles Gordon and 10 Adrian Petersons on defense, I'd say yes. But although Gordon might see some playing time this season, I don't think he's going to be holding up that silver trophy in January. Sorry Phoenix Bob!
Moderator:
Before we let you go, two things: 1) Speaking of the NFL, if Aqib should leave after this seasoon, how high could he realistically go? And 2) Any luck on a funny Mangino quip?
Ryan Wood:
1) High, particularly if he tests out well in the Combine. If I had to guess, I'm guessing this is his last year in Lawrence.
Ryan Wood:
2) Yes. He was talking at media days this week and was asked how he can get over the hump and hold on to fourth quarter leads. He went on to say "Last year I was pretty close to ... what's that guy that can heal people and stuff? I was going to call him. I see him on TV. Make the blind see and the deaf hear and he can't grow hair on his own head." Good stuff.
Moderator:
Hehe delightful. Well, Ryan, welcome back to Lawrence, and now we'll leave you alone so you can go back to doing something summer-like....like not being here in the office.
Ryan Wood:
Sounds great. See you on the links!
Moderator:
Thanks for joining us today everyone, and make sure to come back tomorrow at 2:30 p.m. to chat with Journal-World KU hoops beat writer Gary Bedore! See you all then.
loading...
Blog: A look at Lawrence's high gas prices and an update on plans for a Casey's store

June 22, 2018 · 6 comments

Letter to the editor: Separating families

June 22, 2018 · 20 comments

After wrongly insisting administration had no choice, Trump signs order ending child-parent separation

June 20, 2018 · 35 comments

Letter to the editor: Suicide and guns

June 22, 2018 · 13 comments

Letter to the editor: How can we?

June 22, 2018 · 14 comments

Kansas congressman Marshall to visit tent shelters for young immigrants

June 22, 2018 · 6 comments

Opinion: But her emails? You're dang right her emails

June 20, 2018 · 21 comments

Kobach sought pardon for VP of corporate donor accused of putting gun to cab driver's head

June 20, 2018 · 23 comments

Kansas Democratic Party disavows, condemns attorney general candidate Sarah Swain for poster showing lassoed police officer

June 19, 2018 · 31 comments

Editorial: Kobach merits severe rebuke

June 20, 2018 · 2 comments