Chat about Harry Potter during a marathon overnight reading session with Karl Gehring
July 20, 2007
This chat has already taken place. Read the transcript below.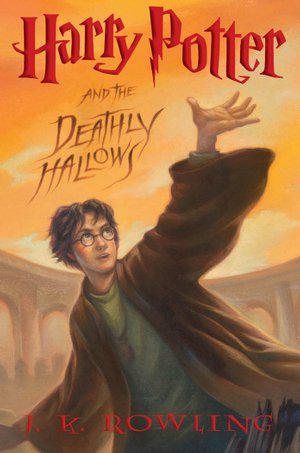 Journal-World artist Karl Gehring will have his "Harry Potter" book at midnight - will you?
If you're one of the legions of Lawrence residents who plan to start devouring the book as soon as it's in your hands, join Gehring here online at LJWorld.com as he chats his way a marathon reading of J.K. Rowling's latest masterpiece.
After every chapter, Gehring will write his impressions, and he'll interact with other late-night Potterphiles about the end of the franchise.
And, oh yeah: SPOILER ALERTS!!
<a href="http://www2.ljworld.com/news/2007/jul/21/magic_moment_arrives/">See more about the release of the last Harry Potter book</a>
Moderator:
Please feel free to post any questions you have about the Harry Potter series, or book 7 in particular, prior to this online chat starting.
Moderator:
This chat session will begin as soon as possible after I am able to acquire a copy of the "Harry Potter and the Deathly Hallows." While scheduled to begin at 11:59, it may not begin quite as promptly as I'd hope.
The chat session itself will consist of reader submitted questions and moderated answers as well as chapter reviews presented as often as possible throughout the night. Please feel free to submit any 'Potter' related questions that you would like to discuss.
Moderator:
1:19, a little late, but here nonetheless! After a lengthy, and somewhat unpleasant, wait for my personal copy of the book, I've now got it in my hot little hands!
For the purposes of discussion, I'll be submitting my thoughts and feelings on a chapter-by-chapter basis. After that submission, feel free to post questions as well and to start a discussion about whats happening in the book! Of course, there will be spoilers, but at a nicely moderated pace. (I don't read THAT fast.)
So, without further delay, chapter 1...
Moderator:
Chapter 1: The Dark Lord Ascending
Ok. This gave me the creeps. Not just the creeps, but the CREEPS. Up until this point in the series, we haven't really gotten a good look at the inner workings of Voldemort's Death Eaters. One would assume that he rules them with an iron fist (or perhaps silver?) and he does. I think the cruelty displayed not only to his victim but his followers as well, really brings his character to an even lower level. He is pure evil. Voldemort is every bully, thug, murderer, thief, namecaller and brigand in history all rolled into one. That's what this chapter is about: pure, sadistic evil.
(What's the muggle studies teacher REALLY have to do with the plot? Bertha Jorkins just didn't disappear for no reason. Is there more than meets the eye here?)
so what do u think of the book?
Moderator:
So far so good. It's different however. MUCH darker, much more adult. I think this is the book J.K. Rowling really wanted to write when she conjured Harry on that train many years ago.
Moderator:
Chapter 2. In Memoriam.
I found this chapter to be pretty darn interesting. Seeing a glimpse of Dumbledore's past (even though befuddled at times with Rita's patented libel) was really interesting. Here's a wizard we've known since almost day one, and up until now all we really knew about his past was that he defeated Grindelwald and had a brother who messed around with a goat. Dumbledore did come from somewhere; with this chapter he's been humanized. Of course, Rita's take on things is as biased as usual, but is there a grain of truth within her words? Only one way to find out...
Moderator:
Chapter 3. The Dursley's Departing. So the Dursley's are out of the picture now, and Dudley actually treated Harry with respect. In all honesty, I'm not all that surprised to see something like this happen. I'm also not totally floored by Aunt Petunia's hesitation at the door when they finally leave. There's something amiss in that family, aside from their loathing of Harry and his magical abilities... abilities that usually DO run along family lines. Could Petunia or Dudley have some magical tendencies? Stranger things have happened, and in an interview a while back J.K. Rowling did mention someone who has never used magic may begin, but that something like that happening is ultra-rare at best. One thing I am surprised at however, is that the Order left Harry alone for a brief period of time. Seems a little risky if you ask me...
Moderator:
Chapter 4. The Seven Potters. An attack. Yup, saw that coming. It was alluded to by none other than Snape in the first chapter. (No, I will not be referring to him as Professor) Still think he's a good guy? Well, he watched as Chastity died, killed Dumbledore and spoon-fed Mad Eye and Hedwig (sniffle) to the Death Eaters. Odds for redemption? Slim at best...
How much truth do you think was in Rita Skeeter's words? is the mirror of any importance?
Moderator:
I'm going to address these in reverse order. The mirror has stupendous importance. Harry needs advice, and he's gonna get it from somewhere. He has two avenues to work from. 1. From Dumbledore's portrait at Hogwarts, or 2. from Sirius beyond the veil. Remember, those who love us never do leave us. After all J.K. goes through to explain the cut on his finger and his finding of the shard I highly doubt its just coincidence.
Rita, like Sybll Trelawney, does hit the nail on the head from time-to-time. She did peg Hagrid right in her article on him during the Triwizard Tournament. We found out a lot about his past from that article. It wouldn't surprise me in the least if some small part of her book on Dumbledore is based on actual fact. Once upon a time she had to have been at least sort of a good reporter.
Moderator:
Chapter 5. Fallen Warrior. Ok, so yes I did let a small detail of this chapter slip early. Please don't hold it against me! I do think everyone has been prepared for more 'deaths' in this series, and seeing as how this chapter contains the first I will start addressing my feelings on the matter here. I'm of the school of thought that believes Ron is one of the destined to die. J.K. did say she went after main characters, because thats what evil people do in real life. True enemies seek to do the most damage to high profile targets, and, in the past Ron has shown himself willing to sacrifice it all to save a friend. (see, Sorcerer's Stone and the chess event) Someone is going to pay the ultimate price that is close to Harry, there's no way around it. And I will be very very surprised if the deaths that occur in this chapter are all that are in store for the good guys.
Moderator:
Chapter 6. The Ghoul in Pajamas. Spattergoit anyone? C'mon you had to have remembered that one from Order of the Phoenix! Ron's finally found a use for those freckles he's been sporting for 6 books. I think the most important point in this chapter is Molly Weasley. She does seem quite interested in keeping those three kids apart. We also know Voldemort has an agent within the Order. Snape said something about his informant in the first chapter of the book as well. I don't know about you guys and gals, but I'm keeping an eye on every character in the book for possible turncoats.
Moderator:
Chapter 7. The Will of Albus Dumbledore. Three objects given to their new owners, one object yet to be handed out. I can see why the Ministry would want to hold onto the sword. It does represent a significant historical object. However, what are the odds that while in Ministry control the sword remains inaccessible to Voldemort? Could he have already snagged it and made another Horcrux? My personal favorite moment of this chapter was Harry standing up to Rufus Scrimgeor. I'm a big fan of standing up and throwing my chips in. Harry hasn't backed down to this guy in any of the books so far. Also, I found it somewhat of a relief to see that Ginny is accepting Harry's 'parting' with a good deal of I-don't-care-what-you-said-last-summer. They were meant to be together, and I sure hope they end up that way in the end. I guess I'm just sentimental like that...
Moderator:
Chapter 8. The Wedding. Luna's father a follower of Grindelwald? Sounds kind of interesting. I feel pretty vindicated now. Rita DID have an ace up her sleeve. Her insinuations against Dumbledore actually might have merit. It does seem like Albus had a few family skeletons in his closet, but most important of all, is that we now know where that closet is located. I can't say I'm surprised that Harry is headed in that direction, and he did seem to need just one more push to get him going on his way there. Perhaps this knowledge of Dumbledore's home might just be the ticket to getting our intrepid hero back on task. Oh, and if that doesn't work, there's always the gaggle of Death Eaters knocking on the Burrow's front door...
Moderator:
Chapter 9. A Place to Hide. Darn it. I was hoping Godric's Hollow was next! Harry's connection to Gryffindor has been hinted at several times in the books. I'm really interested to see if his kin is on the level of Voldemort's. The sword he pulled (and which may now be in Death Eater hands after the attack on the ministry) from the Sorting Hat could only be obtained by a 'true' Gryffindor. While we were stolen away from visions of Godric's hometown, we do get to take a detour on over to Grimmauld Place. If you are up on Harry Potter trivia, you'd know that many believe this to be the resting place of 'a heavy golden locket which no one could open.' And, by the way, Sirius' brother was named Regulus... Regulus Alphard Black. You do the math.
This Chat about harry potter is a really good idea. But, would this still be available tomorrow? Because i want to savor the book.(i'm only on chapter two.)
Moderator:
We've been promoting it as an all-night affair and I'll be continuing to post chapter by chapter until I'm done. But, the chat log will remain here like a news story indefinitely. You will still be able to post responses like you would any other feature of our website. I will most definitely be monitoring the chat and answering any more questions that come up.
Moderator:
Chapter 10. Kreacher's Tale. I've been wondering how Regulus Arcturus (okay I did guess that one wrong) got to the locket. Kreacher would have been the obvious choice. I do however think he turned 'good' a little too fast. After all the nastiness he's done and said he did come to the good side fairly quickly. Good ol Dung, he's in for a fun time when that lil elf gets to him.
Moderator:
Chapter 11. I think Harry's treatment of Lupin was far from 'Gryffindor.' It does make me wonder how much of Voldemort's personality was transferred into Harry via the failed curse... Or, was it how much of his soul was transferred into Harry? I think the verdict isn't in yet on Harry and his relationship to Voldemort, but I'm betting on him being a Horcrux. I don't see any other way around it. Neither can live while the other survives. Makes sense to me. I stated this on our two-page prediction section that came out last Sunday. Voldemort was supposed to mark Harry as his equal; and he did, an equal portion of his own mangled soul.
Moderator:
Chapter 12. Magical Might. So the Ministry has undergone some redecoration. Probably some nice touches overall! I'm so glad Dolores was brought back into the picture. She is just too mean and nasty to be left alone without her due share of misery and misfortune. I think Rowling's dealing with more themes here than just the toad-faced hag however. She really touches on one trait that sets the Order apart from Voldemort and the Ministry: acceptance. Dolores and her cronies spend their lives working to shun and push away people that are different from them. Harry and the Order consider 'half-bloods,' 'mudbloods,' and animals or partial humans to just be... friends.
Moderator:
Chapter 13. The Muggleborn Registration Commission. More Umbridge, for a total maniacal wench she is sure interesting though! I was slightly disappointed nothing worse came her way however. I wish her all the best!
Moderator:
Chapter 14. The Thief. SO one thing we know, is that Voldemort wanted information or an object from both Gregorovich and Ollivander that neither could provide. Our one clue is a golden-haired thief of unknown identity. We're finally into the realm of total mystery in terms of this novel. The hunt for the horcruxes is one thing that was nearly impossible to formulate a guess for. True to form however, I do believe J.K. has a plan for tying a lot of these loose ends together. One thing I can say with absolute certainty: sweat the details. If she writes it, it probably has some significance later on down the line.
Moderator:
15. Goblin's Revenge. This is a pretty low point for our three heroes. One ray of sunshine that does come from it is finding the sword is still out there and could possibly be in safe hands. I think its role in this entire search is pretty important, and finding it will be the key to several mysteries along the way. Ron's leaving does a lot to complicate things, and any absence of any kind peaks my curiosity as to whether or not that person is operating for the 'other side' as well. I know its a stretch to think that Ron is the turncoat, and he's probably not, but thinking along these lines seems necessary after reading as far as I have of this book.
Moderator:
Chapters 16 and 17. Godric's Hollow and Bathilda's Secret. I'm lumping these together as they are very much the same chapter. One is the introduction and sets the scene, the next provides the action. Harry escapes Voldemort again. After leaving the protection of his family, this is the second 'near-miss' Harry has with the Dark Lord. Thrice defying him has always been a pretty big benchmark. I'm betting that Harry escapes him one more time before the climactic final battle.
Moderator:
Chapter 18. The Life and Lies of Albus Dumbledore. The lore behind Dumbledore's early life really intrigues me. I'm not sure what the main purpose of the discussion and text is, but I do know there's two items of importance I have identified so far. 1. The relationship between Albus and his sister, and 2. the relationship between Albus and Grindelwald. I think those two are the most important things we can learn now about Albus, aside from finding out if he is truly dead or not.
Moderator:
Chapter 19. The Silver Doe. Okay. I'm really wondering whether or not Dumbledore is truly gone now, or if there is someone else helping Harry on his way. The silver doe could be a Dumbledore patronus, and he definitely could be helping Harry on his way. I think there's more here though. Harry's father's patronus and animal form was the stag, ie 'Prongs.' If all of a sudden there's a doe on the loose could that be... See where I'm goin with this?
Moderator:
Okay. I'm taking a 1 hour shuteye break to recharge the ol batteries! I will resume posting chapter thoughts again at 7:30 a.m. See you then!
EXCELLENT JOB!
I'll be chiming in after I finish the book! But this is great. Truly!
Moderator:
Thanks! And if anyone else is still up and at em this morning... There we go again!
Moderator:
Chapter 20. Xenophilius Lovegood. Wow thats a mouthful; still not sure if i spelled that one right! He struck me as an interesting character from his introduction during the wedding. I did think Viktor's assessment of his symbol was a little odd however. The truth comes out however, and we get an entirely new set of magical objects (anti-horcruxes?) to look for... If I were Harry, I'd seriously look into hiring a private detective firm to cut down on search time. I think its worth mentioning as well, that no matter how 'different' (as is the case with the Lovegood's) there are still values and emotions that override all others. His love for Luna was, and is, his number one priority. I think that in this situation its a little unfortunate, but not unforgivable.
Moderator:
21. The Tale of the Three Brothers. I mentioned some plot points from this chapter in the last entry for chapter 22. I almost combined the entries, but thought better of it so I could speak a little about the other very significant point of the chapter. While reading, one thing I am looking for is 'founder' oriented details. You know, the mantra we've all been reciting to ourselves for the last two years "... something of Ravenclaw's, something of Gryffindor's..." Well, here we have an example of something of Ravenclaw's. Its interesting to me that Rowling mentioned a headress in conjunction with that particular founder. I read a wonderful fanfiction piece on harrypotterfanfiction.com almost 9 months ago that used a tiara of Ravenclaw's as one of the horcruxes. Have there been any previous references to an item such as this in the previous 6 books? Ugh. Might be time to give 'em all another re-read just in case... I'd hate to think I'd missed anything.
Moderator:
Strike that... "last entry for chapter 22" should have been chapter 20... Anyone have a self-correcting quill!?
Moderator:
Chapter 22. (Yes, this time I do mean chapter 22) a.k.a. The Deathly Hallows. Crossover horcruxes!? Holy cannoli Batman! Finally the title of the book bears a little more significance. I'm not quite sure I buy into adding an additional class of magical artifact to the mix though. The horcruxes alone present a daunting task, and for Harry to have to add another search to the mix just doesn't seem fair... I did love the radio program hosted by Lee Jordan. I think Fred's character definitely gets more 'screentime' than George's however. It seems like every original thought the twins have flies from Fred's mouth, and immediately after George either agrees with it, or repeats it.
Moderator:
Chapter 23. Malfoy Manner. Ok... I get chills whenever Greyback is around kids. He's one of the most deplorable villains in the series. Pure ... nastiness... YOu'd think that even the Death Eaters with kids would not want him around. And, I do get the feeling a lot of them dont. And, if you thought no one could ever be worth than this guy... we get a nice little dose of good old Auntie Bellatrix in this chapter as well. She's succeeded in taking care of far too many of Rowling's best characters. I wish her all the best... in... well you know. Especially after this chapter.
Moderator:
Chapter 24. The Wandmaker. I was hoping Ollivander would make it out ok. If the good guys win, someone has to take up the mantle of wandmaking in Britain. I think its interesting to see the additional information that Voldemort wants from Ollivander as well. I had a hard time believing that Ollivander would go missing solely because he could explain the prior incantatem phenomenon which occurred near the end of 'Goblet.' I can see the draw for Voldemort in regard to the wand as well. He has all the vestiges of immortality due to his horcruxes (or so he thinks) so why shouldn't he have an amazing weapon to go with it?
Moderator:
Chapter 25. Shell Cottage. So we've learned a little more about Grindelwald. It seems like his brand of 'evil' was just the same as Voldemort's except more masked in the idea that it was in the name of 'good.' This is one of those real life paradoxes that keep coming up in the Harry Potter books. Can you go overboard doing what you think is for the common good? I'm a firm believer that in life there has to be balance. Things can't exist properly in a black and white world. THere has to be that level of gray around to keep things balanced. I am glad that Lupin and Tonks have worked things out, and that Harry has his own Sirius-like relationship building with their son Ted. At the same time, I don't think J.K. would really include this little detail unless something bad was in store for Remus and his wife. I have a feeling none of the original marauders was meant to last in this series.
Moderator:
Chapter 26. Gringotts. I think the multiplying treasure was one of the more creative things thats appeared in this novel so far. Who would think to guard their massive wealth with the threat of even more wealth? Especially wealth that comes in superheated form. Also, I was surprised to see that the dragon guarding the higher security vault wasn't a myth. Its the tying up of little strings like these that make this series of books truly interesting.
Moderator:
Chapter 27. The Final Hiding Place. Another horcrux found! This brings the total up to 1 locket, 1 cup, 1 diary and 1 ring. I think Harry did a good job on finding this location. He relied solely upon Bellatrix to release this location, and her desire to be true to her master is what really gave up her secret.
Moderator:
Chapter 28, The Missing Mirror. Yup, here's where the mirror comes into play. Its neither SIrius nor Dumbledore however. That kind of threw me for a bit of a loop. There's also a lot of information now humaizing Dumbledore and really showing him not only as a good guy, but a good guy who's gone a bit too far at times. Aberforth really does have the measure of his brother, when he points out that not everyone who is involved with Albus really chooses to be.
Moderator:
Chapter 29 and 30. The Lost Diadem and the Sacking of Snape. Ouch. Seems as though Voldemort has been busy at Hogwarts after all. We're finally getting to some portions of the book that feel like they could not have unfolded in any other way. Snape sure looks the part of the coward, and location of the Ravenclaw Horcrux is as good as discovered. Can you feel a confrontation coming on? I think every reader always knew the final moments of the series would take place at Hogwarts. Even though Ron, Hermione and Harry all drifted away from organized education this term, their fates still are entwined with education their school. It was Harry's only true home, it is fitting that our journey ends here.
Moderator:
Chapter 31. The Battle of Hogwarts. Yup. You knew this was well overdue. I am surprised however by the fact that some of the most important action of the early battle doesn't revolve around who's fighting who, but around the horcrux, Draco and his little gang. Who would have known that Crabbe had it in him to actually drive the plot along? Goyle does seem to perform up to his usual standard, but Crabbe really does show his true colors as a Death Eater. Malfoy, of all people, shows the ability to be redeemed. His actions in the tower at the end of the Half-Blood Prince may not have been just chance after all...
Moderator:
Chapter 32. The Half-Blood Prince's Tale. I'm pretty torn about how to finish up this series of blogging 'events, chapters, etc.' At this point, I've finished the book. I'm just a tad behind on the postings. I think, for purposes of discussion, I will break the following down into two separate parts.; he memories of the Half-Blood Prince, and everything else. I am intentionally not addressing the epilogue. Thats for you guys to discuss! I will happily get involved however.
As far as the Prince's memories, I have to say... 'I told you so!' I feel pretty vindicated in my view of Snape after reading this passage. I also think the link between him and Harry (as well as Harry's eyes) becomes much more visible in a retroactive way. Think back to all the other instances of interaction between Harry and Snape. Every time there has been some desire or motivation under the surface. At first, we're led to believe it is simply hatred of his father and the other marauders, but it really does seem to be deeper than that. A simple schoolboy grudge would fade over time, and after six years of constant contact you'd think it would subside somewhat. We finally see Snape for what he is, and I gotta say... it makes sense.
Moderator:
Chapters 33+... The rest. There aren't many surprised here. Even though there is a pretty weighty secret unloaded on Harry via Snape's memories, everything really does seem to fall into place. Even if the end is in doubt, there is still a true sense of 'everything is going to be ok.' Of course, the character deaths hurt, but again many (if not all of them) are expected. J.K. did do a decent job of targeting those who were meant to be targetted. I find myself wondering now which characters she gave the reprieve to? Which died that she had not originally intended to die? Maybe in the upcoming days we'll know, for now, everyone can be happy with this ending and its sense of closure. It certainly does provide it. After all is said and done, I think we are truly presented with e potential levels of good and evil, and we can really see which one J.K. presents as not only the most realistic, but the most appropriate for a normal person to exhibit. Harry, Dumbledore and Voldemort all represent a different shade of good or evil. If you were to create a gradient going from unwholesome dark to unwholesome light (yes, too much good certainly can be bad) I'd say Harry is the appropriate median. He has good and bad emotions in him. He acts on both, but in the majority, he does do the right thing. This is what makes him so interesting as a character. This is what draws readers to the series. It's not the magic, or dragons, or fantasy; its the fact that here we have a character who is good, and fails, and yet tries again to do the right thing. He may not be perfect, but in the end, he's pretty close to what we see in the mirror every day: purely human.
Hope you enjoyed reading this as much as I have enjoyed writing this! Please feel free to post your thoughts on the book as follow-ups to the blog!