Chat with horticulture experts about summer lawn and garden care
July 19, 2007
This chat has already taken place. Read the transcript below.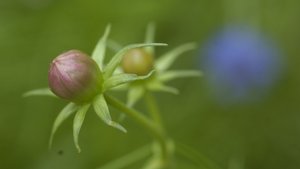 Gardening was fresh and new in the spring. But as the heat of summer sets in, maintaining the beauty of your landscape can become quite a chore. Jennifer Smith and Stan Ring, horticulture experts from K-State Research & Extension-Douglas County, will take questions about lawn and garden care in the sultriest season.
Moderator:
Welcome to today's chat. I'm Mindie Paget of the Journal-World, and I'll be moderating the discussion. Jennifer Smith, the brand new horticulture agent for K-State Research & Extension-Douglas County, and Stan Ring, the horticulture assistant, are here to answer your questions about lawn and garden care. Thank you both for joining us.
Jennifer Smith and Stan Ring:
Hi everyone! Stan and I are very happy to be here today.
I picked up some free plants at Pines greenhouse, can they still be planted out in the scorching heat?
Jennifer Smith and Stan Ring:
You might want to keep them in the shade for a few days, especially if they just came out of a greenhouse. Keep them well watered and avoid fertilizing. After 7-10 days, go ahead and move them to the final location depending on whether they need sun or shade. Again, keep the plants well watered.
how can i keep squirrels from taking my tomatoes?
Jennifer Smith and Stan Ring:
It is difficult to deter squirrels because they can usually get around fences. The squirrels are seeking water and may become more of a problem as it continues to be dry. We don't know of any chemical deterrents. You might pick the fruits as soon as they start to turn and let them ripen in the house.
I recently purchased a home and my lawn has a lot of weeds. When is the best time to start working on the lawn and what product should I use?
Jennifer Smith and Stan Ring:
September would be the best time to begin renovating your lawn. You will want to use a broadleaf herbicide to control the broadleaf weeds. This will prevent this year's weed crop from distributing as many seeds and will control the newly sprouted weeds. This is a good time to aerate the lawn and possibly de-thatch. Then you can re-seed and fertilize.
Help! We have moles in our backyard. I've heard that traps and poison worms are a waste of money in treating them. What would you do to get rid of them? They are eating up sections of our otherwise great lawn!
Jennifer Smith and Stan Ring:
Traps and poison worms can work if they are placed in active runs. A professional pest control company may be able to help with that. The only trap K-State recommends is the spear trap. The worms contain a product called Talpirid and may not be available for purchase by homeowners.
My lawn is getting some brown, dead spots. I water it in the morning, so I doubt it's a fungus. Am I wrong, and what can I do? Also, is it too late in the season to weed and feed?
Jennifer Smith and Stan Ring:
Most likely it is still a fungus, but watering in the morning is certainly helping reduce the amount of it. The lawn should recover in another week or so. You should wait until temperatures drop to apply weed and feed, maybe mid-September.
I love growing cilantro in my flower boxes, but it always goes to seed around the first of July or so. Can I plant again this summer/fall?
Jennifer Smith and Stan Ring:
You could grow it as a fall plant, but finding seeds or plants may be difficult. You might wish to cut the plant back throughout the summer to stimulate new growth. This will keep it from going to seed.
How can I stop a Bermuda grass invasion?
Jennifer Smith and Stan Ring:
You will have to completely kill the Bermuda grass. You could make 2-3 applications of Roundup while the grass is actively growing (during summer months). This will kill other grass and plants that the spray touches. Non-chemical alternatives would be to cover the area with black plastic for a few weeks while monitoring progress. To manually remove the grass, you would need to remove several inches of soil to remove all rhizomes.
Moderator:
I love looking at beautiful gardens, but I get a little discouraged when I see so many people pouring water onto lawns that are meant to go dormant in the extreme heat of late summer. Is there a more environmentally friendly way to maintain Kansas lawns?
Jennifer Smith and Stan Ring:
Stan's article the week of July 9 discussed proper watering techniques. See link below. Education will be the key.
Moderator:
Stan's column about proper watering techniques can be found at http://www2.ljworld.com/news/2007/jul/12/responsible_watering_helps_lawn_garden_survive_sum/.
Hi Stan and Jennifer!
I have had a perennial problem with brown patch on my tall fescue lawn. I have a copy of the K-State Research and Extension publication on tall fescue lawns and the one thing I didn't do this year was to wait until May for applying the first round of fertilizer. I put it down in March instead since I was using a fertilizer with barricade added to control the crab grass, as the pre-emergent needs to be applied at that time. I now have two questions. 1) Is there a product that enables one to treat the lawn early for controlling crab grass WITHOUT putting down fertilizer at the same time? The timing for the first fertilization and getting the pre-emergent down don't correspond. And 2) If I wait to fertilize next spring until May, as recommended in the K-State pub. on tall fescue lawns, will that make a big difference in my brown patch problem next year? I know I could spray to control the fungus but I'm not sure it's worth it.
P.s.: I work regularly on the Extension Master Gardener Hotline and feel just awful that I'm giving out info to the public on lawn care when my own lawn looks like it does!
Jennifer Smith and Stan Ring:
We don't think there are any products available that control crabgrass that do not contain fertilizer.
Waiting until May to fertilize should help keep the lawn healthy which will lessen the appearance. Follow other good management practices, such as watering early in the day and mowing at the proper height.
Moderator:
We have time for one more question. Before that, I should say that we've had quite a few inquiries about brown spot fungus. Stan wrote a comprehensive column on the topic a few weeks ago. It can be found at http://www2.ljworld.com/news/2007/jul/05/spotty_lawns_should_recover_brown_patch_fungus/.
what can you suggest for ground cover in a completely shady area?
Jennifer Smith and Stan Ring:
There are many options. Some are: Vinca minor, Crown Vetch (can be invasive), Bishop's goutweed, Euonymus vine (can be invasive), Lily-of-the-Valley, miniature Hostas, Lysimachia.
Come to the Demonstration Gardens at the Douglas County Fairgrounds. These gardens were installed and are maintained by Extension Master Gardeners and contain some of the plants listed above.
Moderator:
Thanks for all your questions, and thanks, Jennifer and Stan, for taking time to answer them.
Jennifer Smith and Stan Ring:
If you have any more questions, visit the K-State website at http://oznet.ksu.edu or post a question at our e-mail address, dgemg@sunflower.com . You can also call the Extension Master Gardener Hotline at 843-7058.
Thanks for all of the great questions!