Chat about "scanography" with Bill Bowerman.
January 11, 2007
This chat has already taken place. Read the transcript below.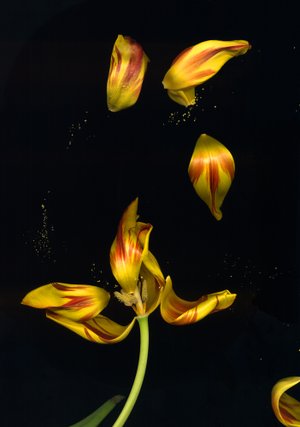 Lawrence artist Bill Bowerman takes pictures, but not with a standard camera. Instead, he uses a flatbed scanner with the lid off. He calls the resulting images - which capture still lifes of natural and manmade objects that Bowerman artfully arranges - scanographs. The artist, whose work is on view this month at the Lawrence Arts Center, will chat about his work at 1:30 p.m. Thursday.
Moderator:
Lawrence artist Bill Bowerman is here to talk about scanography, a way of making images using a flatbed scanner. You might have read the story about him in today's Journal-World. He has an exhibition up now at the Lawrence Arts Center.
I'm Mindie Paget. I'll be moderating this chat.
Thanks for being here, Bill.

Bill Bowerman:
Hi Mindie. Thanks for inviting me for the chat.
What kind of printer do you use?
Does it print 8.5 x 11?
How thick can the paper be?5mils? 15mils? more?
If you could have a new printer, what would you buy?
What kind of scanner do you use? (brand, model#)
How large is the scan bed?
Bill Bowerman:
Hi Judy,
Thanks for your comments in the article today.
I have been printing on wonderful high-resolution archival quality injet printers by Epson. The Epson 2200 prints images as large as 13" by 19". In the exhibition now at the Lawrence Arts Center, 21 images are printed on a larger version of this technology, the Epson 7600, which prints up to 24" wide. My next printer may be an Epson 3800. These printers can take paper as thick as card stock. My scanner is an Epson 4990.
Hi Bill,
I'm lucky to own one of your prints and have wondered how you choose your subjects? Also, what gave you the idea originally to try this type of artwork. Thanks, Kelly
Bill Bowerman:
Kelly,
It is always great to hear from someone who has one of my scanographs. Knowing they are out there around the country and elsewhere is a good feeling for any artist. I almost never go looking for a subject for scanning. Instead, I am just ready and interested in whatever interesting comes to my attention. For example, the "Wild Tomatoes" piece started with some cherry tomatoes in our dinner table. From a starting point like that, I create assemblies and experiment with actions that make use of the materials in a new way. It is play for me, too. It is enjoyable to see how others - including you! react to each piece. Everyone is different. I got started when I scanned a ginkgo leaf to remember it and saw an amazing image of the leaf on my computer monitor. Then I was off and running. And I still am.
Hi Bill,
I'm a fan of your work and I'm looking forward to your gallery talk. Are you going to speak about how your background in psychology plays into your artwork? Can you touch briefly on this.
Bill Bowerman:
Dan,
Yes, I will talk about how my interests in psychology come into play in the scanographs. For example, again with the "Wild Tomatoes", the arrangement is organized so the brain automatically groups the six objects into two groups of three. They call to mind two groups of three people each. What are they doing? Why are they red? Are they behaving somewhat randomly and unpredictably - sort of "wild"? Naturally, I will be interested in how you and others see things, since everyone makes up their own interpretations (like I just did).
Moderator:
If you'd like to look at some of Bill's images for reference during the chat, you can see them on our Web site by following this link and watching the audio slideshow: http://www2.ljworld.com/news/2007/jan/11/scan_man/?arts
Now for our next question.
While this definitely seems like it does have an artistic aspect, what would you say to the nay-sayers of this as art? Are they the same to you as those that many years ago said that professional photography was not a form of legitimate art?
Bill Bowerman:
Ragingbear,
Yes, I think you answered your question. Any new art form must deal with people's expecations about art, which are naturally based on what thay are used to! Every new form of art finds its place by being used to create work that is compelling, while obviously making use of the medium in which it is made. How could it be otherwise? I am pleased that you see my use of the scanner as producing fine art. It is, needless to say, easy to use the scanner in a way that does not.
Moderator:
We're going to wrap up now. Thanks for your thoughtful questions.
And thanks for your responses, Bill.
To conclude, perhaps you could give us some details about your show at the Lawrence Arts Center.
Bill Bowerman:
Thanks everyone for your questions. They are a perfect way to get into the topic in depth.
There are 53 pieces in the exhibition at the Lawrence Arts Center, including pieces from 5 years ago up to one from a few weeks ago.
The reception is Friday, January 19th from 7 to 9 pm. My gallery talk will be at 7 pm, Tuesday, January 23rd.
I hope to see you there!
Bill Bowerman