Chat about your New Year's diet with Chelsea Curry
January 4, 2007
This chat has already taken place. Read the transcript below.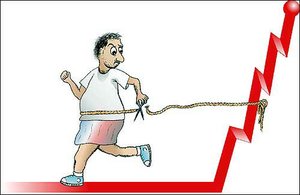 Chelsea Curry, a dietician with the KU Weight Management Program, will discuss health tips for the new year.
Moderator:
Hi, everybody, and welcome to today's chat. Today we have Chelsea Curry, dietitian with the KU Weight Management Program here to talk about diet and weight management, just in time for those New Years resolutions. I'm Terry Rombeck, a reporter at the J-W, and I'll be your moderator today. Welcome, Chelsea.
Chelsea Curry:
Hi Terry and thank you for having me today.
Moderator:
We already have some good questions today, so let's get started. Feel free to post more questions during the chat.
Chelsea,
What type of diet do you recommend for an individual who wants to lose weight?
What do you think the root of America's obesity epidemic is? Food? Inactivity or is there more to it?
Can I lose weight without exercising?
Chelsea Curry:
As for the best diet for losing weight, there are many options. The KU program uses a meal replacement diet that takes daily calories down to 1200 per day using liquid and entree meal replacements as well as fruits and vegetables. You can also follow a meal pattern that tells you the number of grains, fruits, vegetables, meat, and fat to eat to reach your desired calorie intake. The key if figuring out what works for you.
Chelsea Curry:
There are many facets to the obesity epidemic in America. Too much food and sedentary lifestyles are at the root of the cause. The way we set up our personal environment has a tremendous effect on our personal weight management goals. If you spend a lot of time sitting (at your desk, in your car, at home, etc), you lead a sedentary lifestyle and expend very few calories for your activities of daily living. In this situation, one can make time for planned exercise. Another way to expend more calories throughout the day is by increasing your daily activity calories. You can do this by walking to work, walking to the store, taking the stairs, parking at the end of the parking lot, taking breaks from your desk for short walks, etc.
Chelsea Curry:
You can lose weight without exercising, BUT you can make a much bigger calorie deficit by decreasing your food intake. Exercise is most important when you are trying to prevent weight gain and for overall good health.
Part of my "eat better, move more" plan for '07 includes taking a multivitamin, because I know I haven't been getting all the fruits and vegetables I need. The last four days haven't seen great surges in the fruit & veggies department, but I've been tracking my intake of calories, vitamins and minerals and fitday.com, and when I take the multivitamin I ended up going way over on Vitamins D and E (200% and 565% respectively), almost hitting the mark on A and still being way under on K. I know fat-soluble vitamins are the ones you can overdose on, so should I maybe stop the multivitamin, and just track my regular intake for awhile and then do separate vitamins for what I'm falling short on?
Chelsea Curry:
First, let me commend you on tracking your intake online and knowing exactly what you are putting in your body. As for the fat soluble vitamins, you are on right on track. I recommend you stop the multivitamin and find out what your diet provides then go from there. If you are deficient on only a few vitamins or minerals, you can take those individually. In general, taking a multivitamin is a good idea because our diet varies from day to day so some days you may not be as high in the vitamins D & E. Track your diet over a week and see how you average.
I read that it's good to eat 9 fruits and vegetables a day to lose weight so that's my New Year Resolution. But 9 is a lot! So I try to drink lots of juice (no sugar added). Is that just as good as eating the fruit itself? Also, can wine be counted as a fruit? It's made with grapes.
Chelsea Curry:
As for getting 9 fruits and vegetables, it is easier than you think. The key is to make the fruits and vegetables the main part of your diet. If you focus on eating them first, you will find it easier to get them in. Also, pay attention to the serving size of fruits and vegetables. If you eat a large banana, you are eating 2 fruit servings. If you eat 1 cup of cooked broccoli, you are getting 2 vegetables servings.
Chelsea Curry:
Fruit juice is not the best choice for weight management. Just 4 oz of fruit juice (with or without added sugar) contains the same calories as a medium fresh fruit. The fresh version will be much more satisfying and provide fiber that will keep you full longer. Just remember, fresh is best! And finally, wine contains alcohol and is metabolized in the body similar to the way fat is metabolized. Therefore, a 6 oz glass of wine counts in one's diet plan as fat servings. On that same note, a 12 oz light beer and 1.5 oz of hard liquor also count as fat servings.
My fiancee and I are planning on getting married in October, and we're both planning on losing weight and getting in shape for the photos. Any suggestions for best ways to accomplish this? I'm thinking some combination of weightlifting/cardio three to five times a week is best, but would welcome any suggestions for best ways to lose fat. Thanks!
Chelsea Curry:
Aerobic exercise like walking, jogging, biking, swimming, etc is best for losing weight because you will get the most calorie expenditure with aerobic exercise versus weight lifting. Lifting weights is wonderful for your bones and the more muscle one has, the more calories they burn at rest. With that said, since losing weight is your main goal, I recommend you focus your efforts on aerobic exercise to maximize your weight loss. Work up to 300 minutes of aerobic exercise a week and supplement it with 2 days of weight lifting. When a person is overweight, they have too much fat and muscle for their body. Therefore, it is completely normal for one to lose both fat and muscle when weight loss occurs. In changing your lifestyle to include physical activity, make sure you also monitor your food intake. Make changes you can continue doing into your marriage and forever. Temporary changes will result in temporary weight management.
I try not to go to extremes with my diet (ie no high-protein, low-carb or vice versa fad diets). Is there a standard for healthy daily percentages of carbohydrates, proteins and fats?
Chelsea Curry:
Good idea not to go to extremes on your diet. Extremes tend not to last very long which in turn can lead to weight regain. As for healthy daily percentages, aim for 55% of your daily calorie intake to come from carbohydrates, 30% or less from fat, and 15% from protein.
Moderator:
We have time for one more question today.
It seems I try to start on a weight loss and exercise program this time every year only to lose interest in a couple of months. Do you have any tips for helping me stick with it?
Chelsea Curry:
My first tip is to find something you like to do to be more active. Like I said before, you can increase your calorie expenditure with planned exercise (going to a gym, walk outside, etc) and/or with increasing the calories you expend to get from one place to another. No one will continue choosing to do something very long if they don't like doing it. Try new and different fruits and vegetables. I find a lot of people think they don't like eating healthy, low-calorie foods, but most of the time they haven't even tried them. And finally, make small healthy changes to your lifestyle that you can maintain for a lifetime. Remember, if you don't like it, you won't continue to do it and if you don't continue to do it, you won't reap the benefits of those positive health changes you started.
Moderator:
Thanks, Chelsea, for coming in today and answering our readers' questions. Good luck, everybody, with your New Years diets!
Chelsea Curry:
Yes, good luck and remember...you control everything you eat and the activities that make up your day. Just do it!