Chat about the Lawrence City Commission race with candidate Carey Maynard-Moody
February 19, 2007
This chat has already taken place. Read the transcript below.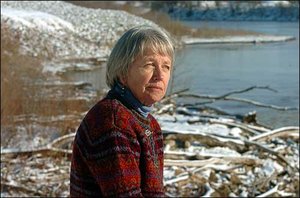 Carey Maynard-Moody, who has been a longtime volunteer of the local chapter of the Sierra Club, said she'll campaign on bringing more companies that are in the business of promoting or producing environmentally-friendly products to Lawrence.
Moderator:
Hi folks! I'm Joel Mathis, managing editor for convergence. Carey Maynard-Moody is here; she'll be assisted in her typing by Paula Schumacher, her campaign manager.
What is your view of the proposed domestic partnership registry?
Carey Maynard-Moody:
I'm very supportive of it. Human rights should not distinguish between race, religion, gender, sexual orientation... We all benefit from protecting human rights.

What is your position on building a new library in downtown Lawrence?
Carey Maynard-Moody:
Our library has been brought to its knees from neglect. I am encouraged by the good leadership of Bruce Flanders, and his vision, and his marketing. The staff is doing a remarkable job under adverse conditions. I look forward to finding a solution that will provide continuing and improved services in a space that staff and library leadership deserve.

One of the biggest fights involving the city commission, in recent memory, is/was about the 2nd Walmart; where do you come down on this issue? Do you believe that a new city commission can overrule or change a past commission's decision to allow a building permit to issue?
Carey Maynard-Moody:
Large business developments must not threaten the character of a neighborhood. I don't think this issue is dead. I look forward to working with fellow commissioners to finding sensible solutions for enhancing downtown as well as allowing inovative entrepreneurship in newer neighborhoods.
Moderator:
Carey, as a follow-up to the library question: What do you think of the $30 million proposal that is currently under consideration by the commission?
Carey Maynard-Moody:
I want to consider other options. I am open to cheaper but still adequate and stately buildings for the library -- including the one proposed by Placemakers on city-owned land (on Constant Park). That location is the gateway to our city--what better first impression for visitors than a stately, classical building overlooking the river within 1 block of the former library.
Carey, what are your views about transit in Lawrence? Do you support the "T"? On the "T" website there are reports from a study about possible coordination of services with KU on Wheels -- what do you think about this idea?
Carey Maynard-Moody:
Lawrence is blessed to have the T. Lawrence owes this remarkable service to one of my favorite local heroines: Mary Michener who worked tirelessly for 10 years to see it realized.
I am encouraged by its progressive development, its ridership is constantly improving... I am impressed with the tireless efforts of the board, the professional staff who are seeking coordination with other transportation and transit options.
To live in Lawrence, you should not need a car to get around. Everyone should be able to get around. Transportation is about choices.
What are you going to do about the traffic in this town?
Carey Maynard-Moody:
I am going to discourage it. I am going to be thoughtful about promoting traffic that is exacerbated by infrastructure enhancements that perpetuates bad traffic patterns. I am concerned about the perpetual cost of traffic calming -- which could be avoided if we hadn't been promoting traffic all along. I am very devoted to building a city that protects pedestrians... children and elders especially. Our downtown should be safe, pedestrians should not be threatened by traffic. It is hard to find solutions that work to protect both pedestrians and promote traffic flow -- but I am committed to working to find them.
Moderator:
A commenter named "jade" has offered several big questions in one post. I'm going to break it down into smaller chunks: "I'm concerned about global warming, but I'm having trouble imagining what local governments can do about it. What do you think?"
Carey Maynard-Moody:
Local governments can work to conserve energy (electricity) in government facilities and services. The Sierra Club's Cool Cities Campaign is underway in Lawrence. City staff is working hard to conserve energy in public buildings and city offices. When energy is reduced, less coal is burned, less carbon dioxide is released into the atmosphere. Lawrence is taking baby steps in this direction, including government purchase of clean local renewable energy. It is my hope that Lawrence will not be the only city commission to go green. It is my hope that many American local governments will become committed to reducing energy consumption, thereby not making matters worse. Local governments can also partner with local utility providers (Westar) to promote energy conservation in homes and businesses.
Moderator:
Also from Jade: "Lots of older folks in Lawrence live on fixed incomes. There is a lot of talk about raising property taxes in order to pay for infrastructure and services. They can't afford this! What do you propose?"
Carey Maynard-Moody:
I would like to explore a program whereby qualifying elders on fixed incomes make level payments on property tax (should property taxes rise). The difference between the level pay and the increased taxes would be recouped by the city when the property ownership is transferred (taken out of the sale). The city also has the ability to borrow on that pool of money that this program would create.
Where do you stand on the SLT?
Carey Maynard-Moody:
The SLT dates back 20 years or more. Times have changed. The SLT was never a transportation project. It was always a highway project. Our region deserves transportation enhancement. There is more to transportation enhancement than building highways and promoting traffic. Transportation choices are critical at this time in our history when the end of cheap oil seems more inevitable and pressing than before. I do not have the confidence that the clean alternative energies that we may eventually rely on will get us about on highways as handily as before. Therefore, we will need an alternative if we are to move about regionally (between cities, etc.) It always has been and still is very important to me that Lawrence show all due respect to all citizens including our neighbors including Haskell Nations University. The SLT shows disrespect for them.
Why should Lawrence Firefighters vote for you, instead of other candidates?
Thank you.
Carey Maynard-Moody:
Because they, too, have concerns about quality of life in Lawrence. They, too, have families and children that walk to school. They, too, want affordable housing. I am a candidate who wants our firefighters, our teachers, service industry workers, etc., to be able to work and live in Lawrence. I am determined to work for solutions for affordable housing.
During a recent candidate forum you indicated that you believe that the free market system should guide the potential problem of an overbuilt retail market. Can you further explain your thoughts on this?
Carey Maynard-Moody:
Thank you for asking that question. I am concerned about green field development that may be placing unfair tax burden on the population. I am looking forward to finding solutions that both promote inovative, creative, environmentally safe businesses and industries and other development projects without sacrificing the economic vitality and well being of our historic downtown and other locally owned small businesses. Over regulation is as egregious as under regulation. I look forward to finding a balance that maintains the character and integrity of our town without sacrificing economic health.
What kinds of folks are donating to your compaign? I assume they don't include developers at 6th & Wak (Wal-Mart #2 supporters) and the home builders assoc?
Carey Maynard-Moody:
Local folks. An inordinant number of them. While I have raised half as much money as some other candidates, I have had roughly the same number of contributors and them. I appreciate the support I have recieved. I am heartened by the fact that my supporters represent such a healthy mix, cross section, of our population because as a candidate, I am passionate about representing the diversity of this great city.
how do you envision addressing the issue of homelessness in Lawrence?
Carey Maynard-Moody:
Listening and listening hard to many people. I have a listening meeting scheduled next week with the leader of the homeless task force. I have supporters who are most eager to share their findings and research. As a social worker, this issue is close to my heart. It is important to me that Lawrence be considered to a diverse population regardless of their means. It is important to be fiscally responsible in making permanent decisions. I look forward to participating .... I think I bring particular sensitivity and training to the table.
What do you intend to do, if elected to make sure housing & apartment rentals are affordable for all Lawrence residents? Thank you.
Moderator:
That is the last question we have time for today.
Carey Maynard-Moody:
I would like to put as much time and energy as possible into the search for an employment solution that will provide jobs and wages for workers that are sufficient to keep a single mother of two smartly above the poverty level (wages that can support a single mother of 2 is what I consider to be a "living wage"). When wages are sufficient and jobs are sufficient, housing becomes more affordable.