Stan Sheldon comes alive!
February 8, 2007
This chat has already taken place. Read the transcript below.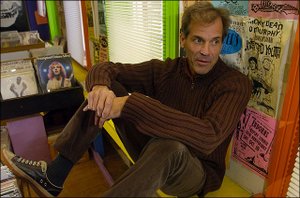 Join Lawrence bassist Stan Sheldon, who will speak about his recent contributions to Peter Frampton's Grammy-nominated album, "Fingerprints," and his 35-year career performing with artists such as Frampton, Tommy Bolin and Warren Zevon.
Moderator:
Greetings. I'm Jon Niccum, entertainment editor of the Journal-World. I'll be moderating the chat. Please welcome bassist Stan Sheldon.
Stan Sheldon:
Hello everyone, what's up?
Hi Stan. Please explain the difference between being a 20-something-year-old rock star and being a 50-something-year-old rock star? And thanks for your contributions to "Frampton Comes Alive." It was a musical awakening for a 14-year-old boy in 1976.
Stan Sheldon:
It's always nice to hear that we have positively influenced young players...even in the 21st century that feeling is same as it was when I was 20...other things have changed a bit...but to be appreciated byfans will always be a treat
I have a couple of questions: Are you gonig to the grammy ceremony? And, you can hear "Do You Feel Like We Do," "Stairway," and maybe late at night "Post Toastee" or "In-a-gada-da-vida" on classic rock stations, but it seems that these days the only EPs you hear of new music are dance tunes. Do you think the days of the Rock EPs are over?
Stan Sheldon:
Unfortunateely I will only be there in spirit...but i will be watching attentively. It's sad that the world spins so fast with information that it is rare that someone might have the time to spend leisurely with an entire EP. Yeah, i guess those days are over...but not for those of us willing to devote the time.
Moderator:
Stan, can you give a few details about some of the other artists you collaborated with besides Frampton?
Stan Sheldon:
Thanks Jon, Tommy Bolin would be one that I really loved playing with...others include Lou Gramm, Warren Zevon, Melanie, I had the great pleasure oof getting to back up John Lee Hooker and Albert King during a two month period in 1974.
this is AWESOME! a stan sheldon chat! stan, hello...you went to high school with my older siblings in ottawa. and-i've been jealous for years that i never got to actually hear the "lost souls" play music! is the "fingerprints" album out yet, if not when?
my big brother "hubie" says hello!

Stan Sheldon:
I can't believe it! Someone has heard of the Lost souls...Yes fingerprints is in the stores and we will be on the Grammy show as nominees this Sun coming up.
Moderator:
Stan, a caller wants to know if you have played with many jazz musicians.
Stan Sheldon:
Yes, one of my first muical loves was Jazz...Jazz fusion...when I was playing with Tommy Bolin Tommy was attracting and meeting many of the Jazz Stars of that era...John McLaughlin was a huge influence and on Tommy's first solo recording which I worked on the session players included Jan Hammer, Narada Michal Walden, the Brecker Brothers, Randy and Michal, Dave Sanborn, Aierto from Brasil and many others
Stan,
Brian Drake here...remember me? We TAed together many moons ago in KU's environmental studies program. I've been wondering where you've been lately - on the front page of the LJW, I guess!
Last time I saw you, you were working on a book about your experiences. What's its status these days?
Stan Sheldon:
Hey Brian great to communicate with you again. I have been traveling a lot with my regular jop, teaching Spanish speaker EPA protocol...all over the US. And obviously Peter and Ihad a little reunion a while back just now coming to fruition. Are you still at KU email me at same email i used to have
Stan Sheldon:
Oh I forgot, the book, I am still working on part two so I haven't really submitted it to anyone yet, you were a great person for feedback on the proofread maybe we'll do more of that in the future.
You've been a lot of places. What brings you back here? What keeps you in Lawrence?
Stan Sheldon:
Well, I was born right dwon the road in ottawa, and Lawrence has always felt like home to me, I returned in the 90's to attend KU...and I stayed : )
Do you keep in touch with your cousin Tom Stephenson and do you ever play together? I remember you both from junior high school in Ottawa.
Stan Sheldon:
Yeah, my cousin Tom is still in the area...KC and he and I worked on a project acouple of years ago.
Did you play in the Swing Kings at OHS?
Stan Sheldon:
no, I vaguely remember that, but I did not ever play in the Highschool bands
Moderator:
What is the single most vivid memory you have of playing with Frampton?
Stan Sheldon:
It would have to be the night I met Peter...it was at the Beverly wilshire hotel and I pushed my fender amp on rollers uo the elevator of the hotel on up to the top floor. I was there to audition for his band on the recommendation of my friend Kenny passarelli...another bassman from that era. Peter and his girlfriend Penny answered the door and i always remember thinking that something exciting was about to happen, and it did : )
Moderator:
Stan, any final thoughts about playing on Frampton's new "Fingerprints" album?
Stan Sheldon:
Peter and I reconnected on this project in way that we have not for the last 20 years. The reunion was bittersweet in that we had just lost the other two members from the comes alive album(John siomos and Bob Mayo both passed away in 2005. So Pete and I are the only ones left from that band. Sadly there will never be a reunion tour. On the bright side, peter and I do plan on doing many more projects in the future...and with this Grammy nomination we and especially he are provided great impetus to continue. It seems that Peters prowess on the guitar has only begun to be tapped, so I am really excited about collaborating and hopefully touring with him in the near future...we'll see. It all depends on whether Pete wants to take a hiatus on focus on a new type of performanc...that is to say somethin besides just playing the old hits. Now ther might be some acceptance by the fans for him to feel confindent enough to do something different.
Moderator:
Thanks to Stan Sheldon for participating in today's chat. Read Friday's Journal-World for an in-depth article about his recent Grammy-oriented reunion with Frampton.