Chat about pets with Lawrence Humane Society Director Midge Grinstead
February 1, 2007
This chat has already taken place. Read the transcript below.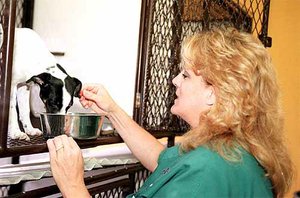 Midge Grinstead will be coming in to chat next Thursday. She can talk about pet health issues, pet obedience, adopting pets, things going on at the Humane Society, etc.
Moderator:
Hi, and welcome to today's chat. Midge Grinstead, executive director of the Lawrence Humane Society, is here to answer you pet-related questions. I'm Terry Rombeck, a reporter at the Journal-World, and I'll be your moderator today. Welcome, Midge.
Midge Grinstead:
Hello everybody!
Moderator:
We have a lot of good questions already, so let's get started. Keep the questions coming throughout the chat.
At what point should someone report an animal left out in the cold?
Midge Grinstead:
If the animal does not have proper shelter and straw or bedding plus water that is not frozen, then you need to contact the shelter, animal control or the police
Hi Midge. I had my dog microchipped that I got there in November of 1995. I still have here, but got another dog somewhere else. Can I still get my other dog microchipped at the humane society for a fee?
Thanks,
Chris
Do you sell the indentification chips that are embedded in animals. If so, how much are they?
Midge Grinstead:
You can get your cat or dog microchipped at the shelter anytime for $25. The first Saturday in April is tag day and we will be microchipping for $10 at the shelter or at Petco.
I am a KU student who adopted a cat from the humane society about 6 months ago.
I will be studying abroad this summer, and want things to be as stress-free for my cat (who will be about 1 at that time). Should I take her to my mom's house (where there is another cat) for the 2 months I will be gone, or get a family member to visit her and put food in her bowl in my apartment every few days?
Midge Grinstead:
I would absolutely leave your cat with your mom. Cats relate to stress and change very poorly, so having someone keep your cat that knows her would be better than traveling with her.
Our 10 year old female Austrailian Sheppard mix has recently started stealing and guarding toys from our 2 year old male Welsh Terrier. She's lived with other dogs before with no problem and she's normally very sweet, but it seems like she's getting less patient as she gets older. If we scold her it only seems to make it worse, but she's very rough with him so it feels like we need to do something. Any ideas?
Midge Grinstead:
You need to contact a trainer as soon as possible. We see and hear of many breeds that become more territorial as they get older. Particuarly between the ages of 1 and 2 years. Aussies, Border Collies and Heelers are well known for being territorial.
Moderator:
Here's another dog-behavior question.
We actually just adoped a puppy from the humane society a few weeks ago. She is such a sweet girl, but is suffering from EXTREME seperation anxiety. We have tried everything from crate training (in which she tore up her nose in a desperate attempt to get out)...we tried baby gates to keep her in the kitchen (she destroyed them). We can't let her have free roam while we are gone because she is so destructive while left alone and it is way too cold to leave her outside...even if she does have a doghouse. She is so well behaved while we are home, but we have to go to school and work! I just can't give up on her. Obedience classes and doggy-daycare would put us in the poorhouse! Any new ideas?
Midge Grinstead:
Please contact the shelter and we will give you Jeaneete Wisdom's information. She is a certified trainer that helps people with animals adopted by the shelter. Jeanette is a great asset to the shelter and will be able to help you with your dogs anxiety.
You must have one of the toughtest jobs in our community but bravo to you for the great job you do to protect animals! I am horrified at the number of college students who buy and/or adopt pets, yet so easily abandon them or turn them back into you when they leave for the summer or graduate. When students come out to the Humane Society to adopt an animal, do you educate the students that ownership of a pet is for the duration of the animals life....NOT until the owner becomes inconvenienced?
Midge Grinstead:
We not only educate the college students but we try to educate everyone. We deny more college student applications than any other section of people that come to adopt at the shelter, but we don't discriminate against them, either.
I know the HS is on limited funds, and you all do a good job with the resources you have. Are there any programs in place that provide checkups for placed animals to ensure that they are in good homes?
Midge Grinstead:
First we do a background check on every person applying for a pet. We contact their veterinarian's to see if they have used their free vet visit and we call within two weeks to make sure the animal is settiling into their new home. We do not have the resources to actually visit the animal once it has been adopted.
My son who lives on his own has a new kitten..are there any programs in Lawrence to help with the high cost of shots and spaying?
Midge Grinstead:
The Society has a spay/neuter subsidy program to help spay or neuter animals that are not adopted from the shelter. Just have your son stop in anytime. We recycle cans to help plenish this account, so feel free to recycle with us.
I adopted a kitten from the Humane Society, and was forced to put her to sleep because she had contracted FIP. This was very heartbreaking and I've heard this disease is very contagious. How can I be sure this won't happen again?
Midge Grinstead:
There is not a lot of information regarding FIP and any preventatives out there for it. It is extremely tough to catch unless the kitten or cat is exhibiting signs. We had one other case in 2006 and it showed up almost 8 months later. Tests for FIP are all inconclusive, as far as treatment.
A lot of people seem to think the humane society doesn't euthanize, but this isn't true. Do you know about how many animals get put to sleep each year?
Midge Grinstead:
Last year we took in just under 7,000 animals. I don't have specific numbers with me, but around 300 dogs and 500 cats were euthanized for illness, temperament or injuries.
Does your spay/neuter program apply for rabbits as well as dogs and cats? I was disappointed when looking for a rabbit that most of your rabbits are not spayed/neutured. They make so much better pets after that operation, so I don't understand why you don't have them do (so the poor rabbits don't lose their new home!)
Midge Grinstead:
Rabbits are much better pets when spayed or neutered. I certainly agree with that. We do offer a $40 voucher for people wanting to spay/neuter rabbits.
Has anyone called in about my black female pit since she ran off Friday January 26th around 4:45pm? Yes I have made a report with the humane society.
Midge Grinstead:
Please call the Society for an update. I don't know if any have come in today, but none prior to today. 843-6835
What's your thoughts on the 2 North Carolina PETA employees charged with 21 felony counts for euthanizing dogs and cats meant for adoption and then tossing them into a private dumpster?
Midge Grinstead:
Horrible. My thought is, they can't possibly want to help animals if they would do that. Every animal we euthanise, including those that are tring to bite us, is extremely difficult and heart wrenching. I have no tolerance for people who say they love animals and clearly do not.
What can we do to raise awareness of all the great dogs (mixed and full breed) at the pound in need of home, when people typically want a certain breed of dog, and will go to a breeder instead?
Midge Grinstead:
The shelter receives about 750 pure bred dogs per year. Mostly larger breed, so be sure to get on the "want" list. If you buy from a breeder or pet store, make sure you SEE the license from the State of Kansas. Not all breeders are good.
What are some of the best ways for members of the community to help the Humane Society?
Midge Grinstead:
First and formost spay and neuter your animals, then tell or help others to spay and neuter theirs. Contact the shelter, animal control or the police whenever you see someone mistreating an animal or neglecting an animal. Get involved with a fund raiser or volunteer to walk, groom, socialize animals at the shelter. Educate your friends and family on proper ways to care for animals. And donate funds.
Moderator:
That's our last question for the day. Thanks for your questions and thanks, Midge, for coming in today.
Midge Grinstead:
Please feel free to contact me at the shelter any time. I would be happy to help or answer any other questions you might have. Thanks!