Chat about campus safety with KU Police Chief Ralph Oliver
August 23, 2007
This chat has already taken place. Read the transcript below.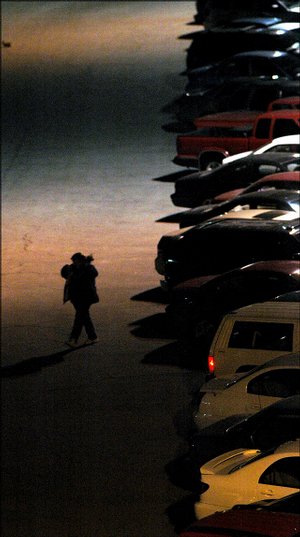 Ralph Oliver, Kansas University's director of public safety, will take questions about campus safety and security issues.
Moderator:
Hi, everybody. Thanks for joining us for today's chat. Ralph Oliver is here to answer your questions...feel free to ask more during the chat. I'm Terry Rombeck, a J-W reporter, and I'll serve as moderator.
Chief Ralph Oliver:
I'm happy to be with you today. We'll try to answer any questions you may have.
Moderator:
Great -- let's get started. First off, your department has new office space out on West Campus. How are you liking it?
Chief Ralph Oliver:
The location of our new facilites on campus is at 1501 Crestline Drive. July would have been our one year in the new location. We like the location because the space is designed upon the different functions we perform, unlike our previous location in Carruth. It's about the same amount of space, but more space is dedicated for emergency communications and patrol, and more open space for clerical support. And we have visitor parking, which makes it a lot more convenient to access our services.
Does "campus safety" define student driving habits,such as drunk driving,speeding and unyielding to stop signs,as a safety issue?If so,what do you intend to do about it?Personal safety doesn't seem to be a huge problem although the incidents can be traumatic.Student driving habits including DUI's are a greater danger to the public as well as to the students themselves.Or are these left to an outside department such as LPD?
Chief Ralph Oliver:
We communicate our concerns about personal safety habits to our students during programs given by our community services unit, where we express our overall general concerns, including driving, alcohol consumption and general safe practices. As far as enforcement, we do issue driving while under the influence citations, which are adjudicated through the City of Lawrence court system. We enforce all state and local traffic ordinances.
Statistically speaking, what are the most dangerous spots on campus after dark?
Chief Ralph Oliver:
Most of the crimes that get reported to us at night get reported from residence halls. As far as outside areas on campus, there is no one singular spot where we have a concentration of criminal reporting. The university has gone to great lengths in collaboration with the Student Senate to improve lighting on campus over the last 10 years. Emergency blue phones are located across campus and in academic buildings for immediate contact with the public safety emergency communications center. In addition, police patrols along with JayWalk and SafeRide increases student comfort level after dark.
Joel:
Across the border this week, a Missouri panel came up with a list of recommendations to make campuses in that state safer "through greater vigilance, better planning and increased mental health services." The task force was set up in the wake of the VaTech massacre. A) Is Kansas or KU planning anything similar? B) Have you seen the Mo. recommendations, and is there anything in them we should be implementing here?
Chief Ralph Oliver:
The Kansas Board of Regents did not create a campus safety taskforce following the Virginia Tech incident. However, the University of Kansas, through the Provost's Office and the Public Safety Office, did create a group to look at our current level of preparedness and response capability. From that, the university has taken steps to improve its ability to respond in the area of notification and campus-wide response to critical incidents on campus. Examples of outcomes would be the installation of a public address notification system capable of broadcasting directly into 49 academic and residence hall buildings, directly from Public Safety Office emergency communication center. Also, training for top-level administrators in national incident management system, as mandated by the federal government. Also, we have approved a new, updated campus emergency plan after consultation with state and local governments and Douglas County Fire & Medical.
I feel that one of the largest safety issues on campus during daytime hours is that many bicycles disregard traffic laws. They pass cars and do not stop at stop signs. How aggresively do you police this issue?
Chief Ralph Oliver:
We do enforce traffic laws in relationship to bicycles, and during the beginning of the fall semesters we usually will target-enforce in certain locations on campus to drive the point home about compliance for bicyclists to traffic regulations.
What training do campus police officers have and how much legal authority do they possess with regard to law enforcement on and off the campus? Is there any truth to the oft repeated theory that KU police are people who can't get regular jobs with other police departments?
Chief Ralph Oliver:
KU commissioned police officers are required to attend the Kansas Law Enforcement Training Center, which certifies all law enforcement officers in the state of Kansas. In addition, KU officers must receive 40 hours of training annually, as do all law enforcement officers in the state of Kansas. Our officers also receive specialized training to achieve expertise in different specialty areas, such as crime scene investigation, accident investigations, active shooter training, intoximeter operators and numerous other types of training.
Chief Ralph Oliver:
State statute gives University of Kansas police officers jurisdiction on all property owned, operated, leased or maintained by the university or its affiliates. University of Kansas has a memorandum of understanding with the City of Lawrence to take action if officers transitioning in the city jurisdiction observe laws being broken to contain the activity and notify the Lawrence Police Department.
Moderator:
What are three things students can do to help protect their property on campus?
Chief Ralph Oliver:
First of all, in residence hall or apartment, you have to lock your door, even if you're inside your room or apartment because theft is the No. 1 reported crime on our campus and probably most university campuses. We encourage students to record serial numbers of valuable property, or to engrave property with unique identifiers to assist law enforcement in recovery should their property be stolen. In public areas, you must always know where your property is at and do not leave it unattended. Bicycle owners need to purchase a quality lock and use it appropriately. Don't leave property visible in your vehicle, and always remember to lock your doors. And the last thing I'd like to add is if it's valuable to you, it's valuable to someone else.
Moderator:
That does it for today's chat. Thanks, Ralph, for coming in.
Chief Ralph Oliver:
The Public Safety Office is staffed 24/7/365, with dedicated men and women whose sole purpose is your safety at the University of Kansas. Anything we can do at any time, feel free to contact us.