Chat about South Junior High, the opening of the school year, with Lawrence Superintendent Randy Weseman
August 14, 2007
This chat has already taken place. Read the transcript below.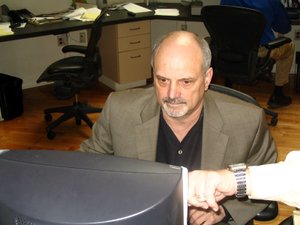 The start of school Wednesday at the new South Junior High School, 2734 La., which is still under construction, could be delayed one or two days. A decision will be made by noon Tuesday. Lawrence Supt. Randy Weseman takes your questions about that and other beginning-of-the-school-year issues.
Moderator:
Hi: I'm Joel Mathis, managing editor for convergence. Randy is here and ready for questions.
Randy Weseman:
Good afternoon ..........
The new building looks like it will be terrific. Should this problem have been addressed sooner, or were things on schedule all summer? Were any unexpected delays in the construction encountered recently?
Randy Weseman:
It is a beautiful complex. It has been an aggressive project with a tight completion deadline. I believe have been on top of the construction issue for some time now; however, with the arrival of the support and teaching staff new issue have emerged. The decision to delay the start of both New South and Broken Arrow was based on my observation that more prep time was needed for staff to adequately prepare to for students. As we speak, the staff and district support people are preparing individual classroom spaces and support areas. Here's the bottom line: We knew it would be tight but felt that the ability to lock in lower construction and bid costs was worth short term inconvenience. Within a few months these inconveniences will be a distant memory.
momy:
It appeared to many observers that the schools would not be ready, but yesterday was the first time that you even suggested there might be a delay. Why did you continue to state on the web site and in the press that the schools would open on time, thus affording parents very little notice? Where's the honesty?
Randy Weseman:
I make decisions based on the information I have at the time. Last week we felt that we could start school as scheduled. When new issues and problems arise, one must reevaluate the act in accordance. It's a complex project with many variables.
Does the construction agreement with the contractor for BA & SJHS include a liquidated damages clause? If it does not, that is a gross oversight by the administration and school board. The BA & SJHS families are definely suffering financial damages by the school not being ready and the contractor and adminstration should be held accountable to perform their duties.
Randy Weseman:
There are provisions that allow for damages. However, those provisions are not currently in play. This is not purely a construction issue. There are issues of moving equipment......logistical things that impact occupancy of the building. However, your irritation is understandable.
I appreciate the voice mail message I recieved via my cell phone this morning letting me know of the new start date for Broken Arrow and South. Is this the type of personal communitcation we can look forward to from the district in the future?
Randy Weseman:
I had 30 staff members making these calls today. It was mainly a low-tech exercise. We have received our new emergency notification system but the active database is not yet ready. Never-the-less, personal communication is our goal for this year.
Why do Lawrence (and Kansas) schools start so early in August? Would it not save money on utlities to start later when it is not as hot and run into June? I know June is a much cooler month then August by far. It seems it could save some money for the ditrict if we could save on utlities. Having the same length of summer just shifted a bit.
Randy Weseman:
Once again, the issue is somewhat complex. From a purely financial standpoint....I would love to save the money. However, there are state and local concerns that play into the equation. In addition, our calendar is subject to state and federal testing windows, negotiated agreements, community norms such as KUs spring break, required conference windows and so on and so forth.
What is to become of our football players both 8th and 9th grade since the gym is not finished??
Rumor has it they will have practice in the early a.m. before school starts and not have access to showers to clean up. They will spend their first day in their new school going class to class being stinky.
Randy Weseman:
I have no information indicating the problems you describe. We have know the gyms would be late for some time now. My understanding is that the physical ed teachers have made the appropriate adjustments to their lesson plans. Also, since when did junior high students start taking showers?
Moderator:
We've had a number of questions about asbetos in the old South Junior High...
Good Afternoon Supt. Weseman -
Friable asbestos is a significant health hazard. Has the asbestos from the "old" South Junior High been completely removed? If not, how is the contractor ensuring that no asbestos dust will be released while students and staff are present? I thought the demolition was originally supposed to take place when the buildings weren't occupied (either during the summer or during a "break"?
http://www.sharetheair.com/asbestos/asbestos_faq.htm
Randy Weseman:
The process or removing the asbestos was regulated by the state. The old building was certified as asbestos free this week by the KDHE. We anticipated the demolition would start on August 1 but the removal process was slowed down by structural issues. The demolition will use low-impact techniques such as mist spraying for dust and so on. I am told the complete demoliton process will take 45 days. Given the strict inspection criteria, health concerns are not an issue.
Will Monday be a full school day? Also, the 7th graders were to attend an orientation session this Wed. (tomorrow) for part of the day. Will they still have the orientation on Monday, and if so, when?
Will the administrative staff be moved from the Centennial location to South by Monday as well?
Thank you.
Randy Weseman:
Monday will be a full school day for all SJHS students. The South administration is modifying the schedule to accommodate orientation activities for 7th grade students. The administrative staff will be in the new building.
Why do Broken Arrow students still not know who their teachers are? In our five years with the school, it is always 4 PM the night before school starts when the kids get to find out. It is very unsettling when so many other schools in Lawrence knew a week ago who they're teachers are. Is there so many kids at BA that this can't be sorted out any better? Also this year made it impossible due to construction, but it would be nice for new parents and students to Broken Arrow to have a meet the teacher night. It may also make the transition easier for returning students.
Moderator:
Randy has about five more minutes available to ask questions. We'll try to cram as many as we can in...
Randy Weseman:
Frankly, this is a question for the BA staff. Elementary schools differ in terms of parent night schedules and notification of class assignments. In any event, I will pass your concern on to the principal.
Mr. Weseman: What can the district realistically do about inadequate athletic facilities? We'll start another football season next week on less than safe field conditions at Haskell. I know we may not be in a position to have what other communities have right now, but can't we do something more for our kids? Thanks.
Randy Weseman:
This is a huge issue for me and one that needs to be addressed and planned for this year. I will be asking the board in mid-September to begin an aggressive review of our secondary athletic venues. Based on that review a plan must be put in place to begin improvements for all venues. We are well behind the curve on this one. Expect to hear more about this later next month and be prepared to contribute to the conversation about these facilities. The board will need to hear from the community as it engages the issues associated with remodeling or adding practice and competition venues.
Why did momx2 get a personal voice mail alerting her that the school starting date was post poned. My child was enrolled on the correct date and all our contact information provided and I have not received any personal voice mail or emailed message of any kind.
Moderator:
That's the last question we have time for today.
Randy Weseman:
If you enrolled you should be in the data base and there may be some glitch. I suggest you call our center...832-5000 to confirm we have you in the system. We are certainly trying.
Moderator:
Thanks for joining us. Sorry if we couldn't get to your question in the time that we had. Randy's a frequent guest on our chats, so he'll probably be back soon.
Thanks again.