Chat with roller derby skater Anne Mergenmeier
April 12, 2007
This chat has already taken place. Read the transcript below.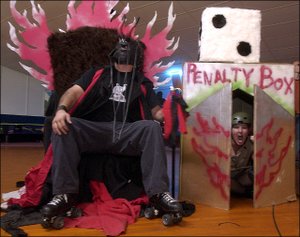 Chat with Anne Mergenmeier, all-star skater with the KC Roller Warriors, who is one of nine Lawrence women in the all-female roller derby league.

Moderator:
Greetings chatty readers. I'm Jon Niccum, entertainment editor of the Journal-World, and I'll be moderating the chat. Please welcome Anne Mergenmeier, an all-star combatant for the Kansas City Roller Warriors.
Anne Mergenmeier:
Hey everyone! I happy to be here and ready to take your questions.
I was a pretty mean roller skater in the 1970's (I was 8) so....am I too old for roller derby? Do I have to pass some sort of medical screening? Should I start a training program?
Anne Mergenmeier:
You have to be 18 and over to play with the KC Roller Warriors, but we do not have an age limit. You do have to pass a physical exam by a physican. It just has to say that you are healthy enough to play. Training program? Start skating. A lot. You should be comfortable on your skates and be able to manuever relatively easy. Also, endurance is key. So I would start an endurance program -- enough so you can comfortably do an aerobic workout for 30 minutes or more.
I went to the Roller Derby in KC last Saturday. That was my first time. My friends and I had a lot of fun once we figured out what's going on and how the scoring works. Are there any plans to add more teams to the league? With so many girls from Lawrence, could you have a Lawrence only team? Do you wish Lawrence had its own skating rink? I'm looking forward to going to more Roller Derbys this summer. Thanks!
Anne Mergenmeier:
We may consider adding a team in the future, but for this season we will be sticking with the four teams. At this point, I don't see us having a Lawrence team, but that could change. It may be a possibility. I would love to have our own skating rink, mainly because I love skating. It would also be nice to get in some extra practice without the 45 minute drive to the KC rink. I'm so glad you had a good time. Come say hi next time. And thank YOU!
I'm wondering how scripted the bouts are. Is this more like a college basketball game, pro wrestling or somewhere in between? How competitive are the women?
Anne Mergenmeier:
The event is unscripted. Nothing is determined beforehand. Besides maybe how players handle their intros. We definitely try and make it entertaining with our uniforms and such, but the game and the outcome of the game is decided right there on the track.
We are a pretty competitive bunch. We always try taking it easy on each other in practice before the games, but that competitve side usually comes out. We end up going a 100% even though we were trying not too. Plus when it is game time, we are always there to win.
Hi Anne. My family attended the roller derby last Saturday. We were quite surprised at the ticket prices ($16 for adults). At that cost & with $7 parking, I'm afraid we won't be able to attend future events at Hale. Will there be other venues to see you at, or are there plans for reduced ticket coupons/programs?
Anne Mergenmeier:
There are reduced ticket prices when you buy them in a group of 10, 20, 30, 40 or 50. I apologize, but I don't remember the exact prices off the top of my head. I believe they are around $11. You can purchase them through any Roller Warrior. We do need your money in advance and then we send you the tickets. If you e-mail me at anniemaul@gmail.com, I can get you more information about that. And unfortunately, the only other bouts we will be playing this season besides our season games are at Nationals in Austin, Texas in September. We will be having quite a few events though that we would love to have you come socialize with us. You can get a full listing of those events at www.kcrollerwarriors.com.
Moderator:
How do the Kansas City Roller Warriors stack up against other leagues in different cities?
Anne Mergenmeier:
We are one of the top leagues in the country. We went to the Dust Devil tournament in Tucson in Febuary where we upset the Arizona team to take the fourth seed in the Western Division. And the Western Division has some of the best teams in the country: Texas, Seattle and Tucson. We are heading to Nationals in September to play among the top 8 teams (including ourselves) in the country.
Were you always this good at Derby or were you made in a lab at Winnwood skate center? Is Coach Death a might Lab Professor that we dont know about?
Ritaploy to Victory!
Anne Mergenmeier:
I was definitely made in a lab at Winwood. Most Roller Warriors are of the same origin. And yes, that is his secret identity. Oops, I didn't mean to say that. Sorry Coach!
Do you have a boyfriend? Are the KC Roller Warriors events a good place to meet girls?
Anne Mergenmeier:
I am single. And yes, the Roller Warrior events are great places to meet women. There are usually soooo many of us and so few men folk. I was just thinking the other day that guys don't know what they are missing by skipping our events!
Moderator:
Thanks to Anne Mergenmeier, blocker for the Victory Vixens team of the Kansas City Roller Warriors league.
Anne Mergenmeier:
It was an honor and pleasure chatting with everyone. These were really great questions, and I am so excited that people are interested in roller derby. (Because it is the greatest sport ever!) Thanks for you for your interest, and I hope to see you all at the next bout, May 5 at Hale Arena in Kansas City!!