Chat about the KU-Baylor football game with KU sports writer Ryan Wood
October 20, 2006
This chat has already taken place. Read the transcript below.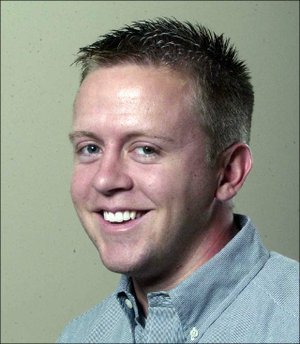 In previous years, the game against Baylor would be a near-perfect opportunity to break a four-game losing streak. Is that the case this year? Ask Journal-World football beat writer Ryan Wood.
Moderator:
Hi everybody! I'm Joel Mathis, managing editor for convergence. Ryan's off to the airport soon to go to Texas, but we've got time for some questions.
What do you think the Hawks chances are for getting things in order and making enough plays to beat Baylor?
Ryan Wood:
Fire away
Ryan Wood:
I think, on paper, Baylor should be favored to win this game. That's just based on their passing attack, which is a major point of emphasis and plays right into KU's weakness on defense. Add to it that the game is on the road, and Kansas has to prove something to me before I pick them to win. I wouldn't go so far as to say they have no shot, because they certainly do. But they have to play a lot better than last week.
How much to blame is KU's pass rush for the woes in passing defense? Do you know if they are trying to do anything differently on defense this week to defend against another pass-heavy offense? What do you think KU needs to address mostly on defense to win three more games this season?
Ryan Wood:
The pass rush is certainly one reason. If you don't disrupt the quarterback's rhythm, he'll kill you in the Big 12. But this is an 11-man problem from the line to the secondary.
Aqib Talib said Wednesday that they've watched more film than they ever have, and after what happened last week, I'm sure they're going to up the amount of work to shore up the problem. The pass defense will never be a strength, but it can be a lot better than it was against the Cowboys.
Ryan,
A couple of years ago, you could make a strong argument that Baylor's only worthwhile athletic program was its 4x400 relay team. Now, football is jumping up the scale in Waco. Does this mean, as I've long suspected, that the balance of power in the Big 12 is nearly completely shifting to the South division and is there any way the North can get it back?
Ryan Wood:
Well, there are six strong teams in the Big 12 South, and that's never happened before. Even when Oklahoma and Texas were wining national titles, Baylor was a punching bag, and last year so was Oklahoma State. There's certainly one major reason the South is so strong: Texas recruiting. So many good athletes down there, and so many want to play close to home.
Do you expect KU to open up the offense a little bit this week? It seems like we have been much more successful and efficient when we actually play to win and not to lose. For instance, I was enfuriated watching Mangino limit Kerry to nothing more than a 3-step drop from the second quarter on last week (coincidentally, when the game got away from us).
Ryan Wood:
KU definitely has its back to the wall, which means it needs to pull all of the tricks out of the bag right away. I think the offense is a lot more open than it was in 2005. Kansas aired it out against Nebraska. But I get your point: though the offense is better than in 2005, it can still be better than it has been in '06.
Ditka vs. Adarius Bowman?
Ryan Wood:
Great question. After last week, I'd take Adarius Bowman against Hercules. That was quite a day.
What do you think of the Hawks chances for making necessary adjustments on defense and offense to go and beat Baylor?
Ryan Wood:
I think the chance is there. I would pick Baylor to win this game, but Kansas certainly has the firepower to win in Waco. It's got to do better on pass defense and it's got to somehow shake this road demon. I think it's possible, but I wouldn't bet on it.
What are your thoughts on Mark Mangino missing out on ANOTHER in-state big-time recruit in SM West's Blake Lawrence? Does the Mangenius need to ditch the Bill Snyder route in building a program with JUCO guys and focus more on bringing in the state's top talent? Dunk.
Ryan Wood:
Losing Blake Lawrence is big. This is a great year for in-state recruiting, and the top three prospects according to rivals.com are going to Iowa, Nebraska and Iowa. I don't think you build a program with juco guys because that's a slippery slope in terms of depth and what-not, but Kansas will have to comb Texas hard this winter because the top 15 players in Kansas are all accounted for.
Moderator:
I've got a question of my own: How has Baylor managed to get so strong so fast? Anything KU can learn from that?
Ryan Wood:
Guy Morriss has done a great job since he was hired in 2003, but it hasn't been easy. Baylor still hasn't done better than 2-6 in the Big 12 since it was formed. But Baylor naturally has the advantage of being in the most fertile recruiting grounds in America in Texas, and it's been able to get a couple of athletes that want to play for both Morriss and on Baylor's national power track team. It's such a different situation that I don't know if Kansas can do anything but try to pave its own way in rebuilding.
The question is.....Can the defense defend Baylor's passing game?
Ryan Wood:
It can't completely shut it down, but it can contain it enough so that KU's offense can score more points. Baylor's going to get its passing yards, but it also turns the ball over a lot, so those are the opportunities Kansas MUST take advantage of if it wants to win Saturday in Waco.
Moderator:
Thanks for joining us Ryan. Have a safe trip -- and go Hawks!