Chat about Baker University with new President Pat Long
October 12, 2006
This chat has already taken place. Read the transcript below.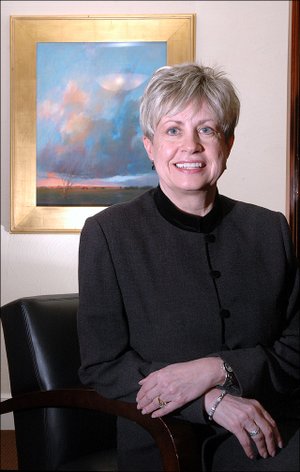 Pat Long took over this summer as president of Baker University in Baldwin, replacing longtime president Dan Lambert. She will participate in several events leading to her official inauguration at president on Oct. 26 in Baldwin. She formerly was vice president for university communications at the Univerity of Missouri-Kansas City. She has said enrollment increases, improvement in university communciations and better space for the sciences are among her priorities at Baker.
Moderator:
Hi, everyone. Pat Long, new president of Baker University, is here to answer your questions today. Welcome, President Long. I'm Terry Rombeck, a reporter at the Journal-World, and I'll be your moderator today.
Pat Long:
Thank you. I'm happy to be here.
Moderator:
You started July 1. Tell us a little about how you've been spending your time since then.
Pat Long:
I've been getting to know Baker and "Baker people." I have spent a great deal of time visiting with faculty, alumni, supporters, staff and students to learn about Baker University from the people who know Baker best.
Moderator:
Let's get to some submitted questions. Feel free to ask more during the chat.
I am a Baker alumnae, and I'm very excited to see that you are the new President. Since many past Baker students stay in the area, I would like to see the alumnae get more involved. Is there going to be more focus put on activities and outreach for the alumnae? Best of luck!
Pat Long:
Good question. I have been to 7 or 8 alumni events and each time I meet alums I hear such wonderful stories about their experience here. Reaching out and being visible are important to me and important for Baker. Any suggestions you have in how to accomplish that would be most helpful. I believe our Alumni Board is working hard to find ways to engage our current students now so that they will become active alums after they graduate.
As a former Baker student I am interested to know what plans you have to increase retention rates for freshmen?
Pat Long:
Marshalus, you have asked a question about a topic that is near and dear to me. We are putting together a task force to look for ways to improve retention and engagement on this campus. We will be looking at programs, processes and facilities--all of which impact the way students feel about an institution.
I have heard that the GPA requirements for admittance for Baker are now lower than KU's. A)What are the current requirements, and B)How does that affect your national rating as a university? When my daughter attended your were ranked 10th. But the GPA requirements were much stiffer than KU. If I remember correctly it was a full point difference.

Pat Long:
I do not know the exact admission requirements for KU so I cannot make a comparison. For the past 10 years our mean ACT Composite has been slightly above 23, and we continue to admit students with excellent high school grade-point averages and high school ranks. I think last year our Admissions Office staff visited over 1400 schools and we will continue to look to recruit outstanding students in our region.
Moderator:
I know a lot of people in Lawrence are interested in Baker's position on the construction of the South Lawrence Trafficway. Do you support the 32nd Street alignment that has been discussed?
Pat Long:
Yes. We continue to believe that since the mitigation plan was established a few years ago, the 32nd street route is the best route for the community.
As a 2005 Baker Graduate, where do you see the university going within the next 10 years or so?
Pat Long:
Good question. Baker University have grown so much over the last 10 years and I anticipate we will see more growth in the future. Baker now offers associate through doctoral degrees, we have six locations, and have an outstanding School of Nursing that is continually at capacity. On the Baldwin City Campus we are looking at facilities we need to update and would like to grow the enrollment by 20-50 more students. Our School of Education with the new doctorate of education program is growing, and the School of Professional and Graduate Studies continues to expand to meet the needs of working adults and businesses.
Moderator:
Please tell us a little about the inauguration events coming up later this month.
Moderator:
By the way, while President Long is typing the answer to that question, I thought I'd let you know that she and the Baker president's residence, the Collins House, will be featured during next week's Home & Away program. You can see it starting 6:30 p.m. Monday on Sunflower Broadband Channel 6, with repeats throughout the week.
Moderator:
We're having some technical difficulties on our end. We'll get that answer posted as soon as we can.
Moderator:
Here is President Long's last answer:
I am eagerly awaiting the celebrations surrounding the inauguration ceremony. We have receptions planned in the Kansas City area, Baldwin City and Topeka in the next couple of weeks. Students, faculty and staff from the School of Professional and Graduate Studies and the School of Education will join us on Oct. 16 in Overland Park. Faculty and staff on the Baldwin City campus are welcome at a reception on Oct. 18 at the Collins House and we're inviting our students for a late-night gathering on Oct. 22 at our home. In Topeka on Oct. 23, there's a reception planned for faculty, staff and students from Baker's School of Nursing. The community is invited to our covenant renewal ceremony at 11 a.m. Oct 24, when we celebrate the 10-year anniversary of the Clarice Osborne Memorial Chapel on our Baldwin City campus. Then on Oct. 26, the inaugural ceremony will take place at 11 a.m. at Rice Auditorium. We welcome the residents of Lawrence and Douglas County to the ceremony.
On a personal note, I'm grateful my parents, family and friends will be able to join us for the celebrations.
Moderator:
That's the end of our chat today. Thanks to President Long for taking time to answer questions.