Chat with Kristen Walker, HealthMarket manager at the Sixth Street Hy-Vee
October 10, 2006
This chat has already taken place. Read the transcript below.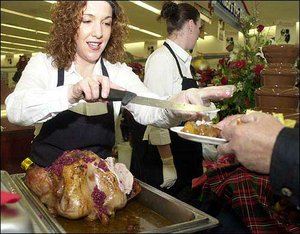 Kristen Walker has over 20 years experience in the health, fitness, natural and organic industries. She used to be a personal trainer and fitness instructor. Kristen has been the manager of Hy-Vee's HealthMarket for seven years, and helps customers with a broad range of issues including weight loss, diabetes, and general health and wellness topics.
Walker can answer questions on healthy eating and any wellness issues.
Moderator:
Good afternoon. This is Dennis Anderson, managing editor of the Lawrence Journal-World. I will be moderating today's chat with Kristen Walker, HealthMarket manager at the Sixth Street Hy-Vee store. Welcome Kristen.
Kristen Walker:
Thank You, Dennis. I'm glad to be here today.
Moderator:
Here comes the first question.
We love the Hy-Vee brand organic line of products because of their price. How is Hy-Vee able to sell these products at such a reduced cost compared to other organic brands?
Kristen Walker:
Wow. That's a great question. Basically it's because Hy-Vee does it's own sosurcing on many of these products and contracts with a co-packer to package the end product. Because Hy-Vee also self-distributes most of the products we carry in the stores, we are able to eliminate many "middle-men" and sell products at a lesser price without compromising the quality of the product.
Joel:
I can't keep up with all the food fads. No-carb, transfats. The food marketers seem to jump on them as fast as anyone. What is the best way to shop healthy at the supermarket?
Kristen Walker:
Gosh. You guys are good. My personal answer is this. Shop the perimiter of the store first. Produce, deli-meats and cheeses, meat department, dairy, etc. Buy your fresher foods first, then, fill in the blanks with items from the middle of the store, preferrably the HealthMarket. I say this with humor, but the products you will purchase in the HealthMarket are all natural and sometimes organic. Therefore, you will not be purchasing products that are loaded with artificial ingredients. And you will be geting products that are created to be healthful to begin with. You should also look at the bulk section for healthy snacks like nuts, granola's, trail mixes, etc. You can also save money by buying in bulk, as well.
Do you have locally grown or non-e coli infected spinach at HyVee?
Kristen Walker:
No, we don't currently offer locally grown spinach, but we do work with farmers such as Britt Farms to bring locally grown produce that is fresh from the farm and in produce. As far as e-coli, I know that spinach is available again, but I believe the quantities and varieties are limited. If y ou're looking for a great spinach, try the frozen organic spinach from Woodstock Farms located in the HealthMarket freezer.
Kristen Walker:
Padon me, I meant to say in season instead of in produce.
Joel:
Why is it so difficult to find a nice selection of fresh fish in Lawrence. I know we are far from the sea, but KC markets seem to do a little better and their offerings also must be flown in?
Kristen Walker:
I don't have a good answer for this one. I know that our Fish Mongers work very hard to source quality items and we are consistently hearing great comments from customers about how fresh and flavorful our selection is. If you're not finding what you want, just ask and well do everything we can to get you the product you're looking for, including fresh items like fish. I sympathize with you, however. I was born and raised on the Oregon Coast and I truly miss the fresh fish and seafood I grew up on.
Moderator:
Do you expect the grocery industry to continue to offer more prepared foods such as the restaurant in your Hy-Vee store.
Kristen Walker:
Yes, the market really is heading the way of prepared meals to go. We see a lot of folks coming in after work, on their way to a ball game, after soccer practice, etc., It's easier for folks to pick up the meal ready to go instead of spending time shopping and then having to prepare the family meal. And they can either pick up something pre-packaged and ready to move or choose from items from our kitchen or deli selections.
Kristen,
What do you know about steel-cut oats and their health benefits? I've been eating them in the morning for a few months and I noticed a dramatic loss in my bad cholesterol level. Do you think they're any better than rolled oats or are all oats the same?

Kristen Walker:
You are not the only one. I talk to lots of customers who have been using steel cut oats as a way to add whole grains and cut their cholesterol. And it really does seem to be working fo a lot of people. And yes, they are better than rolled oats because they are slightly less processed. The steel cut is actually just that, the oat has been cut with steel blades which is what gives it it's texture. And I believe that the steel cut also contains more fiber then the rolled, although I would have to look at the nutrition facts to confirm this. Either one is great for helping cut cholesterol and adding fiber and whole grains, but steel cut is just a little bit better then the rolled.
Kristen,
You used to have chocolate-covered soy nuts as a snack food in the health food area. Any chance of getting them back on the shelves?

Kristen Walker:
I still have them. The brand is Genisoy. They are located across from the bulk section on the end closest to the registers.
Moderator:
I want to thank the readers for today's questions. And I especially want to thank Kristen for stopping by and providing the answers. I hope you will come back again.
Kristen Walker:
I'd love to. My passion is helping people with their health and wellness questions. I am always available to talk at the store (4000 W. 6th Street) or you can e-mail me at healthfoodranger@hotmail.com. Thanks everybody for the great questions!