Chat about Lawrence recreation facilities with Bonnie Lowe
November 28, 2006
This chat has already taken place. Read the transcript below.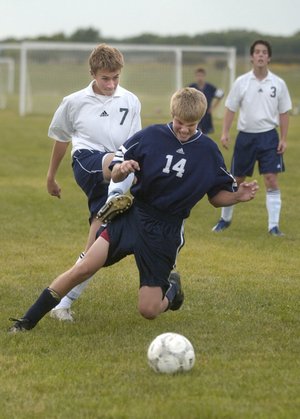 Bonnie Lowe, a Lawrence bank president and former mayor, is involved in the project to bring a youth sports complex to town.
Moderator:
Hello. I am Mark Fagan, business editor, and I will be moderating today's chat with Bonnie Lowe. She has arrived here at The News Center and we'll start in a few minutes.
Moderator:
Thanks for joining us today, Bonnie. Let's start by having you explain a little bit about what PLAY is, what you're hoping it will accomplish and how you got involved. Then we'll move into specific questions.
Bonnie Lowe:
Thanks Mark, I'm glad to be here.
Partners for Lawrence Athletics and Youth (PLAY) was officially formed earlier this year. Discussions about this concept began last fall with the word that Sport 2 Sport would be converted to a tennis facility. We felt there was a need in our community for an indoor facility then began exploring other facility needs in order to meet other needs for our youth.
Funds were requested from the city, school district, county and Chamber of Commerce to jointly pay for a needs assessment/feasibility study. This study has the following objectives:
¢ Critically evaluate the present state of athletic facilities/programs in Lawrence
¢ Investigate the need/support for a first-class sports/recreation complex
¢ Assist in building mutually beneficial partnerships among key stakeholders
¢ Determine the financial cost and benefits of a sports complex

Moderator:
Now we'll move into submitted questions.
How do you know this will be a financial success? Which side of town do you envision the complex might be located? How will it be paid for?
Bonnie Lowe:
Thanks for the question. With information from the study, we should be able to ascertain a variety of things including how we pay for a new facility (facilities). Although in a perfect world, user fees would pay for the salaries, upkeep and maintenance, this may not be reasonable. In my opinion, a private endowment would be established with the interest used for these items in addition to the collected user fees.
As far as the location, we will study the option of having one site for many uses, or perhaps have multiple sites. The location has not yet been discussed.

Ms. Lowe,
In considering a facility for high school football and soccer, would renovating Haskell Stadium (including restrooms, concessions, and artificial turf) be a viable option? Would it be a more affordable option?
Bonnie Lowe:
Although accommodating the needs for football and soccer are important topics, there are many other facility needs in our community. As far the affordability of using funds to update Haskell Stadium as compared to a new facility, I do not believe enough information is yet available. In addition to the playing field, there are several upgrades needed at Haskell including parking, restrooms and concession areas (as you mentioned). I am unsure how we would work with the Bureau of Indian Affairs to make this a viable option.
What age groups are you targeting. I know thw high school facilities are a joke but what about 8-12 year olds?
Bonnie Lowe:
I personally feel the needs of even younger kids could be addressed. Involvement with a sports team teaches many skills such as teamwork, leadership, discipline and perseverance. Exposing our kids in these areas can begin quite early. These qualities can also be cultivated though other programs such as music, drama, debate, etc.
I have been contacted by much older individuals hoping to have space for walking and similar activities. I don't feel the age should be a factor for those who can benefit from our efforts.

Hi Bonnie, thank you for your teams effort on this topic. I believe I read in one of the articles that a project like PLAY is suggesting does not pay for itself. I believe that may be true based on gate receipts, tournament and user fees, but what have studies shown about the added revenues the city could expect with visitor dollars coming to town? I know I have spent a penny or two following my kid's sports teams in other cities that have invested in similar projects.
Bonnie Lowe:
I appreciate your comments. Another ancillary benefit of having a first-class sports complex would be an enhancement in the area of economic development. With Lawrence as a destination tournament site, families spend their money in our restaurants, hotels, downtown shops, etc. Recruitment of these year-round tournaments is another key component for PLAY.
Moderator:
Is there more to it than just retail?
Bonnie Lowe:
A common question from prospective employers and employees relate to the availability of sports facilities. Having amenities such as a sports complex would compliment existing jewels in our community and potentially attract new businesses to our town.
Has there been any studies done on the feasibility of including an ice rink in the sports complex plan? Topeka doesn't have a rink and I know several families from that region as well as Lawence who drive to Shawnee or Overland Park to play ice hockey or figure skate.
Bonnie Lowe:
There have been a couple of meetings to date, one with coaches and another public forum. I would encourage you to share your thoughts with Andy Pitts at Treanor Architects to be added to other public comments currently being compiled. I have not heard specifics about the desire and cost of an ice rink but appreciate your interest!
Ms. Lowe:
Would it be feasible to convert YSI's fields to FieldTurf or another third-generation artifical turf product and add lights instead of building a new complex?
Bonnie Lowe:
Although having many first-class fields is an admirable goal, the study will identify current condition of practice and competition fields. Should there be a concentration of upgrading existing facilities instead of providing new facilities? The answer would be easier to answer when looking at each sports facility individually. To accommodate any additional traffic at the YSI complex, however, I suspect a major access upgrade would be needed. However, at this point, I do not feel there are many options eliminated from consideration.
Moderator:
A follow-up: Isn't it possible that a new complex -- such as as envisioned by PLAY -- actually could be added out at YSI, or adjacent to it? You were on the City Commission back when it secured 1,500 or so acres near Clinton Lake from the U.S. Army Corps of Engineers for recreational and other uses. That's where Eagle Bend Golf Course is now, and Centennial Point, etc. Would the cost of traffic and other upgrades (water, sewer, etc.) outweigh land costs elsewhere?
Bonnie Lowe:
Initially, I felt using this "free" land provided by the corps would be a viable option. However, when discussing this opportunity with those who deal with traffic and access issues, I have been informed the cost may outweigh the purchase price of land elsewhere. We would need to work with KDOT to explore this question more closely.
Has there been any consideration to including both the Lawrence and Eudora school systems in this project?
Bonnie Lowe:
The Lawrence School District is, in part, financing the feasibility study. To my knowledge, there have been no discussions with the Eudora School District. Douglas County did contribute funds to the study as well.
Bonnie - Thanks for your efforts! What do you say to the folks that say sports just aren't that important i.e. "I played ball in the church lot, why can't they?".
Bonnie Lowe:
I, too, participated in activities in the small town where I was raised--much as you describe. It is a different world today and safety issues quickly come to mind. Also, many parts of town do not have space to conduct these activities. Neighborhood centers are often scheduled with organized Parks and Recreation programs (among many other groups). By having additional indoor options, for example, neighborhood centers could be more readily available to the neighbor instead of waiting until 3:00 on a Saturday (for example) to be open to the public.
There are many children in our schools that would like to participate in some type of sports activity. In reality, many children are "cut" from teams due to a lack of space and available practice times. To my knowledge, there are no "B" teams on a junior high level and very few options through the schools for those in the 7th grade, and younger.
Special attention should be given to providing opportunities for particularly our high-risk kids.

Moderator:
As we near the end of this chat, I'll pass along a question I hear often -- about many other projects. Where does this one (in this case, PLAY) fit in with all the other community needs? There's talk of expanding or building a new the Lawrence Public Library. Work is underway on a new sewer treatment plant. Roads are being replaced, or need to be. Lawrence Memorial Hospital is expanding. And on and on. Where do recreational projects fit in? I recall them getting a pretty big lift from the 1-cent countwide sales tax approved in 1994.
Bonnie Lowe:
I do appreciate and acknowledge the many needs of our growing community. The sports complex idea was originally proposed, and remains, as a true public-private partnership. I do not believe a project of this magnitude has previously been accomplished in our community but there are many examples of successful partnerships across the nation.
By joining the resources of the city, school district, county and Chamber of Commerce, we can fill a need in our county that has been discussed in excess of twenty years. In addition, adding private funds and user fees to this mix can provide a unique opportunity for our youth and families.
I feel we need to find a way to say "Yes" in our community. Looking at financing options and asking our citizens to help solve a community problem should be considered. Waiting until next year or the next decade and will not make this issue go away. There will always be other needs in our community and we feel this need has been on the back burner long enough.
The easy answer for our facilities dilemma would be to do nothing. I feel our kids and county deserve better.

How soon do you think something might happen if it does? 5 years 20 years?
Bonnie Lowe:
The feasibility/needs assessment study will be completed after the first of the year. There will be many more public meetings to follow. The "it" will be narrowed by that point with the cost and financial benefits determined. Most importantly, we need to have the support of the community. I would hope this could be accomplished within three years
Moderator:
That sounds like a good one to end on. Thanks to Bonnie Lowe for joining us today for this online chat, and remember that you can submit questions for upcoming chats at www.ljworld.com/chats. Eudora Mayor Tom Pyle is scheduled to answer questions at 1:30 p.m. Wednesday.

Bonnie Lowe:
Thanks Mark and to everyone who has an interest in the PLAY proposal. All good projects become great with community input.