Chat about Lawrence Public Library expansion with Bruce Flanders
November 27, 2006
This chat has already taken place. Read the transcript below.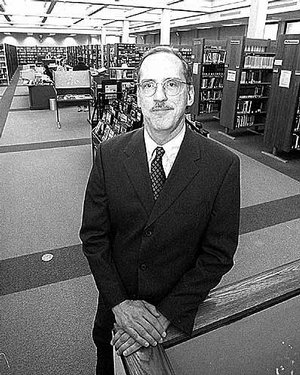 The latest proposals to expand the Lawrence Public Library come with price tags of up to $30 million. Bruce Flanders, director of the Lawrence Public Library, takes your questions about the proposed expansion.
Moderator:
Hi folks! I'm Joel Mathis, managing editor for convergence. Bruce is here so we'll get rolling -- plenty of questions in the queue already.
I think all my son's High School research is done at home unlike when we were in High School and had to go to the library. Why do you feel we need to spend the money for expansion when so many people access information on the internet now?
Bruce Flanders:
Thank you for your question. This is one that I hear frequently: why an expanded library, given the benefits of the Internet. There are a number of good reasons, I believe. Here are a couple: (1) a Library is a community crossroads - an "intellectual commons" if you will - and the physical library provides access to meeting room space for community groups and for programming, lectures, concerts, film series and many other forms of programming - including, importantly, programs for preschool and grade school children and our "Zone" for young adults; and (2) there are around 300,000 reasons why the library offers value to the community, and those are the books, language learning tapes, audiobooks, movie and educational DVDs and videos, CD-ROMs, music CDs, etc. in the library's collections - all of which are not available online.
Speaking of the Internet, though, did you know that the library provides access to the "enhanced" Internet? We provide 24/7 access via our website to full-text databases and research resources not available on the Internet in general. The library provides access to incredible reference databases not available elsewhere!

Bruce Flanders:
Make your opinion known to the Library Board and the City Commission. You know, there is no one "right" way to provide library service. An expanded downtown library, properly done, could provide outstanding library service to our growing community. Topeka is probably the best model for this. BUT, Topeka is out of the mainstream in their approach. Most communities, as they grow in population, as well as geographically, look first to branch service.
The danger with looking to branches as the solution is the "Balkanization" of the downtown library - in which it receives less attention, funding support, and innovation - so that the expanding branch system can be supported. I am determined - should we ultimately move to a satellite library approach - that the downtown library not face a period of decline and neglect.
One more point: I would make a distinction between "satellite" libraries and "branch" libraries. Satellite libraries are smaller, with fewer additional amenities such as meeting rooms, but they contain a small, high-circulation collection and computers which would allow them to be very efficient and provide a great return on the investment. I am a fan of satellite libraries, and think they could work well in Lawrence. I envision as many as three at this point in time - 23rd & Harper area, South Iowa and 6th and Wakarusa (if not further west). And of course more over time as Lawrence grows. ...but don't overextend!! It's politically difficult to close an existing branch/satellite...
I have heard more talk about the need for more computers and space for activities than the need for expanding the library's collections. I think the non-fiction section is desperately in need of expansion, and the fiction collection is ridiculously tiny. I am concerned that the library expansion seems to emphasize everything EXCEPT expanding the actual print collection.
Bruce Flanders:
You have a valid concern. The libraries collections are, and will continue to be for many years, the core service we provide. In my judgment, the size of the collection is not the main problem. It is sized appropriately for a community of our size, according to library standards. The quality of the collection is the real issue. Public libraries, unlike academic libraries such as the ones within the KU library system, should and indeed MUST actively weed their collections, and replace older titles with newer, current, high-quality materials. Our issue is with the library's collection quality.
We have made strides in recent years: (1) the library is now actively weeding 2-3 percent of its collections each year (ask the Friends!! they get the weeded titles for placement in their book sales), and (2) the library's budget now provides for a level of funding that is appropriate (again according to library standards). So, now, we are actively removing older, outdated and worn materials from the collections more than ever before, and we are adding more new titles than ever before. The result? Our circulation is up - way up - again this year, and we will hit 1 million circulations next month - a first in the library's history. The proof of our success is in the rising circulation.
Regarding the fiction collection, for many years the library "rented" its popular fiction collection. We stopped doing that about 8-9 years ago, weeding the fiction collection aggressively, then set about to rebuild that collection. The work is ongoing, but we're making progress.

If money is spent to improve the Lawrence public library, what will be done to prevent the homeless population of the downtown area from using it as their own private castle? Every time I have visited the public library recently I have been sickened by the stench and repulsed by the extremely dirty individuals sleeping on the floor and in every chair.
As a tax payer I would say I have just as much of a right to enjoy the library (if not more of a right since they don't pay taxes) then the homeless population and as it is right now I do not feel comfortable using the public library. Without a solution to this problem if it comes to a public vote I will be voting against this project.

Bruce Flanders:
The perception lingers that public libraries are havens for "homeless" people. I think the perception is greater than the reality. First, let me say that we NEVER use the term "homeless" at the library to describe a patron. We don't know who is and who isn't homeless. We open the doors to all. But, inappropriate behavior is something we can and do focus upon. (And we do include offensive odor as a behavioral issue.) We now have security guards during many of the library's 73/week public service hours, and they actively patrol the library and grounds. While the behavioral issues still remain to a certain, limited extent, it is NOWHERE near as bad as it once was. We plan, with better funding, to have security guards (plural) on duty at all times. My goal is a family friendly library, a comfortable place for people of all ages, and a public facility with absolutely no tolerance for inappropriate behavior. A greater security presence is part of the expansion plans.

Moderator:
A quick follow-up to an earlier answer. What do you estimate would be the cost of setting up satellite branches, if the city chose to go that route? How would that cost compare to the library expansion proposals now on the table?
Bruce Flanders:
Satellite libraries would be less expensive. Even with satellites, I think that we should still address the most pressing concerns at the downtown library (lack of space for children's and young adult services and collections, and the lack of a computer lab) via a more modest expansion. How much would that cost? Maybe $5-10 million dollars? We haven't formally studied that, and I could be way off. Satellite libraries, which I envision as leased, tenant-finish spaces in a strip mall, for example, with a size of 10,000-20,000 square feet each, would cost, in my estimation, around $1.5 million each to establish (including technology, furnishings, equipment, shelving, and an opening day collection), and then, of course, less in following years to maintain. Satellite libraries can and should be connected with the main library via a library delivery van, so we would need to add space to the main library to stage, store, and load this van on at least a once-daily basis. Expansion via a satellite library system would also create extra demands for cataloging/processing of materials and technology support, so those functions would also need to expand.

I was on the library board in Killington, Vermont when we built a new library. I learned how essential it is to use an architecture firm that specializes in library design. I appreciate the interest of local architects who have proposed multi-purpose structures, but libraries have very specific design needs that deal with such things as weight-bearing loads, secure shelving. How experienced in library design are the firms that have submitted proposals so far?
Bruce Flanders:
Our primary consultant, Steve Clark, is with an architectural firm called Gould Evans Associates, which started here in Lawrence, as I understand it, but which has offices throughout the U.S. now. Steve has brought in their resident library architect to help us consider our library expansion plans, so I feel that we are in good hands. (All developer proposals are going through Steve and team at Gould Evans for a thorough review.) You are absolutely correct in noting that libraries have special needs, such as attention to load bearing capacities, etc.
One interesting sidebar: quite a few people have suggested we just add a floor to our existing building. We had an engineering study done earlier this year, and they determined that the current building was NOT constructed to accommodate another floor. The load capacity of the roof is only 30 lbs/square foot - enough for a roof, but nowhere near enough for another library floor with even a most amount of library materials (which would create a load bearing need for approx. 100 lbs/square foot). Sure, given enough money we could reinforce the roof, but we'd have to move out for that to happen and the cost would be astronomical. The engineering study put that idea to rest for us.

How do you see a senior center adjacency with plans for the new library?
Bruce Flanders:
Depends upon whether or not the library expands in its current location or moves elsewhere downtown in a new building. If we stay where we are now, which is by no means certain, then we will not touch the building that the senior center and fire station have as their current home. We would add more parking, of course, but I have significant concerns that not enough parking could be added to serve the library (with its greatly increased anticipated usage) AND the Aquatic Center AND the Senior Center, not to mention the other surrounding properties. Thus, I am somewhat concerned that our current location is not the best, when factoring in parking. Is adjacency near the senior center appropriate? Absolutely - it's a great and highly beneficial adjacency. (Just as being near the Arts Center would be quite synergistic.) One also has to consider, too: will the senior center stay in its current location long term? That's an open question, I believe. I don't want to base the decision on where the library will be based on a current adjacency that may not exist in the future.

Mr. Flanders, sir, wouldn't it be more advantageous for the city to look to build a new Public Library in a more centralized location? There are many indications that the city is growing to the West and South, and there are even some projections that say to the East, but none, absolutely none suggest a boom in the population to the North-East part of the city. Certainly one would rebuttal with a comment on preserving the downtown area, but at what cost? Rare is it that I would drive close to a half an hour (assuming I lived on the far South-West side of town) and then drive around in circles for ten minutes to try and find a parking spot just to visit our Library. However, a new, more centralized location (or centralized in the sense of future growth) makes perfect sense. Whatever growth in visitors the Library may gain by rebuilding downtown may be doubled, tripled, ten-fold if an Annex or a new Library were built in a more centralized location. Why has the Library board refused to consider this, and if it has been considered, what is the justification for not placing it elsewhere in the city where it would be accessible to a countless number more people?
Moderator:
We'll make that the last question for the day.
Bruce Flanders:
Your question is a very valid one, in my estimation. The Library Board, as recently as 2000 or so, was focused on satellite library service. The Library Board received direction around that time, though, from the City Commission to pursue expansion of the downtown library, and that has been our sole focus in recent years. If you look at a map of Lawrence, downtown Lawrence is in the northeast quadrant, thus creating driving distances to downtown of 3 or 4 or even 5 miles from locations within the City limits. Why not a centralized location? From a dispassionate vantage point, it does makes sense. I believe, however, that the majority of Lawrence residents, or certainly the ones that I have heard from, feel VERY strongly about the success and future of downtown Lawrence, and are willing to make certain financial and convenience concessions to support the community's central business district. A public library is most definitely an anchor for area surrounding it. Study after study in various communities have shown how public libraries generate tremendous vehicular and foot traffic into their area of a community - traffic which translates to economic benefit for the surrounding retail areas. So, in summary, I think your idea of a centralized location makes sense from a purely convenience / cost standpoint, but from a political and ecodevo standpoint, the downtown location is hard to argue.

Moderator:
Thanks, Bruce, for joining us. The Library Board meets Thursday, 4:30pm, at the Library, to discuss expansion possibilities.