Chat about the Lawrence Children's Choir at Carnegie Hall with Janeal Krehbiel
December 12, 2006
This chat has already taken place. Read the transcript below.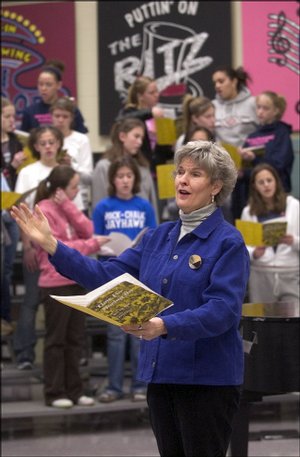 Janeal Krehbiel directs the Lawrence Children's Choir. The choir was invited in May to submit an audition tape to be considered for a national choir festival sponsored by Field Studies International. The group was selected and will perform at the storied Carnegie Hall in mid-April.
Moderator:
Hi folks! I'm Joel Mathis, managing editor for convergence. Janeal is here and ready to take your questions.
Janeal Krehbiel:
Hi. Welcome to the Lawrence Children's Choir.
My daughter is in 1st grade and loves to sing. Do you have a choir for this age?
Janeal Krehbiel:
Yes, we do. We have a non auditioned choir for 1st, 2nd,and 3rd graders. It is called Cadenza and meets for 8 weeks, Tues. afternoons from 4:30-5:15 at Langston Hughes. The next session begins Jan. 9. janeal
Moderator:
The choir is going to be singing at Carnegie Hall in the spring. What's the process for getting there?
Janeal Krehbiel:
We were invited to submit a cd and were chosen according to that audition process. We had had a successful event in 2000 and I imagine we were invited based on that experience. They also invited me to direct the National Children's Choir that weekend, so this was a good fit for our plans to give the kids yet another great musical and cultural experience. Carneige is such a beautiful place to sing and the historic presence is something to behold. We are looking forward to it and feel fortunate to have been chosen to sing a premier concert that evening.
Moderator:
Since the choir has performed there before: What is Carnegie Hall like? What's the experience like for the children?
Janeal Krehbiel:
It is awe inspiring. When we were there the last time, the children were silent once we set foot on that stage. It is beautiful and feels like history in the making. My sister, co founder with me, and I dressed in Leonard Bernstein's dressing room, a real thrill. The back stage area is smaller than I had imagined and the holding room feels like most any other back stage, but stepping on that stage is not like anything I had ever experienced. We had the kids watch Muisc of the Heart with Meryl Streep and that helped many of the children understand the enormous place of that venue not only in New York, but in the world. Children who were in the choir in 2000 still talk about that experience.
Moderator:
But I imagine this is an expensive proposition. How much will it cost the choir to attend? Will there be any fund-raising?
Janeal Krehbiel:
Choir members have numerous fund raising opportunities. We began the process of fundraising this summer as soon as the auditions were announced. We were able to get our plane tickets reserved several months ago and the Field Studies International Organization put together a package which included the hotel, tickets to see WICKED and tickets to the Statue of Liberty, in addition to some memorabilia. Carnegie rental is expensive of course.
Moderator:
How often have you told or heard the "How do you get to Carnegie Hall" joke?
Janeal Krehbiel:
About 100 plus times.
Congratulations on your upcoming performance. Are children selected for the choir on an audition basis? How many are generally turned away? And what are normal costs per year?
Janeal Krehbiel:
Thank you. Yes, we have auditions in mid May. Information is on our LCC website. We generally take between 75 and 80 children, grades 5-9. The number turned away depends on the number that audition that year. Normal costs include tuition, minimal uniform costs and travel costs. Many children pay for their entire trip via our fundraising opportunities.
Moderator:
What do children get from their participation in the choir?
Janeal Krehbiel:
Hopefully, a life long love for singing, a gift that they can pass on to many children and adults via their understanding of the fun of making music, exploring possibilites that relate to music and finding out that talent is not the necessary factor in enjoyment of music or music making. They learn true discipline and sticking with a task until excellence has been achieved. They build their self esteem, learn time management skills, and find out what it is like to work toward a product and understand the process to get to that final product. They learn how and why one can work and get results.
Moderator:
Have you decided which pieces you'll perform at Carnegie? How do you decide?
Janeal Krehbiel:
Yes, we have already given the music to the children and they have recieved a rehearsal cd to help them prepare for the January 6 retreat. There is a great variety of music, a contemporary piece, a very melodic love song, a Mozart Kyrie, a piece we performed at the National convention in 1999 called Ask the Moon, a German 3 pt. piece, a beautiful little unison piece by Kallman with a text by Frost, and some other delightful pieces including a Handel aria to die for.
Moderator:
Final questions: Tell us again when you're going. How much practice will the choir put in between now and then?
Janeal Krehbiel:
We have a much shorter season than last semester. We have a retreat, one Sat. rehearsal with a guest children's choir from Oklahoma observing, and we practice each Mon. until the March 3 concert, which will be held at Lawrence High. We perform at Carnegie April 15. Our children will be a part of the National Choir, getting to know kids from other choirs who will join us for that portion. We rehearse two days together.
Moderator:
Thanks for joining us! And good luck!