Chat about fine arts with Steve Hedden
August 29, 2006
This chat has already taken place. Read the transcript below.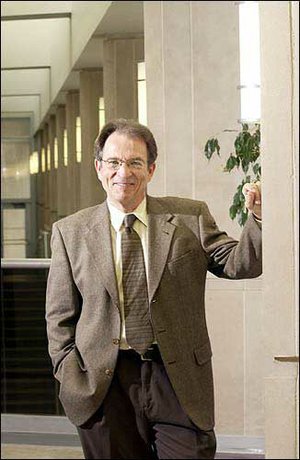 Steve Hedden is dean of the School of Fine Arts at KU. The dean of fine arts oversees more than 1,400 students in performing and visual arts, visual art education, music therapy and music education. The school has more than 40 degree programs in three departments. The dean also oversees the Bales Organ Recital Hall and the Lied Center.
Moderator:
Hi, everyone. Steve Hedden, dean of the School of Fine Arts at Kansas University, is here to answer your arts-related questions today. I'm Terry Rombeck, a features reporter here at the Journal-World. Welcome, Steve.
Steve Hedden:
Hello, Terry. I'm pleased to join you today.
Moderator:
First off, could you tell us a little bit about the Collage Concert coming up? I know that's one of the big highlight events for the year.
Steve Hedden:
We'll feature several facets of the School of Fine Arts at or Collage Concert on Sept 8th at the Lied Center of Kansas. Our program includes 14 different performances or presentations during the 90 minutes, and the various parts of the program feature art, dance, design and music.
Moderator:
Let's get to a few reader questions. We have plenty of time for more questions, if you want to submit them.
I'm an alumni of the fine arts school here. It seems as though there is much less studio space and private scholership money for today seniors, particularily in the visual arts. Is anything aggressively being done to revive funding?
Steve Hedden:
We've been working diligently to both enhance our spaces and increase the amount of scholarship money. Just this summer we made several modifications to spaces in the Art and Design Building that are designed to enhance what we accomplish there. We've increased scholarship support significantly over what was here previously, and we'll continue to communicate to our alumni and friends the continuing need for financial aid for our students. We welcome any additional support!
Dean Hedden, Welcome to KU.
I have been a performing or major contributiong member of several organizations that fall under your oversight, and am appalled by the lack of support that the FA School receives in general from the community (for some of its "non-marquee" events such as "Collage" or "Vespers")and especially, the KU administration. What will you do to change these attitudes? What will happen so that we can expect to see the Chancellor, Provost or Dean of CLAS at some of our events, just like we see them at every home athletic event?
Steve Hedden:
With support from central administration the School of Fine Arts gained two new faculty positions in the last three years from the tuition enhancement funding. The Chancellor and Provost Shulenburger were responsive to requests I made for additional support. Provost Lariviere will be present at the Collage Concert and Collage Reception this year, and my conversations with him are encouraging about his understanding of/support of and passion about the arts at KU. And, the new Dean of CLAS has an extensive music background, and we've already been talking about possibilities, especially for collaboration beyond what we're already doing between Music and Dance (SFA) and Theatre and Film (CLAS).
Moderator:
Saturday is the first day of football season, and for many people, that means the first day of marching season. KU has a new marching director, David Clemmer. Can you tell us a little about David, this year's band and your goals for the marching program.
Steve Hedden:
We're excited about David's arrival; he brings great energy and musiciansip to the position as Director of Athletic Bands. The rehearsals under his direction are going well, and the students are responding positively to his leadership.
Our goals for the Marching Jayhawks include the continued growth of the enrollment.
Dr. Hedden,
Is it possible for the KU Fine Arts Dept. to be friendlier to local musicians, especially those with strong ties to KU? A recent graduate of KU's Masters Program in voice performance, I'm part of a small choral ensemble that has basically forsaken Lawrence as a viable venue for concerts because there is no decent performance space that doesn't charge an arm and/or a leg to perform there. What can the KU Fine Arts Dept. do to help those who by reputation can only enhance the image of this department?

Steve Hedden:
I accepted the invitation of Ann Evans, Director of the Lawrence Arts Center, to chair a commmittee is considering performance opportunties in the area, particularly at the LAC.
We're considering several ideas to enhance performance possibilities in Lawrence, some at the LAC.
Moderator:
I'm curious, in a job like yours that includes so many different facets of the arts, how do you balance resources, your time, faculty, etc. to make sure the school remains strong in so many different areas?
Steve Hedden:
I have a very good group of persons who collaborate with me--the chairs of the three departments (Art, Design, and Music and Dance), the Executive Director of the Lied Center, an Associate Dean, as well as staff members who contribute valuable insights. What I have is the opportunity to gain wisdom/perspective from a number of persons, and that helps inform the decisions we make.
Moderator:
One final question for the day - what else are you excited about for the fall and rest of the school year? What else should Lawrence residents interested in the arts keep on their radar screens?
Steve Hedden:
We recruited a new Chair of the Department of Art this year, and I know that her conversations with the Art faculty will generate a number of interesting initiatives. Our Design Department Faculty Show opens in late September in the Gallery in the Art and Design Building, and I look forward to seeing all the work on exhibit. We have several new faculty in Music and Dance, and I know their recitals/concerts will be inspiring, as will be the performances/presentations by our returning faculty and students. And, each year the Lied Center continues to bring world-class performances to Lawence.
Please join us in the several venues in which we share our work--Murphy Hall (most frequently in Swarthout Recital Hall), the Art and Design Building, the Robinson Center (dance) and the Lied Center of Kansas.

Moderator:
That wraps up our chat today. Thanks so much, Dean Hedden, for coming in to answer our readers' questions.
Steve Hedden:
I've enjoyed the opportunity. Thanks for inviting me.