Talk about the Confucius Institute with director Bill Tsutsui
August 24, 2006
This chat has already taken place. Read the transcript below.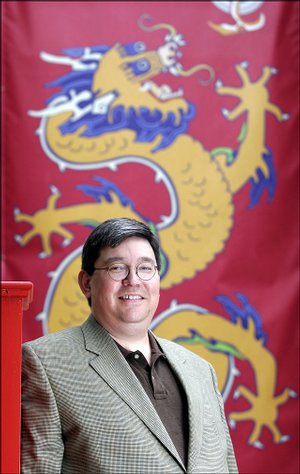 Bill Tsutsui, director of the Confucius Institute at Kansas University, will answer questions about the institute, education about China and Chinese development during a chat at 1:30 p.m. Thursday. The institute, one of a handful around the world, is dedicated to "enhancing the understanding of the Chinese language and culture." Tsutsui, a specialist in the business, environmental and cultural history of East Asia, has written or edited six books. More information on the institute can be found at <a href="http://www.confucius.ku.edu">www.confucius.ku.edu</a>.
Moderator:
Welcome Everyone. We're here today with Bill Tsutsui, director of KU's new Confucius Institute. Welcome Bill.
Bill Tsutsui:
Good afternoon. It's great to be online with you.
Hi, thanks for taking the time to chat.
I haven't seen a lot in the media about the Confucius Institute being open as a continuing education resource. Are there/Will there be classes in Chinese language and culture available to the general public in a continuing ed or lifetime learning setting?
Bill Tsutsui:
We have non-credit community classes in Mandarin Chinese starting in early September, both in Overland Park and in Lawrence. These classes are designed for beginners and are moderately priced. Please check out the information at www.confucius.ku.edu We will also be offering workshops in Chinese culture starting later in the fall, so check back later for information on those. Please consider enrolling in Chinese classes!
Moderator:
Bill, Maybe this is a good time to tell the public what you're excited about for this year.
Bill Tsutsui:
We are thrilled to be launching our Chinese classes for the public, which I think will really be meeting a need in our communities, both here in Lawrence and in Johnson County. Enrollments have been strong so far, so clearly there are lots of folks out there who want to learn Chinese for pleasure or business. I am also really excited about the Chinese language courses that we are offering to Kansas high schools by interactive distance learning. This was covered really well in the Journal World yesterday. We are now able to get Mandarin into schools across the state, from Deerfield, to Marysville, to Winfield, all through some amazing technology.
Other big projects are in the works, and I hope we can announce some exciting new initiatives soon. Please stay tuned!
Moderator:
And, I hate to steal the show here, but I have another question. The Institute is one of only a few in the country. How hard was it to get one started here?
Bill Tsutsui:
It was easier than I thought it would be, frankly. Both the bureaucracies of KU and Beijing are quite formidable, but we were able to make rapid progress because both sides were so committed to this project. Getting something like this up and running in less than a year is actually pretty amazing in an academic environment.
What do you consider the number one misapprehension of the U.S. by the Chinese and vice versa?
Bill Tsutsui:
That's a really great question. Every year, we send study abroad groups from KU over to China. The students are always really eager and open-minded, but their parents are inevitably very worried that their kids will be "brainwashed" or somehow "controlled" in China. The students always come back and clear up this misapprehension: China is not a place with pervasive surveillance and control like many Americans believe. But we are not alone in our stereotypes. The Chinese certainly have a lot about Americans, like that we are all extremely wealthy or that we are all like our current President. Just a little personal contact clarifies these misunderstandings and allows for some real communication.
Moderator:
Bill,
This question was emailed to me earlier today.
When, if ever, do you think democracy will come to China?
Bill Tsutsui:
This is a tough one. In certain ways, there is already some democracy in China. In fact, one of our faculty members here at KU, John Kennedy in Political Science, is a specialist in village elections in China. There seems to be a surprising amount of democracy at the grass roots in the People's Republic, though this is not a story that gets told very often in the United States. Whether democracy will flourish on a national level any time soon is a whole different matter, but there do seem to be some promising signs on the local level.
Do you have a comment about the fact that the Institute was so inflexible with regards to scheduling that the majority of students initially selected to attend had to drop from the program?
Bill Tsutsui:
I'm not sure what you mean by this, Gareth. I know that there were some problems with getting all the Lawrence students accommodated in our IDL class, but remember that each of these classes is simultaneously broadcast to three remote sites, so we had to schedule as best we could. We hope to expand the IDL classes next year, so I hope you will have the opportunity to enroll then. All of our community Chinese language classes are open and enrolling now, so you might also want to consider signing up for the Wednesday evening class in Lawrence.
Is Chinese food here anything like Chinese food there?
Bill Tsutsui:
You need to get over to China, Dennis, because the food over there is amazing. Some of the dishes you can get here in Kansas show up in China as well, but the range of foods and tastes available in places like Beijing and Shanghai are incredible. There is also a lot of food that might not be to every American's taste - I can tell you that one braised frog back was plenty for me - but it is mind-boggling (and taste-bud-boggling) to experience "real" Chinese food. By the way, we are hoping on having some workshops at some point in the future exploring Chinese food and "food culture" in China.
Moderator:
China is a big country. How involved will the Institute be in teaching people about the many dialects and cultural differences within China?
Bill Tsutsui:
Not many Americans realize just how diverse China is: not only is it a huge and populous country, but there are a multitude of different ethnicities, languages, dialects, and cultures. For now, the Institute will only be teaching Mandarin, which is the standard language spoken by most Chinese and which is most useful for students, tourists, or businesspeople. I would love to be able to offer classes in other dialects, if we had sufficient demand and if we could find well trained teachers. Several folks have inquired about Cantonese, but so far not enough to get a class together.
I read that the three busiest ports in the world now are in China. How long has that been the case and are all those goods shipping to America?
Bill Tsutsui:
I didn't know that statistic, but I am not surprised. A lot of the exports from China are bound for the United States, but much is also bound for Japan, Europe, Southeast Asia, and all the rest of the world. China has become the world's supplier for many important industrial goods, as well as some we probably don't think about very much (did you hear the recent NPR story about the village in China that makes most of the world's buttons?). Given this economic reality, it really is incumbent on us in the United States to know more about China and to make a start on building our national competence in the Chinese language.
Moderator:
Well, before we go today, Bill, please tell us about your research into Godzilla. How much memorabilia do you have? What have you discovered? And what is the best Godzilla movie?
Bill Tsutsui:
Why can I never manage to get out of a conversation without Godzilla coming up!? The original film, Gojira from 1954, is due to be released on DVD next week. This is big news, because American fans didn't have access to this real film classic for all of 50 years. It is a great, chilling movie and if you haven't seen it (shame on you if you didn't come to the showing at the 50th anniversary celebration in Liberty Hall two years ago!), you should.
Moderator:
Thank you for taking the time to chat with us today.
Bill Tsutsui:
This was a real pleasure. Thanks for inviting me. Xie xie.