Chat about Lawrence health issues with LMH President & Chief Executive Officer Gene Meyer
August 22, 2006
This chat has already taken place. Read the transcript below.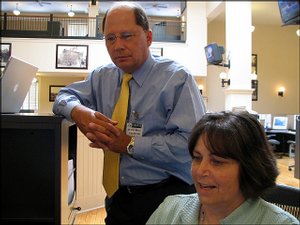 Gene Meyer was named LMH President & Chief Executive Officer in May 1997. Meyer is a member of the American College of Healthcare Executives and past president of the Lawrence Noon Rotary Club and past chairman of the Lawrence Chamber of Commerce board. He serves on the Boards of Directors of US Bank, the Kansas Hospital Association and the Kansas Award for Excellence Foundation.
Moderator:
Good afternoon.
This is Dennis Anderson, managing editor of the Lawrence Journal-World. I will be moderating today's chat with Gene Meyer, president and chief executive officer of Lawrence Memorial Hospital.
Welcome, Gene.
Gene Meyer :
Thanks for the invitation to participate. There's a lot going on at LMH with the building project, service expansion and activities going on in our surrounding communities that I would be glad to share details about. Thanks for you interest in LMH and your ongoing support.
Moderator:
Here comes the first question.
Do you think Lawrence has adequate health care access for those who are underinsured, uninsured, or those utilizing Medicaid (Healthwave for kids)? Adequate meaning: affordable, accessible, and quality.
Gene Meyer :
I think Lawrence is fortunate that we have a number of providers that accept patients with Medicaid or with no insurance. Is it adequate? Probably not. We think with the growing numbers of citizens in these categories the demand on providers has only increased in recent years. Unfortunately the numbers of providers taking additional patients has not increased accordingly. The access to providers like Health Care Access, Heartland Clinic, and independent primary care physicians is available but with the numbers we see in Lawrence it remains a challenge.Healthwave for children is a wonderful and necessary benefit for Kansans but it does require the ability to sign up and maintain relationships with providers for the coverage to continue. The affordability of programs like this generally is tied to a person's or family's income. And as far as quality is concerned we again are fortunate in Lawrence to have many quality providers.
What percentage of emergency room users are uninsured? What is the LMH policy on serving uninsured patients? Do you have a referral program with any doctors or health care access?
Gene Meyer :
Without checking our records I am not certain as to the exact percentage but it is significant. Our policy is to serve anyone who comes to us for care regardless of their ability to pay or insured status. Our referral program is dependent upon what follow-up the particular patient may need and if they currently do not have a local provider one may be suggested for them.
Moderator:
I have a question coming from a reader about construction along Arkansas Street. But first, maybe now would be a good time to update us on the latest on the capital campaign to improve services at LMH.
Gene Meyer :
Our capital campaign is tied to the facility expansion project. In order to supplement the cost of the facility expansion beyond what we borrow, the capital campaign is necessary. The community to this point has responded incredibly and we are three quarters of the way to our ultimate goal of $8 million. We sincerely appreciate the support and generosity of all those that have given to date. The project will be in three phases. Phase One ties back to the part of the question concerning Arkansas Street. Phase One will be the construction of a new nursing unit on the west side of the existing hospital that will add 18 private rooms to our hospital. This will challenge our parking and traffice flow situation on the Arkansas Street or west side of the hospital. We anticipate construction to begin sometime in September so if you are using the west side of the hospital be aware of the upcoming changes. The future phases of the project which will be completed over the next three years will include the new three-story tower on the eat side of the hospital which will house the new emergency room, expanded ICU and expanded obstetrical unit all improving services for our patients. The final phase will be the building of new operating rooms on the north side of the hospital that will allow us to meet the needs of our surgeons and surgical patients. Probably the least visible component of the project will be the expansion of our energy plant that will allow for efficient energy utilization and increased capacity for the 135,000 additional square footage.
I heard you were going to close Arkansas Street. Is this going to add any parking spaces? I get so frustrated going to your hospital and not being able to park my car.
Gene Meyer :
You are not alone. Parking is a huge patient dissatisfier and we intend to improve this. Arkansas Street will remain open but working closely with the city of Lawrence we have been allowed to utilize space on the west side of Arkansas Street between Third and Fourth street for additional parking. This primarily will be used for our staff which should allow more convenient parking for patients and visitors closer to our entrance. Thank you for your patience. We want it to get better.
Can you tell me what is going on in Eudora? Are you building a new hospital there?
Gene Meyer :
We are in the process of closing on the 21 acres we have under contract at Church Street and K-10. No, we are not building another hospital. We believe there are enough hospitals serving our region. What we anticipate doing is building a medical office building to house physicians that will serve the growing Eudora population. It is not in our intermediate term plans to do more than that.
Do you think Lawrence would benefit from bringing a Federally Qualified Health Center (FQHC) to our community?
Gene Meyer :
I am not sure. I am not familiar with the requirements surrounding an FQHC and how that would affect current community providers.
Joel:
How is the mental health section of the ER working out? Any more thoughts about re-opening the full-time mental health division of the hospital?
Gene Meyer :
The Crisis Stabilization Service that is a vital part of our emergency department has served between 40-70 patients per month since its inception last summer. These patients have been evaluated and safely cared for in this setting. We continually monitor what needs there are in our community that can be met in a quality fashion. At present, based upon the information we have, we are not anticipating reopening the inpatient mental health unit.
Moderator:
Please tell us about the new heart unit.
Gene Meyer :
LMH has had a commitment to cardiology care for a long time. Until approximately 10 months ago our commitment was limited to diagnostic work and less sophisticated care. With the careful development of protocols to care for patients that might require interventional cardiology services and the successful recruitment of an experienced interventional cardiologist we now are performing cardiac angioplasty. This is an important service for our community because of the need for interventions to occur on a timely basis. It will not eliminate some transfer of cardiac patients to other centers but will significantly reduce that number. Our results, to date, have been outstanding.
What is your opinion of Health Care Access not accepting Medicaid patients?
Gene Meyer :
Ah, now I understand the background to your earlier FQHC question. I would not attempt to speak for the leaders of Health Care Access, but I imagine they have looked at the requirements for an FQHC and feel at this time that it is not a part of their operational capacity. With the current Medicaid numbers in Lawrence that presents challenge to the limited number of primary care providers serving the Medicaid population. Again, I can only imagine that the capable leadership of Health Care Access has carefully reviewed this matter.
Moderator:
I understand the hospital has a new and rather strict no-smoking policy. Tell us about it.
Gene Meyer :
As a health care leader in our community we think our campus should promote healthy habits. LMH along with most Kansas hospitals have taken this challenge head on. Effective September 1 our campus will be tobacco free. The challenges we anticipate will be to deal appropriately with individuals often experience high stress levels to comply with our policy. Additionally working with our associates who may smoke to either reduce their smoking during work hours or stop smoking altogether.
Moderator:
Gene, I would like to thank you for your time and answers to readers' questions. Any last words?
Gene Meyer :
There are many challenges that face our nation's community hospitals. We hope that with the continued support of our community, quality services to those that come to us for care, working closely with our medical staff and with the guidance of our Board of Trustees, Lawrence will meet those challenges and the future of LMH will be very bright. Obviously we are prejudiced but we believe that an excellent community hospital is a cornerstone for an excellent community. Thanks for the opportunity to answer the good questions that we've received. My direct number at LMH is 749-6130 should any additional questions arise. My e-mail address is gene.meyer@lmh.org.