Chat about football and other fall sports with Kevin Romary
August 21, 2006
This chat has already taken place. Read the transcript below.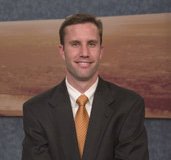 Kevin Romary, the 6News sports director, covers every aspect of the Lawrence sports scene - fall sports at KU, Lawrence High and Free State High. He'll answer your questions about the fall sports prospects at each of these schools.
Moderator:
Hi and welcome to our chat today. I'm Andy Samuelson the online sports editor for KUsports.com and I will be today's chat moderator. Today we our joined by 6News sports director Kevin Romary. Thanks Kevin for taking time this afternoon to join with our ljworld.com and KUsports.com readers.
Kevin Romary:
Thanks for having me Andy! 2 weeks and counting until the start of football season. I can't wait! Who's with me? Let's chat.
I live in Omaha and all everyone up here in Husker country is talking about is how they are going to roll through the Big 12 North this year. Do you believe that KU has even a remote shot at competing for first place in the Big 12 North?
Kevin Romary:
I think 1st in the North is a bit of a stretch. However, if ever there was a year when KU could win it, this would be it. The schedule is much easier and the North isn't great. I think Nebraska is the favorite and I'm sure the Huskers will be ready for the Hawks in Lincoln. If Kerry Meier is the real deal, maybe KU can sneak in there!
Kevin-
I haven't heard too much about KU's recently graduated players who are trying to find NFL roster spots. I know that Charles Gorden got bitten by the injury big and that has hurt his chances with the Vkings and Charlton Keith is being mistreated by the NFL. I don't know how Nick Reid is doing and I haven't heard his chances on mkaing an NFL squad. Can you give any updates and likely odds for these guys staying with or finding thier team? Is tehre anyone else I am forgetting? Are any of them likely to go to NFL Europe and maybe take a shot there?
Kevin Romary:
Not for sure, but here's what I've heard. Reid is on the bubble with the Chiefs. He mighht make the practice squad. Same goes for Gordon and the Vikings. Simmons looks like he has a shot with the Chargers and is still going strong. As for Keith, he's in Lawrence trying to finish his degree before giving it another go next year. As for Mario Kinsey, I'm just kidding...No news is good news is good news on Mario!!!
Moderator:
Romary, What do last week's injury revelations mean for the Jayhawks in your opinion? Quigley looked pretty good in the spring, can Sharp as a freshman step up?
Kevin Romary:
He'll have to step up. Sharp was going to play as a true freshman anyway, now he's really gonna play a lot. Expect Brandon Mcanderson to get more carries as well. Sharp could be the golden nugget of the freshman class. the kid can run fast and has great moves. He just needs to stay healthy.
Moderator:
I saw that Christian Ballard went to Georgia last week. Do you think with the attention he's getting from some big-time football programs that he will still come to KU?
Kevin Romary:
I'd say it's 50-50 right now. He's committed to KU, but that won't mean much when he makes an official visit to Bulldog country later this fall. When I talked to Christain last week, he had a plan. I don't blame him for checking out all his options. He's a smart kid and is doing the right things to make the right choice for his future. I wish him well and will keep in touch with him as Free State's season begins.
Kevin,
Most (or all) Lawrence High fans seem to think the 6News and J-W sportos love Free State more, and most (or all) Free Staters like to believe the sports staffs favor LHS. Can you set the record straight on this, once and for all.
Kevin Romary:
Hahahaha....a common misconception from both sides. But, it does happen from time to time. No one from the 6Sports staff grew up in Lawrence. So, DJ, Adam and I don't have any local ties to the high schools. Sometimes we do cover one school more than the other. You'll find that the team that has the most success, gets more coverage!!!
How good do you think KU's volleyball team will be this season? How much will Uhart's injury set her/KU back?
Kevin Romary:
Uhart's injury is a big one for Ray Bechard. She would have replaced Josi Lima. With her status up in the air(and it doesn't look good) the Jayhawks may struggle a little bit to start the season. However, Coach does have some experience in the middle. Megan Hill and Caitlin Mahoney and Savannah Noyes will have to become bigger parts of the front line.
Moderator:
Kevin: Before I let you go, has your win total for the Jayhawks changed because of the injury bug? I think last time we talked you were at 8-4 or 7-5.
Kevin Romary:
I think 7 or 8 wins is about right. Can Kansas win more? I think the answer is yes. I think KU can win 9 games, but the Hawks will have to learn to win on the road first!
Moderator:
That's going to do it for our chat today with Kevin Romary, 6News sports director. Thanks a lot Kevin for the time today, we'll talk to you soon. Also a big thanks to all the readers of ljworld.com and KUsports.com.
Kevin Romary:
Thanks for having me Andy. I'll see everyone on Friday nights and at Memorial Stadium on Saturday's.
loading...
Blog: 4 arrested on suspicion of vandalizing downtown buildings with anti-Trump graffiti

May 24, 2017 · 22 comments

Drawing Attention: Kris Kobach doesn't want you to know what he's doing

May 24, 2017 · 6 comments

Letter to the editor: No defense increase

May 24, 2017 · 13 comments

Letter to the editor: Let's be honest

May 22, 2017 · 42 comments

Kobach to announce plans on governor's race within 2 months

May 22, 2017 · 34 comments

Editorial: Amyx served with distinction

May 24, 2017 · 3 comments

Court: U.S. gun ban doesn't apply to city domestic abuse laws

May 24, 2017 · 2 comments

Opinion: Midterms the 'impeachment election'?

May 24, 2017 · 8 comments

KU selects Arizona State professor to be new dean of social welfare

May 23, 2017 · 3 comments

Flynn takes 5th Amendment in Russia probe, cites 'public frenzy'

May 22, 2017 · 20 comments