Chat about KU football with Ryan Wood
August 18, 2006
This chat has already taken place. Read the transcript below.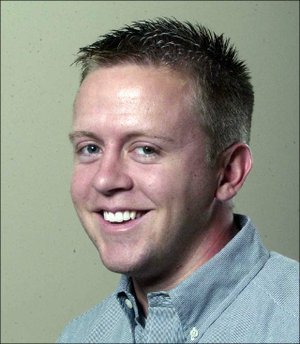 Ryan Wood covers the KU football beat for the Lawrence Journal-World and KUSports.com. He'll have the answers to your Big 12 gridiron quesitons.
Moderator:
Hi and welcome to our chat today. I'm Andy Samuelson the online sports editor for KUsports.com and I will be today's chat moderator. Today we our joined by Ryan Wood, the Lawrence Journal-World's Kansas University football beat writer. Thanks Ryan for taking time this afternoon to join with our ljworld.com and KUsports.com readers.
Ryan Wood:
Not a problem Andy Sam, it's great to be talkin' football with KU fans.
Moderator:
Hey Wood what's going with the Jayhawks? Any new news out of Mark Mangino's camp?
Ryan Wood:
The defense is a little roughed up with some injuries at the moment, but the team still seems optimistic about 2006. Fans can get a glimpse of them at 3:45 p.m. today with an open practice, so that will answer a few questions.
Moderator:
Well let's get to a few other questions.
Ryan Wood:
Sounds like a plan, Andy Sam
Ryan, if KU does as well as I think it can/should what do you think of the idea of Mangino scheduling a non-conference game against an opponent that that gets a lot of national attention and usually plays on a big stage but isnt necessarily that great. Like a Michigan State or Purdue? I come from a Big Ten area so that's what came to mind.

Ryan Wood:
KU's nonconference schedules will continue to build in challenge, but not right away. The 2007 nonconference schedule is set and the biggest challenge is probably Toledo in Lawrence. But future schedules include an '08 game at South Florida, and series with Duke and Rice. I know the NCAA and Big 12 wants more competitive BCS vs. BCS nonconference games, so I can see Kansas exploring series with SEC, Big Ten or Pac-10 teams for the future.
Will the Jayhawks run over the Huskers in Lincoln this season and more importantly will Cornish head to the CFL or the NFL? War Argonants in the Grey Cup! Dunk.
Ryan Wood:
I think Kansas will be an underdog at Nebraska, but I wouldn't chalk that up as a sure loss. As for Cornish, he will definitely have the opportunity to be an impact player in the CFL if he wants. But Cornish doesn't seem to have a ton of interest in Canadian football, and like any player, probably wants to see what his NFL chances are before looking for other opportunities. Thanks for the question.
Joel:
Everybody's looking forward to the Manning brothers matchup in the NFL this season. How come no love for a potential Meier bros. reunion in the Big 12?
Ryan Wood:
Probably because there's still uncertainty as to whether it will happen. The thought out of K-State's camp is that Ron Prince has promised incoming freshman Josh Freeman the world. Though the QB battle in Manhattan is down to Dylan Meier and Freeman, there's something to be said to which one is Prince's recruit and which one isn't. I think the Wildcats would be better off with a senior like Dylan Meier taking the reins, but I can't say I've exactly understood every move Prince has made so far. Dylan certainly doesn't have the KSU job locked down the way Kerry does at KU.
Moderator:
Wood, what should fans look for in practice today?
Ryan Wood:
I think the most intriguing thing is the wide receiver battle. It sounds like Brian Murph has the slot position secured, but the two wideout jobs are being fought for right now. Marcus Herford and Marcus Henry seem to have the most upside, but there's a need for reliability, and that's why players like Dexton Fields, Dominic Roux or Jeff Foster could get some snaps. Today's practice could paint a better picture.
Moderator:
Well it looks like there's one last question?
Will the KU football program receive any additional penalties?
Ryan Wood:
That's a good question, and the answer is, nobody knows. I have a hunch that more penalties await, something like another scholarship loss or a limit to off-campus recruiting or something like that. There's a rumor (completely unfounded) about a looming postseason ban, and while I wouldn't count out that possibility, that would surprise me. As of right now, though, nobody is talking on or off the record, because nobody knows yet. We'll know in about 4-6 weeks.
Moderator:
That's going to do it for our chat today with Ryan Wood, the KU football beat writer. Thanks a lot Woody for the time today, we'll talk to you soon. Also a big thanks to all the readers of ljworld.com and KUsports.com.
Ryan Wood:
Thank you for the opportunity.