LJWorld.com weblogs Shop Talk with Jenn and Julie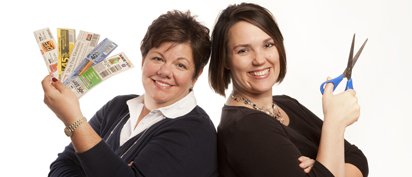 My Favorite Weekly Deals
In today's Lawrence Journal World you will find 3 separate inserts. There are 2 editions of Smart Source and 1 Red Plum. I want to stress to you that even if you feel like there are no coupons and sales that you want to shop this week...buy the paper, collect the coupons anyway. I find that most of the time the really good coupon/sale matchups come a few weeks after the coupon is issued.
Here are some of my favorite match-ups this week:
Skippy Peanut Butter is regularly priced at $2.04
Today's Red Plum has a $0.40/1 coupon
Stack this with the $1/1 Target Coupon and you have jars of peanut butter for $0.64/ea
Quaker Granola Bars are $2/each
Purchase 2, Use a $0.75/2 manufacturer's coupon from several weeks ago
Pair it with (2)$0.50/1 Target Coupon and you are paying $2.25/2 boxes.
32 Load All Lasundry Detergent for $3.99
Use $1 manufacturer's coupon from this week's Red Plum and your total is $2.99/ea
Orrowheat bread on sale for $1.99
Use the $0.55/1 manufacturer's coupon found in today's Smart Source and you get some excellent bread for $1/loaf
Tony's Pizza $2 ea
The Smart Source in today's paper has a $0.50/1 manufacturer's coupon making these pizza's $1/ea
Yoplait Yogurt 20/$10
In the Smart Source2 you will find a coupon for B6G1 (buy 6 get 1 free)
Buy 21 yogurts, use 3 B6G1 pair these with
$0.50/6 printables and you have 21/$5.50 or $0.26/each.
In addition, October is Breast Cancer Awareness month. General Mills and Yoplait have a "Save Lids for Lives" campaign going on. Save each of your pink tops from the Yoplait you purchased and when you send them in, General Mills will donate $0.10 per lid to the Susan G. Komen Foundation. You can find complete details at YourLidMatters.com.
Pillsbury Crescent Rolls/Grands Biscuits/Sweet Rolls: $1.77.
There are various coupons in this week's Smart Source that will double to make these items between $0.77-$0.87/ea.
You will also find a $1/1 printable coupons for Pillsbury Crescent Rolls HERE.
Pringles are on sale for $1.25/ea.
This month's P & G, issued last week (9/27) has a $0.50/2 manufacturer's coupon.

You can load a $0.25/1 ecoupon directly onto your Dillon's card and stack this with your paper coupon. Your total cost for 2 cans is $1.25
Naturally Preferred Organic Milk $2.99 Half Gallon
Powerade 10/$10 get 5 Free with in ad coupon
$0.99 Dole Salad Blends
$1.88/lb HoneyCrisp Apples
All 96 Load Laundry Soap $9.99
Red Plum issued a $2/1 manufacturer's coupon which makes this $7.99 /1
$0.29 Hershey Bars
Colgate Total Advanced Toothpaste $2.99.
You will receive $2 in ECB (Extra Care Bucks) making this $0.99.
If you pair this sale with the $1/1 coupon from the Smart Source in last week's paper you will get your toothpaste for FREE after coupons and ECB.
Dial Bar Soap is $1.88 and you will receive $1 ECB.
Use this $1/1 printable and you will have an overage of $0.12 after coupons and ECB.
Revlon Nail Polish is $3.99.
You will receive $3 ECB for each you buy.
Pair this deal with the $1/1 coupon from the 9/13 Smart Source and you will get this polish for FREE. There is a limit of 6 per household on this deal. This could be a great stocking stuffer or gift filler as the Holidays are rapidly approaching.
Did you find a great deal this week that you want to share? Fill us in!