LJWorld.com weblogs Shop Talk with Jenn and Julie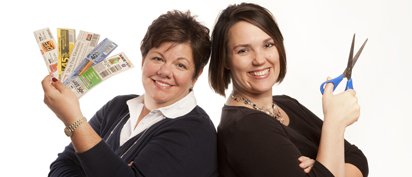 HyVee 3 Day Sale
Its Thursday afternoon and I'm exhausted. I don't want to cook dinner...maybe we should have takeout. This is a COMMON thought that runs through my head....unfortunately my budget doesn't have room for that kind of thinking.
Enter HyVee!
HyVee is having a 3 Day Sale beginning today that includes a rotisserie chicken for $3.99. If I pair this with the Green Giant vegetables I have in my freezer that I purchased for $0.49 and the Rhodes freezer dinner rolls that I purchased for $0.25 and maybe mash up some potatoes... I've got a healthy dinner for my family without having to do much cooking (or dirtying up my kitchen) at all for under $5! MUCH cheaper than going out to eat.
A couple of other good deals at HyVee that are part of their 3 Day Sale:
$1.38/lb HyVee brand butter I didn't get in on the last deal thanks to germ warfare... so this makes me feel a little better. I'm going to stock up for Holiday Baking...I'm no Paula Dean, but I do like to have butter on hand.
Yoplait Yogurt 10/$4 This is a good price at $0.40/ea ... if you buy 12 and use 2 $0.50/6 coupons from recent inserts or printed from HERE then you reduce the price to $0.32/ea. If you do this deal don't forget to rinse and save the lids and then mail them in! Yoplait's 'Save Lids to Save Lives' campaign goes through the end of the year. For each lid mailed in Yoplait will donate $0.10 to the Susan G. Komen Foundation.
DelMonte Fruit Naturals 10/$10 If you subscribe to All You Magazine or have purchased one at WalMart recently...you will find there is a $1/1 coupon that will make these FREE. You can also use the $1/5 from the 9/20 Red Plum insert...or if you were lucky enough to have printed one off of RedPlum.com a few weeks ago you will have a $1/2 that you can use.
Be sure to check out their flyer from yesterday's River City Pulse to see what other deals you find....then check back and let us know what you find!