LJWorld.com weblogs Shop Talk with Jenn and Julie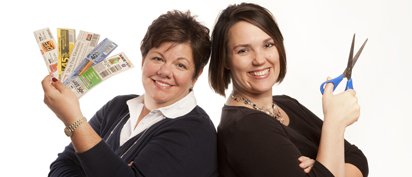 More Freebies to Ring in the New Week
I love a great deal....but even more than that...I love things that are FREE. I'm done with my Holiday shopping ... and I'm just finishing up a couple of gifts for my husband... I'm not spending any more money on Christmas!! But that doesn't stop me from searching the web for deal after deal....its like window shopping.
In the spirit of our launch of the Great Holiday Rebate Game... your chance to get some FREE money... I figured a few more freebies coming your way would be nice.
On Monday, December 7th you can get $10 off of an order $10 or more at JCPenney.com
Find several $5/$5 coupons to use at your local Hallmark Gold Crown stores.
You can get a free Aveeno Tote ($8 value) by filling out the form HERE
Get FREE 50 prints and an additional gift if you sign up for a new account at Snapfish. This promotion runs through the end of the year and every day is a different free gift, today's gift is a Photo Coaster.
At E.L.F. Cosmetics you can get a FREE 27 Piece Mini Makeup Kit With Any Purchase! Use code LOYAL thru 12/31
. You can make a $1 purchase and pay shipping to receive this kit...this would make a great gift or stocking stuffer.
Get 50 Free 4 x 8 Holiday photo cards from SeeHere.com with code: newbaby . Shipping is only $3.19 and these will arrive in time for you to get them out for the Holidays. Log in to SeeHere and create your cards..enter the code at checkout. This deal could expire at any time....so make sure to do it today!
I've talked before about Restaurant.com. Check out how to give FREE $10 gift certificates to a different person every day from now until Christmas.
If you shop at Walgreen's... here are the items that can be had for free after RR and coupons this week:
Triaminic, Theraflu, Toblerone Bars, Ducolax Balance, Kid's Crest, Oral B or Zooth Toothbrush. Wed - Saturday only these additional freebies will be available: Just For Men Touch of Gray, Nutrogena Men's Skincare, Conair Hairbrushes or Scunci Hair Accessories, Renu Multi-Purpose Solution Twin Pack, Stim-U-Dent, Stayfree Feminine Care.
Follow Shop Talk with Jenn and Julie on Twitter and on Facebook.