United Way of Douglas County got a goal-setter when it named Wint Winter Jr. and his wife, Mary, as the organization's 2017 fundraising campaign chairs.
In remarks to a gathering Wednesday at Crown Toyota marking the kickoff of the local United Way's annual fundraising campaign, Winter, a Lawrence attorney, CEO of Peoples Bank and former state senator, noted that annual donation totals have trended downward in recent years.
"That decrease has to stop," he said. "Our objective as we leave today is to raise 10 percent more than last year."
Peggy Johnson, United Way of Douglas County vice president, said a formal goal for the 2017 campaign did not yet exist. That goal will be developed in the coming weeks with the input of new United Way CEO Jannette Taylor, who started in her position Monday. Johnson was confident, however, the goal would be more than the approximate $1.5 million that was raised in the 2016 campaign.
"Absolutely," she said. "We have expectations we will do well."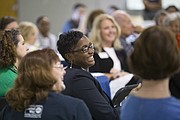 Winter challenged those at the kickoff to emulate University of Kansas Provost and Executive Vice Chancellor Neeli Bendapudi, who increased the KU business school's annual donation to the United Way by tenfold in her years as dean of that school.
In her kickoff remarks, Bendapudi said those at the gathering needed to be assertive about seeking donations. Research showed the No. 1 reason people donated was because they were asked, she said. Research also shows that people have an impulse to help others, Bendapudi said.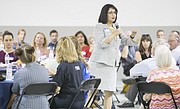 The challenge for those collecting for United Way is generally that people tend to donate in response to a crisis or disaster rather than to causes that address chronic needs. The money the United Way of Douglas County raises is used to address chronic and persistent needs to improve opportunities in education, health and self-sufficiency through its financial support of 31 community partners, Bendapudi said.
One of the campaign's first events will be the Week of Caring, Oct. 2-6, in which businesses, organizations and individuals are encouraged to volunteer at one of United Way's partnering agencies. Those interested in learning more can visit the local United Way website at unitedwaydgco.org or call 785-865-5030.
In her brief remarks, new CEO Taylor apologized for not recognizing faces but said that would soon change.
"If I see you in a week, I'll know who you are," she said.
Copyright 2018 The Lawrence Journal-World. All rights reserved. This material may not be published, broadcast, rewritten or redistributed. We strive to uphold our values for every story published.