After playing the first half as if they were over the idea of exhibition basketball, No. 4-ranked Kansas finished the second half appearing more regular-season ready Tuesday night at Allen Fieldhouse.
The visiting Fort Hays State Tigers kept it close before halftime, often beating the Jayhawks to loose balls and out-working them on the glass. But KU quickly returned to its expected form late, running away with a 86-57 win to conclude exhibition play.
With senior leader Devonte' Graham scoring 16 of his game-high 27 points while playing just 13 minutes in the second half, Kansas extended its home exhibition winning streak to 48 games and assured the Jayhawks of heading into the actual 2017-18 schedule on a relatively positive note.
Sophomore center Udoka Azubuike put up 15 points and nine rebounds in just 25 minutes, and freshman Billy Preston scored 11 points off the bench.
Photo Gallery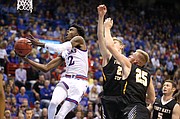 Kansas basketball v. Fort Hays State (exhibition)
View a gallery of images from Tuesday night's exhibition game against Fort Hays State at Allen Fieldhouse.
Related document

Here's a quick look back at some of the action:
• The game turned when: Fifteenth-year KU head coach Bill Self had a word or two with his team at halftime.
Following an occasionally lethargic and sloppy first half, the Jayhawks took the floor far more locked in after emerging from the locker room for the second half.
KU actually trailed on five separate occasions in the first half— never by more than a single point — and Fort Hays even held a lead with less than four minutes left before intermission.
The Tigers cashed in from 3-point range early, going 6-for-15. The visitors even benefited from seven first-half turnovers by KU, turning them into 11 points.
However, a cleaner brand of KU basketball appeared in the final 20 minutes, which began with the Jayhawks attacking the paint for efficient, coach-pleasing baskets.
Senior point guard Graham opened the half with a layup, and freshman forward Preston followed suit with a layup and a dunk, followed by good looks on a pair of back-to-back jumpers.
Kansas made seven of its first 10 shot attempts post-halftime once Lagerald Vick (12 points) flew in for a layup and Azubuike scored over an undersized defender.
Even though the 3-pointers weren't dropping for the Jayhawks much of the second half (5-for-16), they kept scoring inside when they made a point to get the ball there and cruised down the stretch thanks to shooting 13-for-17 from inside the arc.
• Offensive highlight: Even before Fort Hays State could get to the first media timeout, KU big man Azubuike already had finished two easy alley-oops, courtesy of Graham. The third came with more than eight minutes to play in the first half and things not going as well for the Jayhawks, who were trading baskets with FHSU at the time.
But none of those connections rocked the rim as hard as a Graham lob for Preston did in the early stages of the second half.
With KU in need of a jolt out of the break, due to a slim 38-33 lead at halftime, Preston delivered. First the freshman, who started the second half after coming off the bench to begin the game, scored on an easy layup 1:35 into the half. He kept the momentum going less than a minute later by cutting hard back-door from the wing for an emphatic jam that extended the KU lead to 44-35, its widest margin of the exhibition at that point.
• Defensive highlight: The six combined steals in the final 20 minutes from KU's Svi Mykhailiuk, Marcus Garrett, Mitch Lightfoot and Graham weren't anything you'll see in GIF form on Twitter, but they helped keep the Tigers' offense frustrated.
So did the overall improved defensive effort from the Jayhawks, who held FHSU to 9-for-31 shooting (29 percent) in the second half.
• Key stat: Fast-break points. A potential bad sign for KU, the Jayhawks only scored seven transition points against Fort Hays State, despite having a clear athletic advantage.
Whether it was looking ahead to the regular season or just failing to push it when they could, the Jayhawks didn't capitalize on potential easy baskets as expected.
• Up next: The Jayhawks will be back in Allen Fieldhouse for the official opener of the 2017-18 season on Friday, when they play host to Tennessee State (8 p.m., ESPNU).
---
More news and notes from Kansas vs. Fort Hays State
Copyright 2018 The Lawrence Journal-World. All rights reserved. This material may not be published, broadcast, rewritten or redistributed. We strive to uphold our values for every story published.