Topeka — A Kansas Senate committee plans to vote later this week on whether to recommend a bill to expand the state's Medicaid program to cover an additional 150,000 people. That vote would take place even as the U.S. Congress works to repeal the Affordable Care Act, also known as Obamacare, which makes expansion possible.
During a hearing Monday, supporters of that bill argued that even if Congress passes the Republican-backed American Health Care Act — their plan for repealing and replacing Obamacare — Kansas and other states that so far have not expanded their Medicaid programs would still come out ahead.
"The difference in treatment between expansion and non-expansion states under the American Health Care Act is startling," Kansas Hospital Association President and CEO Tom Bell said. "There is every reason for states to look very seriously at expanding their programs, even under the bill that's in the (U.S.) House right now. There's no reason to wait."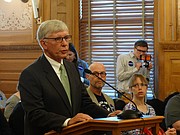 The bill calls for the expansion to take effect Jan. 1, 2018. The Kansas Department of Health and Environment estimates if that happens, the state's share of the cost would be $31.1 million for the last half of that fiscal year, and about $67.2 million for the full fiscal year after that.
KDHE also says there would be some additional administrative costs, as well as some offsetting revenue and other savings.
But Dave Kerr, a Hutchinson Republican and former president of the Kansas Senate, said he did not dispute the administration's estimates of additional costs, but he said the savings were, "vastly understated."
He estimated that the net effect on the state budget, including the additional costs, minus the savings and new revenues, would be a savings for the state of $73.1 million.
Congress passed the Affordable Care Act in 2010, the second year of Democratic President Barack Obama's administration. That was the same year Kansas voters elected Republican Sam Brownback as governor. He had been a U.S. Senator and a vocal opponent of what became known as Obamacare.
It sought to expand healthcare coverage to nearly all Americans through several means, one of which was greatly expanding Medicaid, the joint federal-state health insurance program for the poor, to cover all individuals under age 65 with household incomes below 138 percent of the federal poverty level, or about $28,180 for a family of three.
The law also says the federal government will pay 90-95 percent of the cost of covering people in that expansion group.
The U.S. Supreme Court, however, later struck down the provision that mandated Medicaid expansion, saying Congress could only offer that as an alternative that states could opt to take, or not take.
In the years since, Gov. Brownback and Lt. Gov. Jeff Colyer have remained staunchly opposed to Obamacare in its entirety, saying among other things that they did not believe the federal government could meet its obligation to pay its share of the cost, including its share of the Medicaid expansion cost.
Instead of expanding the Kansas Medicaid program, the Brownback administration in 2012 privatized it by hiring three private health insurance companies to run the program as a managed care system instead of a fee-for-service program, and changing its name to KanCare.
Under the managed care model, the three insurance companies are paid a flat, per-capita rate to insure people in KanCare.
According to a summary from the Kaiser Family Foundation, the GOP bill in Congress would cut off any new enrollment in expanded Medicaid programs starting in 2020. But it would continue funding those already enrolled in the expanded programs as of Dec. 31, 2019, at the higher federal match rate, as long as those people do not have a break in eligibility for more than one month.
Despite Brownback's continued opposition to expanding KanCare, the expansion bill passed the Kansas House in February, 81-44, which is just three votes short of the two-thirds majority that would be needed to override a veto.
Sen. Vicki Schmidt, R-Topeka, who chairs the Public Health and Welfare Committee, said the committee will hear from opponents of the bill on Tuesday, and that she plans to bring the bill up for a vote in the committee Thursday or Friday of this week.
Copyright 2018 The Lawrence Journal-World. All rights reserved. This material may not be published, broadcast, rewritten or redistributed. We strive to uphold our values for every story published.