Area voters may remember Jesse Brinson from his run as an Independent for the Douglas County Commission last fall. The Houston native and longtime Lawrencian didn't win that seat, but he hasn't given up on public office.
Brinson, 35, is one of 19 official candidates in the running (by appointment) for the open Lawrence school board seat left vacated by Kristie Adair last month.
"Since I graduated from KU, I've devoted my life to community service," says Brinson, a youth minister with Called to Greatness Ministries. "I've spent the last 12 years mentoring students, serving the school district and working to bring a positive change to our community."
Now, inspired by cries from many in the district for a more racially diverse school board, Brinson says he wants to lend that experience — as well as his experience as a person of color — to the schools that have served his own kids over the years.
Brinson, a father of seven, has four children in the district now, with three others having graduated in recent years. After attending public schools in his hometown of Houston, Brinson left for KU (where he played football) in 1999, earning a bachelor's degree in African-American studies and English in 2004.
Since then, he's served as a coach in the Lawrence school district, and also remains active as a volunteer with the "Can We Talk?" program at Lawrence High School and with Kennedy Elementary School's "Watch Dogs" mentorship program, which he says he co-founded.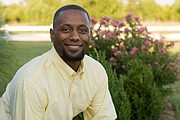 Equity issues, in general, are what initially drew him to the school board, Brinson says. "A close second," he says, is the number of African-American students, specifically black boys, who he says are falling behind in Lawrence and school districts across the country. In 2016, more than 36 percent of the Lawrence district's white high school students were considered "college-ready" by state assessment standards in math, while only 12 percent of their African-American peers landed in that same category.
As a school board candidate, Brinson says he'd also focus on childhood trauma, "whether it be prevention or intervention," and helping kids access and fully benefit from the social services within the Lawrence school system.
He'd also like to make clear to students, particularly young black boys, that success isn't defined by a four-year degree. Brinson says he wants to better publicize technical education, for example, as one of many paths available to today's students.
"Being able to collaborate with people in the community, being a good listener — that's something that I do as a youth minister, to be able to listen and take steps to grow and change," Brinson says.
"I have an understanding of the different cultures that are in our schools," he adds. "And if I don't," Brinson says, he'll be there to listen.
Copyright 2018 The Lawrence Journal-World. All rights reserved. This material may not be published, broadcast, rewritten or redistributed. We strive to uphold our values for every story published.