Looking back on the experience decades later, Linda J. Sheppard can't recall more than two students of color at Kennedy Elementary School back when she attended as a child in the 1960s. Sheppard, who is Mexican-American, says she was one of those two students.
"And I honestly can say that it wasn't something I recognized, that I didn't feel like I was at any disadvantage, and I really didn't think there were issues and/or problems," says Sheppard, 60. "But I think there are issues that students of color are dealing with now that I think are different, certainly, than what my experience was at the time."
Sheppard, one of the 19 candidates vying for the open school board seat vacated by Kristie Adair, knows she may be an exception to the challenges faced by today's students of color. And, as a school board candidate, she says she's interested in hearing "what's happening" in Lawrence Public Schools "and why."
The Lawrence native, who says she's lived here her entire life "except for a few brief departures," attended public schools throughout her childhood, graduating from Lawrence High School in 1974. She eventually matriculated to the University of Kansas, earning a bachelor's degree in business administration in 1992 and a law degree in 1995.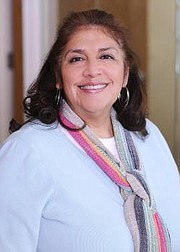 After working in private practice for a few years, Sheppard served as deputy attorney general for the Consumer Protection/Antitrust Division of the Kansas attorney general's office. She also held several positions within the Kansas Insurance Department before joining the Kansas Health Institute as a senior analyst and strategy team leader in 2014. There, Sheppard leads policy and research projects on the implementation of the Affordable Care Act in Kansas, as well as other state and federal health reform initiatives. Outside her 9-to-5, Sheppard also serves on the board of Lawrence's Health Care Access.
Her two daughters have long since graduated from Lawrence High School, Sheppard says. But, with nephews in the school district and a grandson set to enter the school district in a few years, Sheppard says there's a lot at stake for her family and other families of color in Lawrence — especially now, she says, when "issues relating to state funding" weigh heavily on districts across the state.
"From my legal training and background, I feel like I have the ability to look at issues and problems that are being faced … and try to find ways to address problems while taking various viewpoints into consideration," Sheppard says. "That's part of what you learn to do as a lawyer — look at all sides of an issue and try to come up with a good solution."
The school board will select a candidate for the open seat at its March 27 meeting.
Copyright 2018 The Lawrence Journal-World. All rights reserved. This material may not be published, broadcast, rewritten or redistributed. We strive to uphold our values for every story published.