Annette Kenoly, assistant principal at Lawrence's Liberty Memorial Central Middle School, will transfer to a district-level learning coach role at the end of the school year, Superintendent Kyle Hayden has announced.
"Instructional coaching plays a critical role in advancing the district's equity work and supporting our professional teaching staff," Hayden said in a news release. "This is (a) good fit for Annette's skills and experience. She will work with our coaching team to develop the capacity of educators in culturally relevant teaching and building positive relationships with students and families, especially students who are currently under-served. This will ultimately lead to greater success for all students."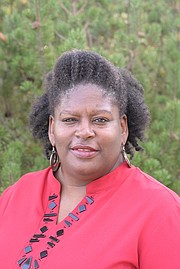 Kenoly, now in her second year as assistant principal at LMCMS, holds a bachelor's degree from Washburn University and a master's degree from Baker University in Overland Park. Before joining Lawrence Public Schools, Kenoly served three years as principal of Ross Elementary School and two years as assistant principal of French Middle School, both public schools in Topeka.
Her previous educational experience includes 10 years as a middle school literacy coach and classroom teacher and as a elementary substitute teacher in Topeka, as well as five years as an elementary educator and substitute teacher in Oakland, Calif.
Kenoly, a member of Lawrence Public Schools' District Equity Leadership Team, will transition to her new district-level position at the end of the 2016-2017 school year, effective July 1.
"I will always value my experience as a Mustang professionally and personally," Kenoly said in the district's news release. "I appreciate the students, staff and families I've had the pleasure of working with and getting to know. I look forward to my continued work within the district as an instructional coach."
The district will immediately begin a search for Kenoly's replacement at LMCMS, which currently serves 475 students in grades 6 through 8, according to the news release.
Copyright 2018 The Lawrence Journal-World. All rights reserved. This material may not be published, broadcast, rewritten or redistributed. We strive to uphold our values for every story published.